Reviews: You'll have fun, fun, fun ?til daddy takes the Stoggifier away.
Return to Castle Wolfenstein: Enemy Territory was Splash Damage's ridiculously fun (and free!) 2003 standalone multiplayer-only expansion pack and is one of the best multiplayer shooters I've ever played. This is all thanks to great design and the cool class-based gameplay where only certain classes could complete primary objectives. As a result, players had to quickly learn how to work as a team rather than as a bunch of individuals racking up kills. And when things clicked with your teammates, it was a thing of beauty as Medics kept Engineers alive while they repaired a bridge, as Field Ops lay down suppressing fire, Covert Ops sniped enemies from afar and Soldiers dealt with enemies up close and personal. It was an absolute blast that few competitors could match.
Now take that same fun team gameplay, put it in the Quake universe, and you've got Enemy Territory: Quake Wars. Veteran RTCW: ET players will feel right at home because Quake Wars is essentially the same game, which is actually a good thing since the core gameplay mechanics were near perfect to begin with.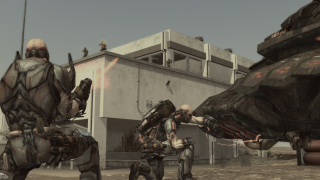 Storywise, the game is a prequel to Quake II as the human Global Defense Force (GDF) battle against the evil Strogg invasion of Earth. Well, actually, there is no story ? all you need to know is that you pick a side and beat the crap out of the other side. You can play through the campaign offline against bots, but the real fun is hopping online to fight against other players (with bots filling in the empty slots).
As with the original, Quake Wars pits two teams each against each other, one playing offense ? where you must complete several objectives to win the round, like building a bridge, driving your Mobile Command Post (MCP) to its destination, hacking a shield generator and finally blowing up an objective ? while the other team plays defense and must prevent the completion of objectives before time runs out. Oh and by the way, only Engineers can build, only Covert Ops can hack, only Soldiers can plant explosives, only Field Ops can replenish ammo and call in air strikes, and only Medics can heal and revive.
The distinct and restrictive classes mean smart teamwork is an absolute must, and this is what really makes the game stand out from the FPS crowd. Unfortunately, this can also be frustrating when you're desperately trying to complete an objective while clueless teammates are dumbly running around trying to rack up kills. Sorry, folks, the typical FPS ?lone wolf? attitude will quickly lead to failure in Quake Wars. But once everyone realizes that they have to work together to win, things go much smoother and leads to a helluva lot of fun. Accomplishing something on your own (as in a typical shooter) is fun but helping your team's specialists complete key objectives while under heavy opposition is truly gratifying.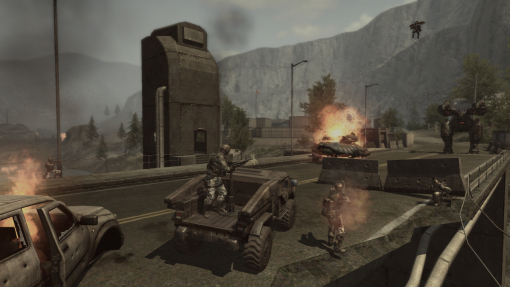 There are four campaigns consisting of three maps each, located in North America, Europe, Africa and the Pacific. Each map looks and plays unique, although they're a bit generic (i.e. the maps could easily swap locales and you wouldn't notice). The ranking system from RTCW: ET carries over where you earn experience points as you complete tasks based on your class. Earning XP allows you to unlock enhanced abilities which carry over the course of a campaign. Fortunately your experience and enhancements reset to zero when you start a new campaign, keeping things fair for less experienced players.
Unlike the original where the Allies played offense the majority of the time, Quake Wars offers a much better balance between offense and defense for both sides. A nice change is that you can now only complete objectives in a specific order, which thankfully prevents players from circumventing early objectives by sneaking around to complete the final objective for a quick and easy win.
The same five classes from the original return but with new abilities and a bit more variation to better differentiate each side. For example, the Technician (the Strogg version of the GDF Medic) dispenses Stroyent which boosts both health and ammo, and can also turn dead human bodies into Strogg spawn points. Cool! The Field Ops/Oppressor can deploy offensive long-range artillery or rocket turrets and call in air strikes (or orbital laser strikes in the Oppressor's case) while the Engineer/Constructor can now deploy defensive turrets and mines.
All classes can pilot a wide variety of vehicles, including ATVs, APCs, tanks, jetpacks, helicopters and even a huge Strogg mech, with the caveat that you can only pilot a vehicle from your species.
Gameplay is extremely fast ? in other words, it's typical Quake. You may move and jump with unrealistic speed and height but it adds to the frenetic action and pace.
Bot AI is pretty good for the most part, especially on the hardest difficulty where it is often hard to tell if you are fighting against an actual person. The AI will dodge, strafe and hop around like a bunny on crack, all while aggressively trying to complete objectives. Bot Medics will eagerly run up to you to dispense health packs or revive you, while other bots will duke it out in vehicles. As impressive as these behaviors are, you will often see bots standing around like statues doing nothing. Most annoying of all is that bot Medics will sometimes ignore your pleas for assistance and will absolutely refuse to leave a vehicle to help you, even if they're right beside you.
Surprisingly, the graphics are a bit of a mixed bag. The game uses a heavily updated version of the Quake 4/Doom 3 engine (now known as idTech 4) so you would expect it to look mind-bogglingly good, and in fact character models have nice detail and excellent animation. However, weapon models are bland with low detail, and explosion effects are less than impressive.
The much heralded ?megatexture? terrain technology, which renders the entire map as one huge texture, works great. You can quickly navigate the massive square-kilometer maps with no pop-up, draw-in, or concealing ?fog.? Design-wise the maps improve on the tight linear maps of its predecessor, with tons of open space constrained by strategically placed choke points. However, the map artwork is a little bland and uninspired, giving it a generic look with none of the character or rich detail seen in games like Gears of War.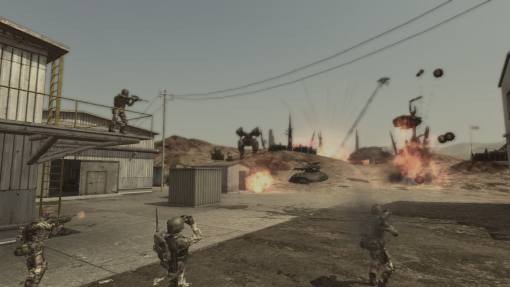 I suppose, however, with such huge maps some sacrifice had to be made in terms of graphical quality to maintain the fast gameplay, so the trade-off is acceptable. Even so, the game will lag horribly when there are many people playing, sometimes to the point of being completely debilitating. This is a real disappointment for a Quake product, a franchise which is synonymous with quality online multiplayer.
The audio is perhaps the weakest component of the game with wimpy weapons fire, weak explosions and lame vehicle sounds. Compared to the acoustic assault that is Call of Duty 4, Quake Wars is a mere mouse squeak in comparison.
As well, even though it has an offline campaign, playing solo gets old quickly. As a result, you really need to play this online to fully enjoy what it has to offer, so gamers without Xbox Live Gold accounts may want to skip this. Also, shooter fans who are used to a variety of gamemodes might be put off by the single offense/defense objective-based mode with no ability to modify the settings beyond the number of bots or turning off friendly fire.