PC review: Does a little computer mean small performance? Not necessarily.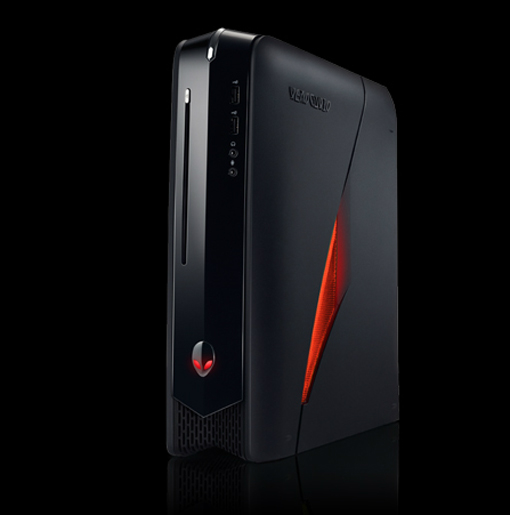 Small-form desktops: they fit anywhere, save on power and just plain look great. Squeeze one into your home theater setup or go with the standard monitor and desk arrangement; either way you're getting true HD gaming in a sleek, sexy package.
However, scaling down and shrinking your carbon footprint always means a loss in performance. Luckily, these space saver systems tend balance that out with a modest price tag. They can be a gateway to PC gaming on a reasonable budget, but buyers need to make sure they're getting enough graphical horsepower for their money.
Alienware Invades the Living Room
Complete with signature UFO motif, the X-51 is the first small-form desktop from Alienware. It's also the first PC we've seen that can be displayed on its side or standing up, just like an Xbox 360. You can even turn the little alien head symbol so it faces the right way. There's also onboard software that lets you change the color of the case lights. It's a slick and somewhat gimmicky console-shaped package, but its matte black finish looks damn fine next to an HDTV. It's only a little bigger than an Xbox 360 S, and runs about as quietly.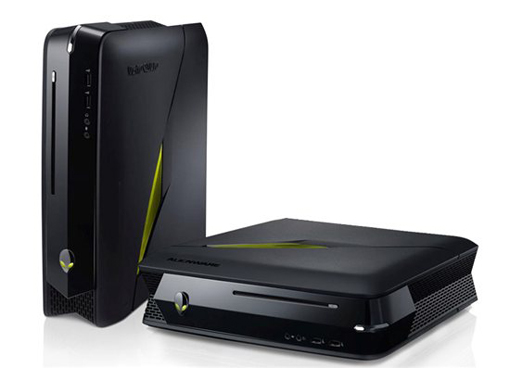 An X-51 looks great no matter how you display it
The Specs
Here's what's inside the X-51 Alienware sent us:
i5 3.0 GHz
8 GB DDR3 RAM
1 TB HD
1 GB GeForce GTX 555
The i5 processor, 8 GBs of RAM and a GTX 555 put our review unit near the higher end of the spectrum, retailing for about $1,000. The X-51 line offers a good amount of customization, not as much as larger, more flexible systems, but enough that you can really tweak the price. Systems range from bare bones at $700 to fully beefed-up at $1,250.
A 1 TB SATA hard drive is standard, with no solid state option. You have a choice of i3, i5, or i7 Intel processors, and 4-8 GBs of memory. For graphics cards, it's a 1 GB GeForce GT 545 or GTX 555, both of which feature HDMI ports with audio support. You can also add a Blu-ray player for $100.
Customize the full Alienware X-51 line here
.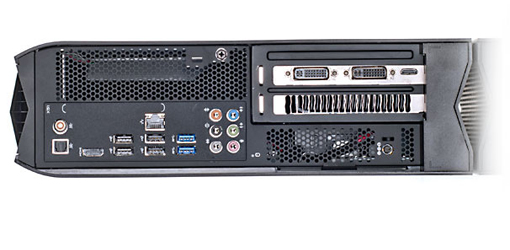 A full set of audio ports plus ultra convenient HDMI and mini-HDMI ports
The Package
Slick styling, case lights and compact design aside, Alienware's biggest achievement with the X-51 was getting a full-size graphics card to fit in this little machine. Most small-form systems use laptop parts due to space and heat constraints, but the whole bottom portion of the X-51's case is devoted to housing a high performance Geforce card.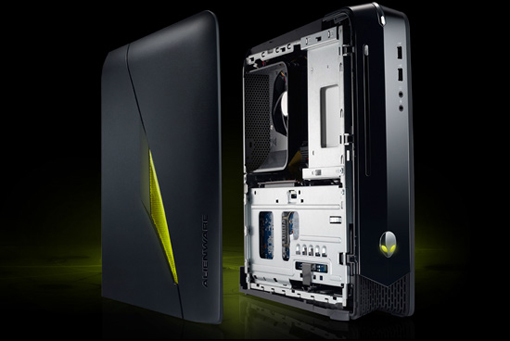 Gaze and behold: a full-size Geforce in a small-form desktop
The system's audio-enabled HDMI port is its second best feature, letting you connect to your HDTV for gaming and streaming video with just one cord. You'll also be able to record television using Windows Media Center without a tuner or coaxial cable.
Whether you choose Blu-ray or the standard DVD-RW, the X-51 uses a slot-loading drive like the PS3. It adds to the overall sleekness of the package, even though the discs tended to fall on the floor if you didn't grab them immediately after ejecting.
Not Much Room to Grow
With both RAM slots occupied and a full-size graphics card that just barely fits, the X-51 is jam packed. Then factor in the 330-watt power supply. It'll save cents on the electric bill, but sorely limits your upgrade options down the road. Not a lot of high-end graphics cards will be compatible with such low wattage, and since the two memory slots are taken by default, an upgrade will mean replacing both sticks of RAM.
None of this is necessarily bad, depending on what sort of user you are. If this tech talk makes your head spin, and you don't plan on ever popping open your system (which is only a matter of removing one screw), this probably won't matter to you. Just know that whatever you buy initially is what you'll be stuck with, for better or worse.
The Games
Alright, time for the real nitty-gritty, how well does it play the biggest PC games? We test drove our X-51 with the most popular and processor pushing titles. Please note: all games were played at the native HDTV resolution of 1920 x 1080, and all screenshots were taken on our X-51 review unit while playing the game.
The Elder Scrolls V: Skyrim
The X-51 handled Bethesda's RPG masterpiece very well. Even with the high resolution texture pack installed and graphics options set between High and Ultra, it rendered the world of Skyrim at a consistently smooth frame rate. When it came to loading times, we knew it would best any console, but we barely had time to spin objects on the loading screens.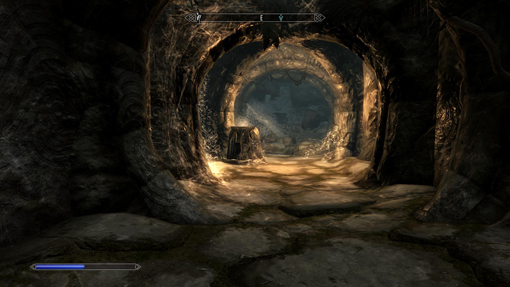 The Xbox 360 just doesn't do Skyrim justice...
...but the X-51 sure does
Call of Duty: Modern Warfare 3
Since it's primarily a console game, MW3 is not too system intensive, but when things get crazy online, a good frame rate is just as important as keeping your rifle steady. The X-51 knocked this one out of the park as well, constantly maintaining Call of Duty's standard 60 FPS.
Mass Effect 3
Another game designed for consoles that really comes to life on the PC. Not only are mouse and keyboard controls great for playing as a Soldier, getting to bind your own keys for Biotic powers is a game-changer. Again, not only does the X-51's i5 processor demolish load times, the GTX 555 adds tons of extra bump mapping, giving the game a level of detail you'd never see on PS3 or Xbox 360.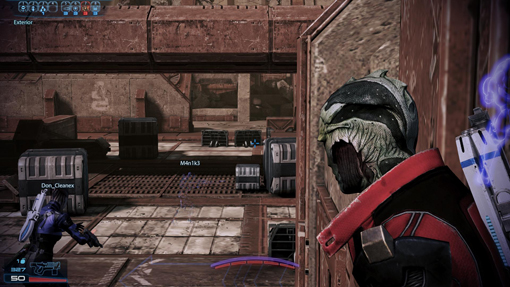 Just look at the bump-mapping on that Drell's face
Star Wars: The Old Republic
Another big win for the X-51. Fast load times plus massive draw distance and tons of detail, with consistent frame rates all around. This is how Bioware's vision of the force was meant to be experienced.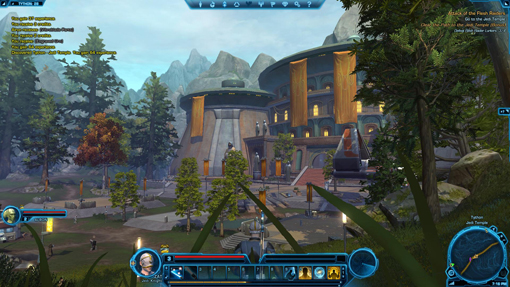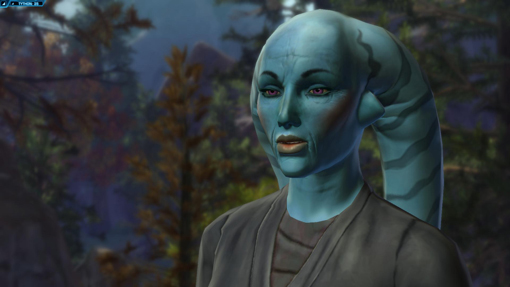 Crysis 2
The Crysis games are known as system smashers for one reason: Crytek's Cryengine. The Cryengine 3 supports a massive draw distance, combined with state of the art texturing, particle effects and bump mapping. With all its fancy DirectX 11 features enabled, this was the only game that gave the X-51 a real run for its money.
On Extreme, the highest graphics setting, we got an average of 25 FPS. Not exactly playable, but keep in mind this is a tall order for any single GPU system. One rung down was Ultra, where we fluctuated between 35 and 40 FPS. Playable, but not optimal. On Very High things smoothed out quite a bit, giving us a frame rate in the 50's, and around 45 when things got really hectic. Completely playable, and still looking quite gorgeous.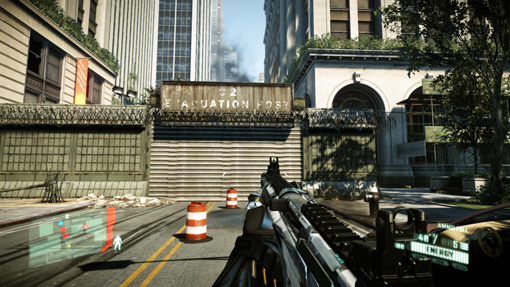 Crysis 2 in all its DX11 glory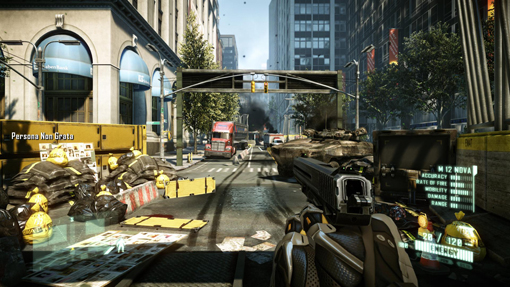 Jaw-dropping draw distance
General Computing
As a gaming PC, the X-51 is designed to concentrate on a single high-intensity program, like a game. As a result, it's not a great multitasker. It's capable enough for Adobe Photoshop and Premiere, but when running them both, or for example, rendering while transferring files to a drive, it gets rather sluggish.
The X-51 is a gaming and media center device first, a general PC second. Don't misunderstand, it has more than enough muscle for basic image work and light editing, but if you want a computer than can double as a professional workstation, this isn't the right system. Also, since it's limited to a single GPU, multiple monitor setups are basically out of the question.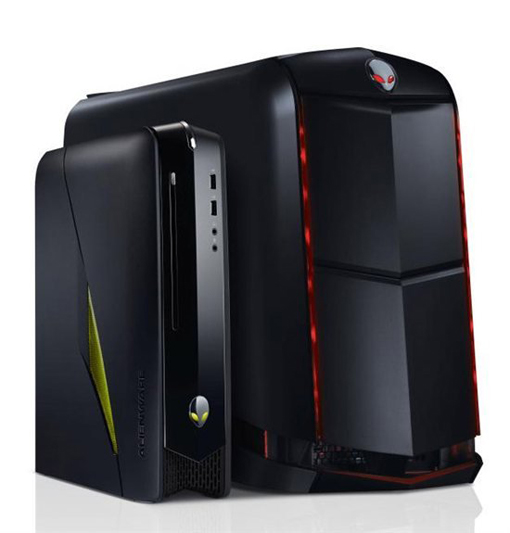 Dare to compare: an X-51 next to its big brother, the Alienware Aurora
Go big...or don't
Whether you choose a base model or one with all the options, the X-51's relative affordability is very attractive. We say relative because $700-$1200 is still a fat chunk of change, but for PC gaming, it's an entry-level price tag.
When customizing your X-51, think of the system's limited upgradability. For maximum PC gaming relevance, go for the most RAM and the fastest processor you can afford. If you're looking for more of a media center, slap a Blu-ray drive on an entry level model. Also, keep in mind that the system's sharp look and the Alienware name should help its resale value, if you choose to sell it down the line.
Bottom Line
Awesome aesthetics and a full-size graphics card make it easy to recommend the Alienware X-51 over other small form desktops, but larger systems with better upgrade options will always be more future proof. The X-51 is good little computer, but it's a niche product. If you can afford the extras and want a handsome way to bring Windows Media Center and HD gaming to your living room, the X-51 is your dream machine. However, if budget constraints have you thinking about gaming on a bare bones model, consider a full-size desktop, or just stick with your Xbox.
On Target:
Great gaming performance
Fully functional media center potential
HDMI with audio support is uber-convenient
Off Target:
Limited upgrade potential
Cheaper models will become outdated fast
Full-size systems offer more horsepower for your buck
Score: 8 out of 10