Specials: Gaming Target's Top 10 favourite Racing Games of all time!
We are starting a new regular feature on Gaming Target where we choose our Top 10 in a particular area of gaming. Today's feature is on the Racing game, which is one of the oldest and most popular genres in all of video games.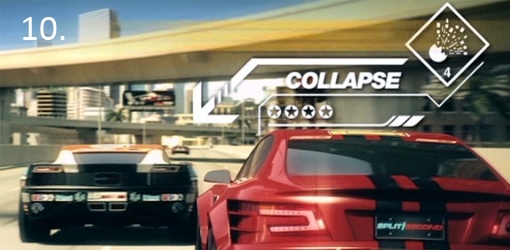 10. Split/Second (Xbox 360 / PlayStation 3)
Black Rock Studios' action masterpiece is one racing game that could not possibly be exempt from this list having scored Gaming Target's first perfect 10 review in over a decade back in 2010. Our editor, Matt Swider, raves about this game to this day and will probably be buried with a copy of it along with his collection of handheld consoles.
What makes this game fun is the over-the-top explosions and the tactical nature of the track manipulation. Being in first place is never a good position to be on, as you are simply the target of yet more opponents. Timing is critical, not just in lap time or cornering angle, but in triggering all kinds of trackside traps and pitfalls. Its arcade handling is tightly tuned but accessible to hardcore racers and casual thrill-seekers. Split/Second is one of those games larger missed by the wider audience in that Holiday flood of titles but can be picked up for almost nothing today and is well worth your undivided attention.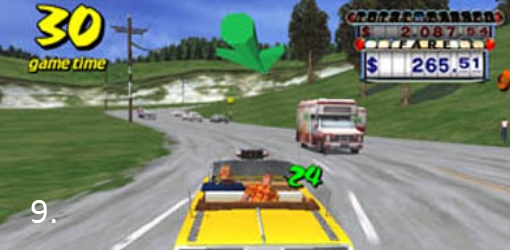 09. Crazy Taxi (Dreamcast)
Sega's AM3 studio feature heavily on this list as a result of their incredible racing portfolio during the mid-to-late ?90s, and Crazy Taxi is perhaps the most loosely defined racing game in this top 10. In essence, you are not racing in a literal sense, against opponents or around a circuit, but rather against the clock. Your aim is to pick up passengers and deliver them to their desired destination before the time runs out or they get tired of waiting to arrive.
Although originally an Arcade game, the Dreamcast version was far superior with a better frame rate and heaps of mini games, along with an alternate city for players who master the Arcade level. The game spawned a couple of sequels, but it is the original's level design and wacky image that keeps it on top of that pile. Crazy Taxi is available as DLC on XBLA or PSN but I would recommend avoiding these versions as they are the slightly inferior PC port optimised for the current generation. Grab a Dreamcast controller and drift through the streets of a fake San Francisco in one of the best arcade games ever made, Crazy Taxi!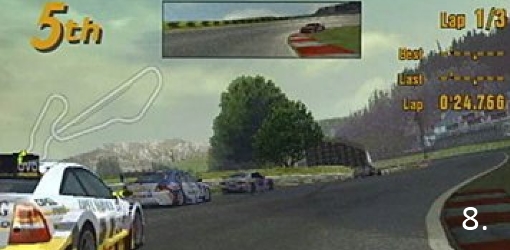 08. Gran Turismo 3: A-Spec (PlayStation 2)
Of the five passes of Gran Turismo, the one that sticks out as being the best for me is Gran Turismo 3. It arrived on PS2 with unparalled visuals and even more depth than seen in the original, plus it was packed with more cars than ever before. Add to this real-life tracks like the legendary Laguna Seca and a plethora of carefully plotted in-house tracks and Gran Turismo 3: A-Spec was the definitive racing simulation available.
It is a pity that the Gran Turismo series has declined in recent years, being overtaken by numerous series on rival systems, but it seems that Polyphony are eternally working on this series and the inevitable Gran Turismo 6 will hopefully mount more of a challenge and relive the glory days that the likes of GT 3: A-Spec enjoyed.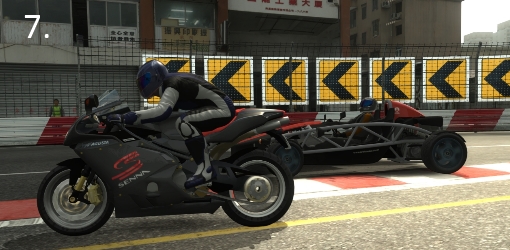 07. Project Gotham Racing 4 (Xbox 360)
When it comes to street racing, there is no better game than PGR. The 4th game in the series brought with it a slick new interface and enhanced handling. The folks at the now closed Bizarre Creations did themselves proud with what is undeniably one of the greatest technical feats of this generation.
PGR owes its existence to the original game,
Metropolis Street Racer
, a Dreamcast title made by Bizarre in the dying days of Sega's console. They painstakingly mapped out London, Tokyo and New York and built tracks within existing roads. With each PGR follow-up, the team came up with more and more exciting real-life cities to get racing on. PGR4 brought Shanghai, Las Vegas and Macau amongst others, which made for some visually impressive night racing.
The unique thing about PGR is its Kudos system, that rewards stylish driving as well as speed, giving players an incentive to hit apices perfectly but also to drift, do 360s and overtake. What PGR 4 added to this was the two-wheel option of motorcycles, which could do wheelies and endos (sometimes even while turning) and added even more difficulty to an immensely addictive racing challenge. PGR4 is an essential racing experience for all racing fans.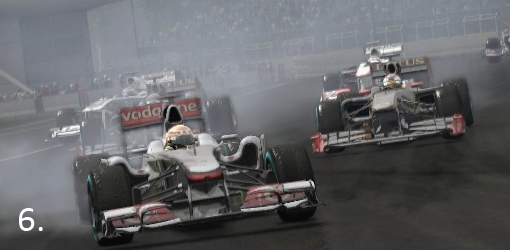 06. F1 2011 (Xbox 360, PS3 and PC)
Codemasters won the Formula 1 license in 2009, but it wasn't until last year's F1 2011 that they delivered a truly challenging, detailed and immersive simulation worthy of the sport. All of the real-world tracks from the 2011 season are featured, including the legendary Spa-Francorchamps, Silverstone, Interlagos, Albert Park, Circuit de Gilles Villeneuve, Monza, Nurburgring and Suzuka. The track list alone elevates this game to incredible heights, but the handling, particularly with a steering wheel, is so precise when tuned over the Practice sessions that you will invest the time in perfecting your driving style on that quest to deny Sebastian Vettel another win.
F1 2011 eliminated another F1 game from this list, the monumental
Formula 1 '97
from the PS1 days, which in its day was untouchable as one of the finest racing games available. Had Codemasters not gotten their act together for this release then the golden oldie would surely have sat in this position. The fact that it took this long to de-throne it is testament to the work that went into the franchise in its 32-bit origins, but also signifies just how good F1 2011 actually is. As a simulation, it can only be realistically topped by the overall king of this list at the Number 1 slot and Codemasters have promised an even better game this Fall.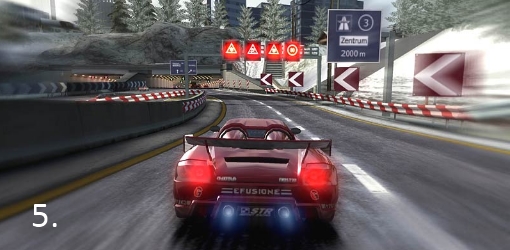 05. Burnout 3: Takedown (Xbox, PS2)
As far as explosions go, I don't think they get as insanely enormous in a racing game as much as they do in Burnout. Takedown is easily the best in this series for cheap thrills. Some will argue that the game hit its peak with the more recent Burnout Paradise, but its sandbox layout left others wanting. This clear interface and the simple game mechanics in Burnout 3: Takedown as so intuitive and enjoyable that you just keep wanting to play it.
One more takedown. One more Road Rage. One more stunt. Just let me crash into that guy who took me off the road a few seconds ago. The concept is so admirably simple that there is no way that this was ever going to be a failure. They amped up the quality considerably for this third game in the series and as a result, it is still being played today.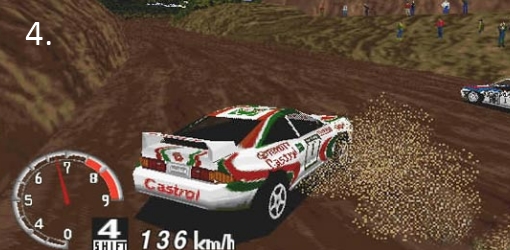 04. Sega Rally Championship (Arcade & Sega Saturn)
Sega Rally achieved a revolution in car handling that has persisted in gaming ever since. In the arcade, pedals were finally accurate and gave degrees of acceleration depending on the pressure of your boot, just like a real car.
Previously, pedals were simply acting like an on/off switch. In Sega Rally, you could ease off the gas slightly before braking to cautiously take corners, or more often, spin the back end out for some truly spectacular powerslides. These controls translated extraordinarily well to the Saturn controller for what remains the best Rally game available.
Not only the controls stand out in Sega Rally though. The track designs are remarkable, despite the fact that there are only four present. The introductory Desert level must be one of the most balanced and adaptable racing circuits ever seen in a video game. What thrills drivers about this track is that there are multiple lines for each driving style around many of the corners, to the point that most Sega Rally fans have done hundreds of laps in a row in Time Attack just to shave fractions of a second of their best time. The other tracks lead a learning curve to the cruel Lakeside track that is like a Rally version of the Monaco Grand Prix with super-narrow corners and tight braking zones. As a pure racing game, Sega Rally is probably the finest example of evolution in the history of the genre.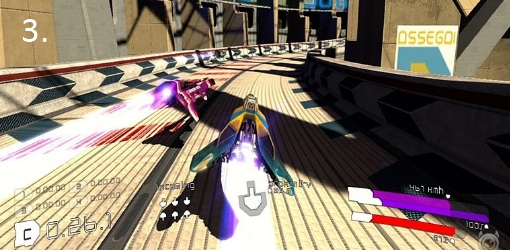 03. WipEout HD Fury (PS3)
WipEout HD Fury is incredible. That familiar feeling of heart-pumping panic that is induced by WipEout's sleek hovercar racing harkens back to the launch of the original PlayStation. Back then, it was a terrifying and exciting spin on the popular mix of driving and shooting pioneered by Super Mario Kart.
WipEout's hyper atmosphere was coupled with a techno dance soundtrack by leading artists. It's vehicle graphics take a the world of Formula 1 development and mix it with fighter jets. Each team has a unique aerodynamic design which actually visually fits with the attributes given to it.
What the HD Fury version added to that blend was mature track design with challenging progression of corners and a fulfilling online component that is still played by large numbers today. This entry belongs to the WipEout series, more so than one game, but WipEout HD Fury is leagues ahead of its rivals and is undoubtedly the best racing game on the PS3. There is nothing like jumping into an Auricom and hitting Phantom class on your favourite track.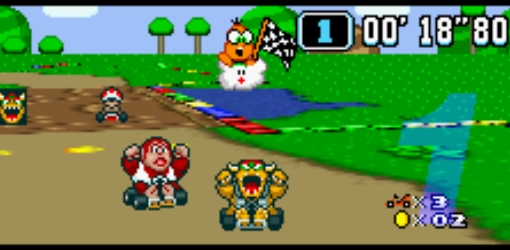 02. Super Mario Kart (SNES)
Super Mario Kart is the ultimate family game. Race to the end and shoot stuff at your friends to stop them from beating you to the line. It's a formula that Nintendo invented back in 1992, a staggering 20 years ago, and one that has been copied countless times in all of those years but never bettered. The game has spawned six sequels across six Nintendo consoles and is probably more popular even that the titular character's original jumping platform series.
For anyone who somehow doesn't know Mario Kart, you choose a character from the Super Mario series roster and have 3 laps to beat seven other racers. If you drive over a power-up tile on the track you are rewarded with a tool, either a projectile like a green shell or something helpful like an invincibility star or speed-boost mushroom. There is also a battle mode where you must survive to the end while firing at your opponents to pop their 3 balloons before they pop yours.
It is such a simple idea, but one that works so well. Super Mario Kart is the essential fun gaming experience that everyone should play in their lifetime and will remain one of the most loved videogames in the world for a very long time to come.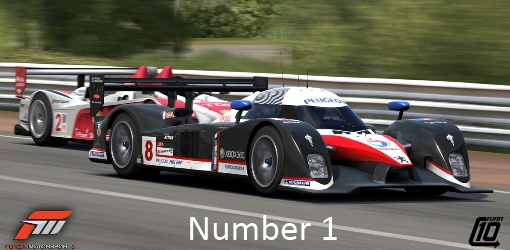 01. Forza Motorsport 3 (Xbox 360)
There is only one game that could ever take this top spot. Turn 10's monumental racing simulation series had been gathering ground for some time, but it was Forza 3 that made that quantum leap in quality that totally reinvigorated the love affair between videogames and the racing genre.
The level of realism is unprecedented in Forza 3. Tracks like Sebring, Tsubuka and Road America offer top speed and mechanical challenges while Silverstone, Suzuka and Mugello offer incredible high speed cornering and apex kissing. The customisation of cars from a spectrum so vast in range is mind-bogglingly advanced. You can modify a cheap and cheerful Renault Clio, but changing too much or trying to soup it up too far will lose you gains in certain areas. The Forza 3 career mode insists that you know when to develop what area of what car in a style that not only suits your driving style, but also allows you to attack each track in a unique way.
Forza 3 has the tuning options of F1 2011, the wealth of real world cars to rival Gran Turismo, the variety across circuit racing and rally drifting to blow all other contenders out of the water and above all else, it has such an immense replayability that even now, long after (the slightly inferior) Forza 4 has even been released, lap times are still coming down on the online leaderboards.
Forza's greatest accomplishment of all, however, is the accurate handling. If you have an Xbox 360 Steering Wheel, there is every possibility that you could play Forza 3, and ONLY Forza 3 for months and months at a time, finding that perfect setup that allows you to take every corner with confidence and flair. Then you'll want to beat that time, and you'll adapt and learn as you go. Forza 3 is the most complete racing experience you can get outside of a car and is so far ahead of its rivals that it has lapped many of them and left them for dust.