Reviews:
So you bought
Persona 3
last year based on the rave reviews only to learn that a few months later the ?complete? version of the game would be released? at a valued price. Fret not, there was no guarantee that
Persona 3: FES
was coming stateside at all, in fact, it's probably because you bought the original that FES did come here seeing as how Atlus was weighing their decision based on sales data. At least you early adopters received a soundtrack and art book right?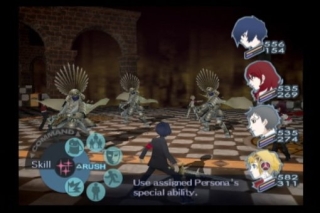 Let's cut to the chase. All FES is is a more complete version of the original Persona 3. So for the early adopters, is it worth playing through the original story again and is the new content worth justifying buying the game again?
The answer is yes. The game is broken up into two parts,
The Journey
and
The Answer
. The Journey is the original story with enhanced features such as weapon synthesis system, costumes, and tweaks to the dialogue to help keep the experience a little fresher. Though if you want to skip all of that and get right down to the finale, you can use your original Persona 3 saves and port them into The Answer. Besides receiving a proper close on the story, The Answer provides players with a new dungeon that is way more challenging than anything they experienced in The Journey.
The Answer picks up shortly after the end of The Journey. The school year has ended and the SEES dorm is about to close it's demon fighting doors. One last gathering is held for the students to turn in their envokers. However, strange things begin happening as the world seems to have entered a time loop a la
Groundhog Day
. On top of that, a mysterious character called Metis, appears and attacks the group. The only way to find the answers to the mysteries is to explore the final dungeon.