Special: The winner is revealed.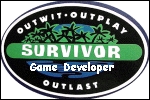 Previously on Game Developer Survivor...
The remaining five developers put themselves up for election to the readers of Gaming Target. And the readers responded by overwhelmingly voting for Shigeru Miyamoto. Hideo Kojima and Will Wright also moved on while David Jaffe was twisted out of the game and Game Newell is not just half gone but all the way eliminated.
Episode 5 "The Sole Game Developer Survivor" -
The final vote is in as the performance of each of the remaining developers in all of the events is added up.
Three developers remain... Hideo Kojima... Shigeru Miyamoto... and Will Wright.
All three have done great things for gaming. Shigeru Miyamoto created Donkey Kong, Mario, Luigi, Link, Zelda, the Pikmin, the Nintendogs, Wii Sports and countless others. Hideo Kojima has done more for making video games feel cinematic than any other developer in the world. And Will Wright has placated our inner-God complex with SimCity and The Sims.
But which one of them wins out over the others? Shigeru Miyamoto won the critical battle, the popular vote and earned serious kudos in the Gaming Target staff vote. Will Wright won the recent bestseller category, but Miyamoto has a list of bestsellers a mile long (including Super Mario Bros. and Super Mario Bros. 3, two games that have sold over 20 million copies).
Meanwhile, Hideo Kojima came in and performed well in all of the previous events, while not really "winning" any of them.
The Tribe has spoken...
In the end the choice is clear (and probably obvious from the beginning).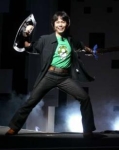 Shigeru Miyamoto
is the winner of Game Developer Survivor.
It was a hard fought battle, but when it comes to game developers, Shigeru Miyamoto is obviously the best there was and the best there is. Congratulations Shiggy, you've earned it and we as gamers are forever grateful for the decades of great gaming you've given to us.
Check out all of the previous Game Developer Survivor episodes here: