AoE Online Review: Age of Empires IV this ain't!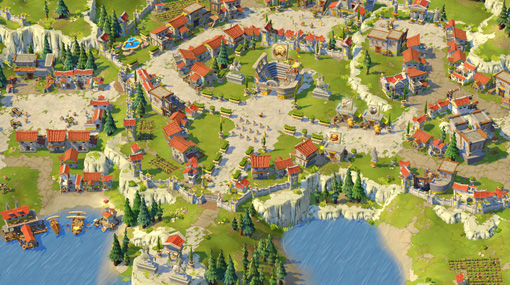 Age of Empires Online is not the fourth AoE game. Instead, it's a reboot, in the most Hollywood sense of the term. Acting like a modern movie studio, Microsoft has taken an old property it had laying around gave it a modern facelift. Borrowing the cartoony graphics and freewheeling business model of Team Fortress 2 (free to play with optional premium content), this is an Age of Empires for the Farmville set. While its bare bones system requirements, nonexistent learning curve, and low price will certainly bring new gamers to the fold, fans of the series will find it a devolved and slightly diluted entry.
Just like Farmville, Smurfs' Village, Mafia Town, Zombie House, or whatever game is cluttering Facebook feeds this week, AOEO is built around a capital city that grows to show off the player's progress. In addition to experience and tech tree points, most quests reward players with the raw materials to add to their cities. Once built, these structures have indirect affects on gameplay. Warehouses provide more inventory space, and the advisor hall lets you choose from a variety of ancient diplomats, all with different perks. It's a rather novel way of laying out the tech tree, and the game kindly allows you to reset points or rearrange buildings. Put some time and a little thought into it, and you can build a truly screenshot worthy city.
While most social games are content to take either your time or your money, AOEO seems to want both. Even if you drop $20 on a premium civilization with a bigger tech tree, you've still got to unlock it all. Until you earn siege weapons at level ten, quests are a real slog. You'll be marching legion after legion of spearman to chip away at enemy towers. Casual gamers who've learned patience from dragged out Facebook games will likely endure, but for RTS gamers, the first few days will feel like an endless tutorial. With innumerable (if repetitious) missions, co-op, PvP, two playable civilizations and more on the way, AOEO has plenty of content. There was no need for them to meter things out like some underfunded Facebook game.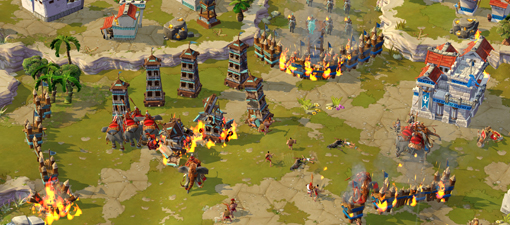 Accept a task from one of your town's quest givers and you're whisked away to a spawned instance, where all that lovely RTS combat takes place. The currently playable Greek and Egyptian forces are composed of archers, foot soldiers and cavalry, all with unpronounceable ancient names (This isn't edutainment, but would a phonetical breakdown have been to much to ask for?). Unless you're completely new to strategy games, AOEO's combat controls will seem a bit simple. There are two commands, move and attack. You cannot tell units to guard or hold their ground, or set them on patrol. Getting archers to hold a line or having spearman protect a catapult is an exercise in blistering micromanagement.
Villager controls and behavior have also been pared down. Got a fleet of ships to repair? You'll have to click each ship in turn; villagers can't be put into auto-repair mode as in previous AoE games. Also, you'll have to shuffle the boats to and from shore, as the AI lacks the wherewithal to manage that. Same deal for fixing structures; repairing a wall has you tediously clicking each segment.
AOEO's caricature style graphics are a high point, and are well suited to an RTS game. It makes it easy to tell a gaunt archer from stocky spearman. Character and building animations are broad and fun, and read easily even when you're zoomed out. Not that you can zoom out very far, one AoE gameplay hold over that could have been done away with. It makes the small and cluttered mini-map even more frustrating.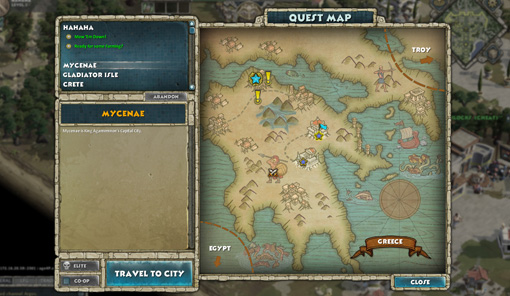 AOEO does keep the series tradition of excellent sound design and music. The limited amount of voice work is high quality, and fits the broad, animated tone of the game. The music is classically inspired, but very upbeat, like an ancient military march.