Review: The first avenger is off to a good start in the video game world.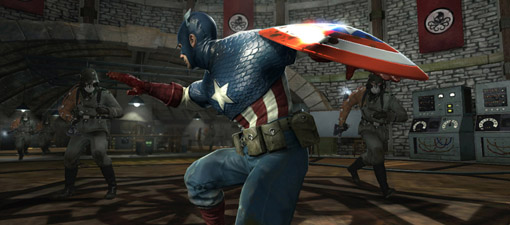 Successful superhero video games are few and far between. For every Marvel Ultimate Alliance there's a Marvel Nemesis: Rise of the Imperfects. That goes double for movie tie-in titles based on comic book heroes. While games like Wanted and Iron Man line the discount bin, there are some diamonds in the rough to be found, such as Scott Pilgrim vs. The World. Fortunately for me, Sega's Captain America: Super Soldier is one of those rare occasions where everything comes together. Though it's incredibly short, even by today's single-player campaign standards, Captain America is about as good a Captain America game as you could ask for.
Captain America: Super Soldier takes place during World War II, just after Cap gets his suit and shield from the army. If you've seen the film, you'll immediately see where the game fits into the story, but those of you who didn't yet see Captain America: The First Avenger won't be lost at all. The entire game takes place at one giant European villa where Hydra's top agents have holed up. Scientist Arnim Zola is creating weapons for the Red Skull, and it's up to you to stop him from putting highly-advanced weaponry in the hands of Nazi soldiers. Despite the game having to fit nicely into the movie's timeline, developer Next Level Games does a decent job giving the game a unique narrative. The world never feels too small, despite only taking place at several different points of one location, and the missions do carry some weight even if you know where all the pieces must fall by the conclusion.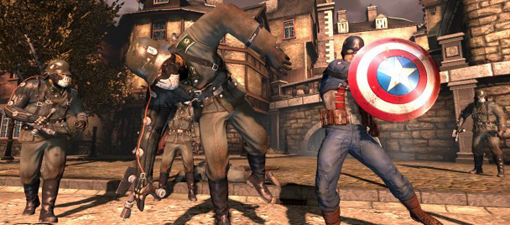 Of course, setting an entire game at one sprawling location isn't the only bit of homage Next Level Games pays to Batman: Arkham Asylum. Like the Rocksteady and Warner Bros. game from a few years ago, there are some nice boss battle cameos, which will sate nearly every comic junkie playing game. The influences continue in the combat, which borrows heavily from the Bat-title. The face buttons are used to attack, counter, grab, and evade, while the shoulder buttons are used for throwing your shield. Whether Captain America punches or kicks is determined by the game, as is what type of counter attack he uses. There are special knockouts you can earn by defeating foes and evading attacks, and those come in handy when battling bigger enemies and bosses. Several of your attacks are upgradable, and I had a great deal of fun with the shield upgrades. There are few things in life more satisfying than throwing Cap's shield into a room, and watching it deflect off of five enemies before it comes flying back to you. It's not a terribly deep system, but it's easy to grasp, and trying to build up lengthy combos is a lot of fun.
I first got a glimpse of Captain America: Super Soldier at last year's New York Comic Con, and while the combat looked interesting, the game's visuals did not. A great deal of time has passed since then, and the game has seen a massive improvement in the graphics department. Some of the characters tend to look a little shiny, and Bucky's likeness isn't what I'd call favorable, but Cap and the Hydra agents all look good. Though it probably wouldn't have made a difference to a more casual player, the addition of Chris Evans actual voice for Captain America does help tie the game to the film a bit more. The score is about as memorable as the films was, which is to say not at all. It's not the game's fault though that Captain America wasn't given the same type heroic overture that Superman and Batman got. Animations are fairly on point, though there were a few times that the Hydra agents I was fighting glitched about the room.