Review: Agent, you need to attack that targ... oooh, there's a bunch of agility orbs that way!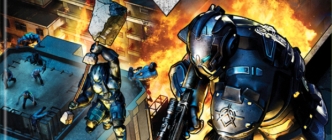 The original Crackdown had both a luxury and a curse surrounding its 2007 release. Releasing with access to the Halo 3 multiplayer beta was obviously a tremendous plus for boosting sales, but the sad reality is a lot of people disregarded the game and considered it a $60 token to play a limited version of another game that wouldn't be out for six more months. At this point, most Zone of the Enders fans are grimly nodding their heads in understanding. Thankfully this attitude ultimately didn't ruin the game, as it eventually caught on with many Xbox 360 owners and it became one of the console's sleeper hits, and an obvious influence for future superhero-esque sandbox titles like Prototype and inFamous. Despite this, a sequel seemed unlikely due to Microsoft's foot dragging and original developer Realtime Worlds being busy with the recently released PC MMO dubbed All Points Bulletin. When all hope seemed lost, many of the original team members created Ruffian Games, and after a short development cycle, Crackdown 2 is here.
Though Crackdown has really never been about plot, Crackdown 2 does feature rock-solid continuity for one specific event. Fans of the first game will remember an attack on a Shai-Gen that accidentally released bizarre and mutated humans who terrorized the area ? well it's been ten years since then, and now the ?Freaks? are everywhere and rapidly infecting others. To make matters worse, an anti-Agency group dubbed Cell has become a large influence in Pacific City, and has taken control of many former gang territories to protect themselves from Freak attacks and terrorize Agency employees. When Crackdown 2 begins, the Agency has finally restarted their troubled Agent program ? and you are the first recruit, tasked with cleaning up the city. Wipe out the Cell by day, exterminate the Freaks by night, and bring some semblance of order to the troubled Pacific City. While the first game was light on plot aside from the ?here's a bunch of bad guys, go kill them? thing, Crackdown 2 spends more time on narrative with audio diaries scattered about town from a variety of perspectives, which do a fine job of filling in some blanks and even making your own mission seem questionable. Aside from these optional objectives, the game maintains the ?here's a bunch of targets, go get them? attitude.
Thanks to the direr situation for Pacific City, the amount of objectives has doubled in Crackdown 2. The main story can be completed merely by retaking control of ?Absorption Units? that are used to triangulate the location of an underground Freak lair, where they hide at night to avoid the daylight. When the process is complete, you head towards a lair to defend a ?beacon?, which is a nice way of saying ?a huge-ass UV bomb that turns Freaks to dust.? There's nine of these lairs in total (with 27 Absorption Units that need to be claimed), and completing the whole thing unlocks one final mission to ?finish? the story. However, just doing that would be a disservice and make the game way more difficult than it otherwise would be. To counter that, there are 27 Cell bases to overtake and and 25 pluggable 'breach' points to prevent Freaks from climbing out. Completing these tasks quiets the city down ? during the day there's minimal Cell resistance and at night there's little, if any, Freak presence. Without completing these objectives, you'll be shot at from every direction during the day, and Freaks will clog the streets and terrorize innocents in the evening.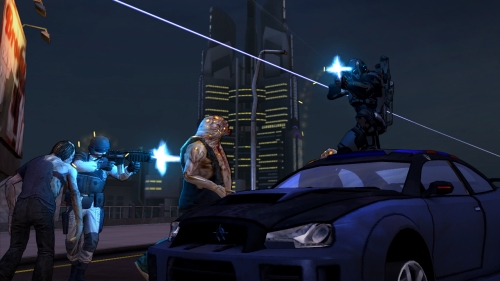 Crackdown 2 retains the performance-based leveling system of the original game. Inspired by role-playing games, your Agent will evolve based upon your own actions. If you're explosive happy, using grenades and rocket launchers to clean up enemies, your Explosives skill will improve and become more deadly. The same goes for firearms and melee skills. Melee is especially important because it increases overall health, so you might want to get down and dirty with enemies just to boost that stat quickly. Those extra bars of life becomes really important if you accidentally get caught up in your own rockets or grenades. The other skills don't really evolve on the same path - driving skills come mostly from races and stunt jumps, though mowing enemies down in a vehicle does dish out some experience points. As for maxing that Agility skill... of course, Agility Orbs are back. More than anything, the Agility Orbs are like a completely different game, as it makes Crackdown more of a sandbox platformer. It's also the place where your skills are most evident in their evolution ? at the start you are fairly human and only able to leap short distances, but by the end of the game you should be able to leap from tall building to tall building, even if that building is across the street. With 500 Agility Orbs to find (and 300 Hidden Orbs that dish out bonus experience to all your skills), it's just as addictive as ever to wander the rooftops of the city listening for that familiar jingle.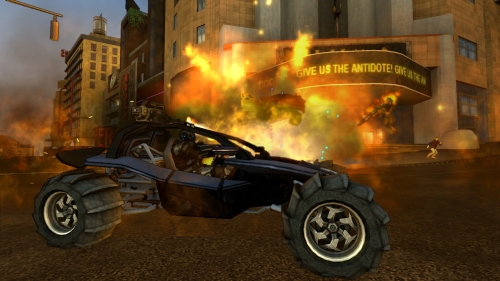 In the last game, driving was something of a bane ? sure you didn't need to drive since you can jump anywhere and even run faster than most vehicles, but most cars handled poorly and weren't much fun to use if you just wanted to cruise the streets. Crackdown 2 has fixed this, with a much improved driving model, though again, it's possible to play the game without once entering a vehicle. Unlike the first game, Agency cars don't ?evolve? as your driving skills increase ? you just get access to better rides as that driving skill levels up. Since this is the aspect of Crackdown that needed the most fixing, it's good to see this addressed even though they could have easily taken the ?driving, lol? path and not bothered to make changes. The increase in driving objectives also helps ? more jumps, more races, and the addition of Renegade Orbs that you have to chase down in a car might actually make people use them.
For the most part, Crackdown 2 doesn't stray far from what made the first game great. In fact, one could consider the game to be Crackdown 1.5 (if you're cynical, that is) in that the only major changes are added story bits and a vast increase in mission variety. Even the unusual controls have remained the same, and the targeting can still be a little loopy in who it selects. However, considering Crackdown is still a very unique game, any kind of sequel still feels fresh and fun, especially when it's been over three years since it originally released. Given the rather short development cycle, the fact that Crackdown 2 turned out so good is nearly miraculous, even if it is more of the same. The biggest additions come in its multiplayer offerings, which were pretty good last time around but not quite as deep as other games. While it's possible to handle Crackdown 2's story tasks alone, the game now features support for up to four players cooperatively in an easy drop in/drop out format. Smartly, you can easily dictate how the game deals with such things, be it letting only friends join your game or outright cutting everyone off from you if you're the lone wolf type. The game also features a 16-player competitive mode with the usual Deathmatches and flag capturing and whatnot, just tailored to the specific quirks of the Crackdown franchise. By now you know what to expect.
Though the city is the same, the visual difference between Pacific City from Crackdown and Pacific City in Crackdown 2 is surprising. Instead of being a gleaming metropolis, the place is run down from years of violence, with many buildings either destroyed or almost there. It adds a lot of subtle differences and the visual style reflects that. It still maintains the slight cel-shading style, though a few other effects have been added to polish up the engine. It's not the best looking game around, but it gets the job done. For the most part the game runs smoothly ? it's amazing how many Freaks they can get on the screen at once ? but if you cause a lot of explosions and other forms of mass genocide, things can slow down for just a second or two. Like the first game, you are guided by the Agency's disembodied voice ? the same guy from the first Crackdown, naturally. Throughout the game he offers advice, congratulates you on achievements and milestones, and occasionally yells at you if you accidentally kill a peacekeeper or an innocent bystander. The other voices from the audio diaries are fine, and there's a lot of NPC chatter ? the Cell guys in particular offer amusing takes if you run away from them or they shoot you. Crackdown 2 also offers a licensed soundtrack, though it only seems to play if you're in a civilian car ? the only times I really heard any music was when a Cell vehicle was inbound, since they like to party and crank that ish up.