Review: The Darkside is looking quite bright my friends.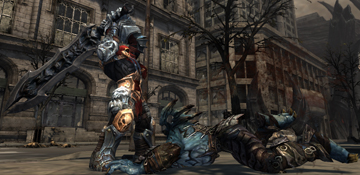 Darksiders is the debut game from developer Vigil Games where you take control of War, one of the Four Horsemen of the Apocalypse. The story starts off with a bang, as War is unknowingly brought forth to invade Earth, triggering the end of the human world. Under the orders of the mysterious Council, War must find and kill The Destroyer to repay for a sin he doesn't know how or why he committed. The Council keeps War "on a leash" by binding him to The Watcher, a mean spirited demon servant (voiced by none other than Mark Hamill) who will guide you along your epic quest to both discover what brought Armageddon about and make The Destroyer pay. Simultaneously borrowing the combat style of action games like Devil May Cry and God of War and the exploration and game progression of Zelda, Darksiders is a fun mix of almost every 3rd person game mechanic ever created.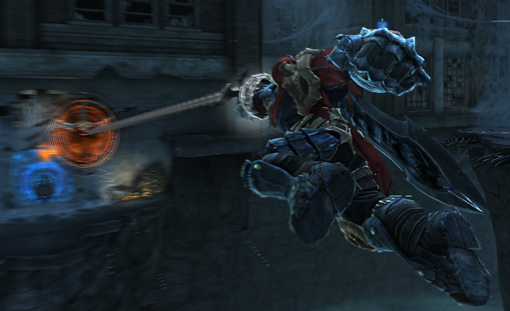 Yes, Darksiders has it all. Platforming, sword fighting, gun wielding, horse riding, puzzle solving, portal shooting, you name it ? War does it. In the first thirty minutes of the game it may not seem like much more than God of War in New York City. The combat is fast and frenetic, filled with super violent one-button grab finishers. Currency, Health and Wrath (mana) are replenished by soul chests and you spend a lot of time climbing on walls and across large ropelines. Sound familiar? You may feel d?j? vu frequently while playing Darksiders. Swordplay never reaches the level of depth that Devil May Cry has in chaining massive combos together seamlessly, but you can learn plenty of new moves from Vulgrim the demon vendor. When spells and dungeon items are thrown in to the mix, you can kill monsters in a hell of a lot of ways. The only thing that became a hassle occasionally is using the same button for dashing and blocking. Sometimes you will try to block quickly but instead War will dash because you slightly pointed the analog stick in a random direction. Other than that it is very tight. You get a couple other melee weapons as the game progresses but War's trusty blade, the Chaoseater, is what you'll find yourself using 90% of the time.
As you move further, Darksiders becomes an expansive adventure with a sizeable overworld and a few major dungeons. Much like in Zelda games, each dungeon is chock full of puzzles and cool bosses, and each dungeon rewards the player with a new weapon or item that will be needed immediately in said dungeon and can also be used to access areas in other places of the world. This allows for a lot of varied gameplay later on when you need to combine all of them to travel and solve puzzles. These puzzles have a well balanced level of difficulty. They aren't hard enough to make you waste hours at a time and they aren't easy enough to be a complete waste of time. The early ones are a bit bland, but don't fret, Darksiders is a game that gets better and better as you play it. Complexity builds as you get to the later dungeons and some rooms will surely have you stumped for a few minutes. The introduction of portals late in the game especially adds a lot of spice and makes for the most imaginative dungeon puzzles.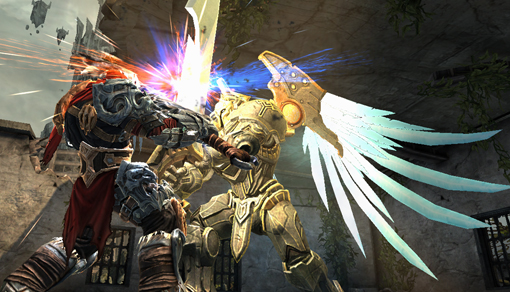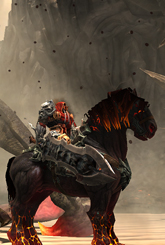 Darksiders' presentation isn't mind blowing but it's no slouch either. The visual style is a cool mix of realistic grit and bright, colorful comic tones very reminiscent of Warcraft and Legacy of Kain: Soul Reaver. There is a lot of detail and some of the large areas in the game look quite spectacular. The game runs very smooth and I didn't run in to any major technical problems while playing it through. Jumping when too close to an edge can be iffy and lead to some accidental deaths, and the hit detection isn't perfect but these are miniscule problems. The story starts off intentionally confusing and I didn't know what to make of it at first, but it wraps up nicely and the ending is satisfying while also perfectly setting up a sequel. There is hopefully a lot to look forward to from Vigil.