Specials: Less play, more class.
Play! A Video Game Symphony is a concert in much the same vein as Video Games Live but there are obvious differences. Play! started shortly after, with their first show happening in Illinois on May 27th, 2006. Before that though, Maestro Arnie Roth had been bringing video game music to the masses through other productions. Roth, along Jason Michael Paul Productions Inc. started up video game symphonies idea back before Video Games Live with the 2004-2005 concert tour of Dear Friends -Music from Final Fantasy-. That concert series also pioneered the use of jumbo screens showing game clips that are synced with musical renditions of the depicted titles. With the launch of Video Games Live and Play! just a year apart, many people may mistake them as offering the same experience. This assumption, would be largely false.
Yes, both concerts have a full symphony playing newly composed, re-composed or altered video game music, and yes, both try to synchronize that music with on game action. But the respected companies tackle the feat in drastically different ways that the presentation of the material ends up being radically different. The divergent methodology in presentation is so drastic that even the presentations of the same pieces - such as Super Mario Bros. or World of Warcraft - come off as entirely different affairs.
Before continuing you should be sure to check out our
review of Video Games Live
for a few reasons. First, we want you to understand what a concert from VGL has to offer so you can fully appreciate the differences discussed later in this piece. We also do not feel the need to reiterate just how much of an opportunity concerts of this type can be used to get families together for an enjoyable evening experiencing some "
high art
."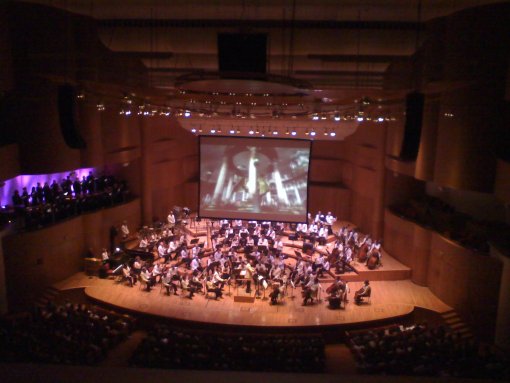 Orchestra playing Oblivion's soundtrack as we are flown around its massive landscape.
VGL versus PLAY!
As stated, comparing the two concerts would not be the most fair thing to do as it would be the age old problems of comparing apples to oranges, and everyone knows apples are better. But their differences in presentation warrant a further dissection for those who do not know which concert they should see. The choice is actually quite easy, see both of them, BUT, depending on who you plan to take/drag with you, you may want to be a little more picky.
VGL is presented in a fashion as to draw gamers into the world of music and symphony, to have them experience the music in a different way, but not leave the culture which they have come to love so much. Therefore, VGL is a gaming concert - that has wonderful music. What I mean by this is that all the standard rules of seeing a symphony are gone. In fact, Tommy Tallarico encourages fans to shout at the symphony when they appreciate the songs, or are enjoying a specific bit of video footage. The attraction also houses numerous audience-centric activities such as a heads-up game of Frogger (highest score wins some swag) that acts as a break for the symphony, but also keeps the gamer crowd at full attention.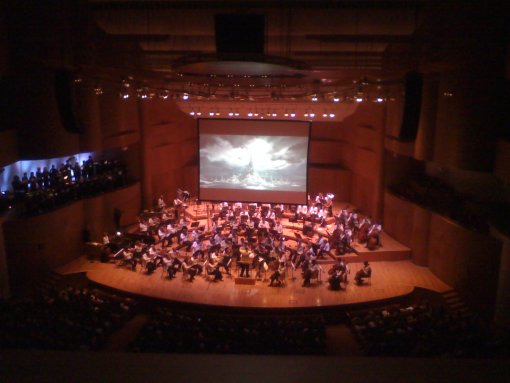 Interpretation of Northrend from Warcraft III's cinematic.
PLAY! comes from a completely different perspective. Jason Michael Paul Productions Inc. felt it better to stick with what they know, symphonies and their audiences. Instead of trying to pull the gamer culture into the symphony culture, PLAY! goes the other way, keeping all the orchestra standards (polite clapping, no screaming during the show, waiting outside the doors for a piece to finish) in place, while introducing that audience with pieces from video games new and old. The audience ends up being much more reserved, which does allow you to experience the music at a higher quality. PLAY!'s production company also wanted things to be more aesthetically pleasing to their audience as well, selecting a building suited for the venue, the Baltimore Symphony Orchestra at the Meyerhof . The last drastic difference in presentation was the focus of the video. PLAY!'s projection screen was split about 50-50 between close-up and wide shots of the orchestra playing and actual game footage. Some pieces did not have a single piece of footage from the game itself, instead focusing on the musicians during difficult pieces of the song.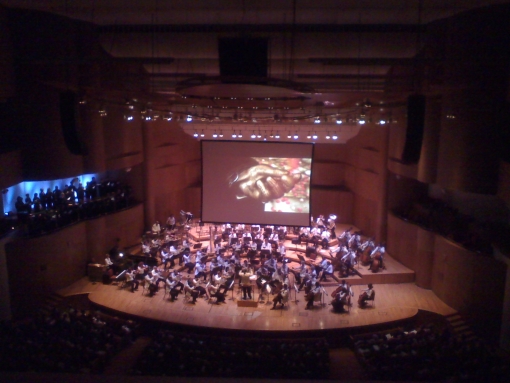 Arthas' plan is almost complete.
Best of Show
I have always been a sucker for remixes of all the Super Mario Bros. music, but PLAY!'s did not strike a cord for me though. Warcraft's and World of Warcraft's merger piece also didn't do it for me. The Cronotrigger and Chrono Cross piece sent me back to the SNES days quickly while Halo's rendition was to exact to the game to get me riled up. In the end it was the large rendition of Castlevania music that took the cake for me.
Castlevania has always had a fantastic soundtrack, even when the games sucked - looking at you 3D Castlevania's - and PLAY! really nailed the experience. Their selection of tracks ranging the whole catalog, 8-bit, 16-bit, handheld titles and 3D games, matched with solid video and the changing atmosphere in the BSO lead to an amazing experience that has stayed with me over a week after the show. Those few minutes were easily worth the price of admission for me.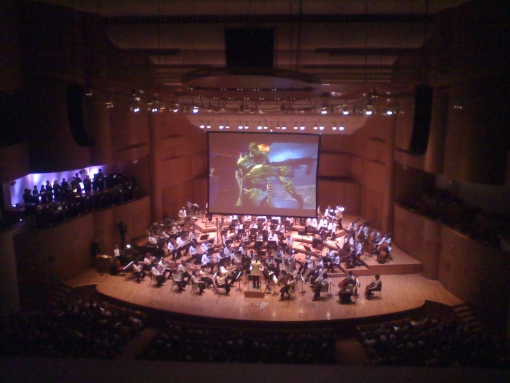 Master Chief getting ready for action.
Can't decide? See both!
The general idea behind the two attractions is the same: to showcase video game music and how far it has come in its short lifespan. The companies go about it in far different ways, creating experiences different enough to allow one to see both without feeling like money was wasted. A recommendation though, whomever you chose to go to the show with you should be chosen carefully depending on the venue. Should that someone not be much of a gamer, but love music, then PLAY! is probably your best bet. If you would categorize them as a gamer then VGL would likely be the better candidate. Something in between? Then pray that your area is privileged enough to host both shows in the near future.