Specials: What is better than a video games? Seeing it live.
Video Games Live premiered in 2005 at the Hollywood Bowl to a huge sold-out audience. Many people felt that the massive success of the concert was surely to be a one-shot deal, however industry veterans and company co-founder's Tommy Tallarico and Jack Wall were determined to spread their passion for game music. In the ensuing years they have put on dozens of their shows with performances around the world. I say shows because the experience is far more than a concert. Video Games Live takes everything one step further, adding a giant projection screen to go along with the Orchestra music, then adding in various crowd interactions and on-stage performances. I was lucky enough to snap up tickets to the show on April 26th, the day that Video Game music was showcased on Broadway, a historic day indeed.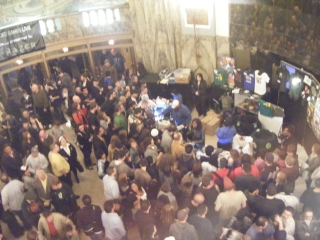 Look at the crowd!
I came into the concert knowing exactly what to expect, but many people have no idea what they are walking into. The idea of going to a concert full of video game music strikes people as a large waste of time, "Why do I want to listen to bleeps and bloops all night?" is a sentiment echoed by many of the people I mentioned the concert too. These ideas were often from people who were either out of touch with the games of today, or people who wrote off games long ago. Those of you who are reading this probably know exactly what to expect, epic renditions of music from game composers like Nobuo Uematsu (Finaly Fantasy), Koji Kondo (Mario and Legend of Zelda), Harry Gregson-Williams (one of the composers for Metal Gear Solid), and Masato Nakamura (Sonic the Hedgehog). But that is one of the reasons to go to this show, to introduce people who may be out of touch with today's greatest entertainment platform and show them how far it has come so quickly.
Even though I walked into the concert already hearing many orchestral renditions of game music (Nintendo's Smashing Live CD and the soundtrack to The Legend of Zelda: Twilight Princess) I was still blown away by many of the performances. Even a nearly half-deaf gamer (me) can appreciate how much time and effort has gone into the show, from the opening Ms. Pac-man video to the synchronization of the orchestra to the video feed, the intermission loading screen and on-stage performances, everything was spot on entertaining.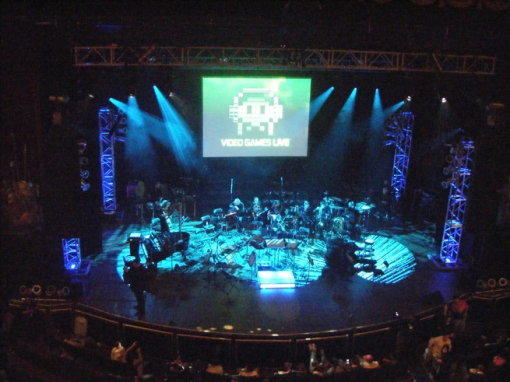 Right before the orchestra took the stage.
SPOILER ALERT: The following paragraphs contain information that may spoil some of the performance! Read at your own risk!
The attention to detail hit a high note when the orchestra brought out a piece to a World of Warcraft/Warcraft III video put together by Blizzard Entertainment. After the audience settled down ("Glory for the Horde!", "For the Alliance!") and the video moved into a Wrath of the Lich King and The Frozen Throne segment things got interesting. The lights above the stage began dropping fake snow flakes, not all that fancy, but then I noticed something else, it got REALLY cold all of a sudden. Apparently, someone was smart enough to tell the Beacon Theatre people to BLAST the Air Conditioning at the precise moment when a chilled Arthus appeared on-screen. An act of sheer brilliance that was probably lost on much of the crowd.
SPOILER OVER!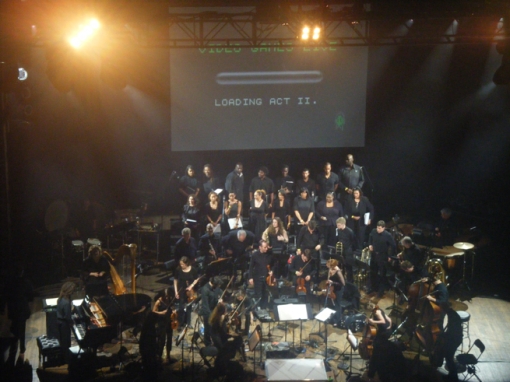 Everything was game related, even the intermission.
So what makes the concert worth the price of a budget game (around $35)? Everything. First off, its an excuse to get off the couch and dive into video games and the culture that surrounds them a little more. Then there is the chance to introduce friends and family to a family-friendly (they avoid showing Mature or Teen rated content, but in a creative way) concert that pretty much everyone will enjoy, even the Grandparents! For the gamers going, there are also added perks. Many of the shows have a few interactive sessions, allowing lucky gamers (Orchestra pit only sorry) to get up on stage to perform with the orchestra in head-to-head gaming battles or time attacks. And the winners (and losers) always go home with a bag of swag. But like any good infomercial, THERE IS MORE. Before select shows VGL holds tournaments, shows off demos, upcoming products and things of that nature. Post-concert, the folks of VGL stick around for a little meet-and-great, which generally includes various industry professionals, and not just audiophiles. Our concert was also treated to a special appearance by the President of Capcom, whom was a member of the audience, sitting there, with average joes. And at every show there is a costume contest - we even managed to find Carmen Sandiego at our show. Took me 23 years, but I finally found her!
Tommy and Jack should be given a big round of applause. The team has created an entirely new aspect to video games, and have even helped reinvigorate interest in orchestras and classical music.
PLAY! A Video Game Symphony
is following in VGL's footsteps, performing with top orchestras all around the world, although not as frequently. Nintendo and Square-Enix continue to hold their own private concerts. Enix deserves a little credit themselves, as they held what is regarded as the first video game music concert ever, way back in 1987 called "Dragon Quest in Concert". The interesting mix of music, visuals, solos, on-screen movies, on-stage activities, industry collaboration and depth of the show kept me smiling, laughing and FEELING throughout the entire artistic masterpiece. Bravo, Video Games Live, keep up the good work, see you in Newark and congratulations on rocking Broadway.