Interview: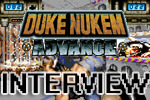 Although we haven't heard anything from Duke Nukem for in a while, the Australian developer named Torus Games is soon to change all of that with release Duke Nukem Advance. Even though Duke has made several appearances on the PC and the various home consoles in the past, it won't compare to the power of his new compact state on Game Boy Advance. To get more insight on the upcoming title, we were given the chance to ask Brian Uniacke from Torus games a couple of questions about its development. Read how he sheds additional light on the new shooter that's sure to steal the limelight come August 13th.
Gaming Target:
What was your primary goal in the development of Duke Nukem Advance? A sequel to Duke 3D, a console type platform game, a combination of both...?
Brian Uniacke:
Our primary goal was (and still is) to make the best FPS on the Gameboy Advance. Our secondary goal was to take as many features from Duke3D that were feasible for the handheld and get them to work - or at least create the illusion. Our tertiary goal was not to do a straight port. Duke3D was good for its time but we felt players always expect something new from Duke and pushed for an original story.
GT:
Duke Nukem Advance has spent quite some time in development. What hurdles did you encounter in bringing Duke Nukem to life on the GBA?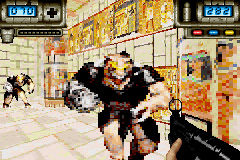 Brian:
We knew we couldn't achieve full 3D tech at the time (especially when we were supposed to deliver in September 2001) so we opted for a BSP engine. This meant we had to make some compromises to the initial game ? transferring a true 3D environment to a BSP rendering environment. Then Sep 11 occurred and Take 2 had to reassess the project. All parties involved agreed to extend the production time to squeeze in more features and refine the game. Finally getting 3D Realms full involvement in the game. We knew it was their license and we wanted them to have their stamp on the game.
GT:
Duke Nukem Advance bears a striking resemblance to the now classic Duke Nukem 3D. In what ways did you draw upon that game for inspiration?
Brian:
We mainly looked at separate gameplay elements from Duke3D that we thought would translate well:


We went for a Jump button instead of an Activate button because arcade style puzzles are popular on the hand-helds.


Look up and look down. This mainly gave the player the opportunity to look around the levels.


Duke voice-overs. These are part of the Duke experience.


Security cameras. They are cool items to play with and we thought they could be used to promote our Level Bosses.


Damageable textures. Shooting up computer monitors, blasting grates to climb through air vents, etc.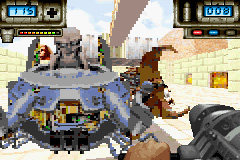 GT:
Were you concerned at all with bringing Duke Nukem's "colorful" personality to life on one of Nintendo's family friendly consoles?
Brian:
At first we weren't concerned at all. We didn't want it to get in our way. Then we toned it back once we were locked to the Teen rating.
GT:
Past Duke games, going all the way back to the beginning of the series, have been kind of lacking in the AI department. What advances in the alien AI will we be seeing in Duke Nukem Advance?
Brian:
Originally we wanted to have more attack patterns for some of the new enemies but in the end we felt it more important to concentrate on other areas instead. Plus the fact that the AI we had in place turned out really well so we stuck with that.
GT:
What exotic locations will Duke be traveling to in his quest to save the world? Might we be seeing more of the nightclub from 3D?
Brian:
I personally think the most exotic location we have is the Temple of Amun - Egypt. There are hieroglyphs on the walls, columns, sliding stone brick doors. One of the things I really wanted in the game was to have the Temple blowing up as you escape ? a homage to my childhood TV adventures. We have a nightclub in the first Sydney level but we had to pull some of the ?juicier? background elements out.
GT:
Duke Nukem Advance is entering a crowded field of top-notch fps titles that have already been released on the GBA. What features does Duke Nukem Advance sport that will set it apart from the rest?
Brian:
The first thing you will notice is the frame-rate. It is a much faster game than the predecessors.
Cool player character ? you're Duke.
Pipe-bombs, Freeze Gun and Shrink Ray.
Mip mapping. We still wanted good detail in the textures when viewing them from a distance.
GT:
Multi-player seems to have been a late addition to the features of Duke Nukem Advance. Was there a struggle to get this feature added to the final product?
Brian:
Only the usual technical problems.
We tried to implement an asynchronous system similar to PC network games. This means you can have someone pull out the link cable and plug it back in and still be able to continue playing.
GT:
Early looks at Duke Nukem Advance are performing well beyond the reaches of some of your competition. What difficulties did you run into while bringing this gaming vision to life on the GBA?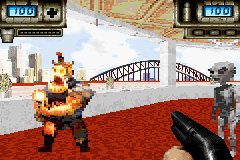 Brian:
Time is always the biggest difficulty. You know you can do pretty much anything on the Gameboy Advance and if you can't you can at least emulate it but do you have enough time at your disposal. We minimized our technical risks by putting a dedicated 3D team onto the project. We also had a GBA Guru who assisted getting the code base to work effectively on the handheld. We had a layered development strategy. We had primary items we wanted to achieve then we would assess the time left then try the next lot of implementation.
For example, we left floor and ceiling textures out for the first run of the game so we could develop the engine using C code. The next run, we converted the C code to machine code so the game would run fast enough to display floor and ceiling textures.
GT:
Is there any part of the original Duke Nukem Advance vision that you were not able to implement in this outing?
Brian:
Pretty much everything we had planned to put in made it into the game. If anything we put in more. As mentioned in question 5, we wanted to have more variation to the attack patterns of some of the enemies. The main thing we missed out on was some extra multiplayer games. It's nice to have something other than DeathMatch. However, most of these other games end up being DeathMatch anyway.
GT:
Might we see them or any other concepts make an appearance in the future for a possible sequel?
Brian:
We are producing other FPS titles. As for Duke, I think Duke Nukem Forever will be the next Duke title. So for the immediate future I don't think there will be a Duke Nukem Advance sequel ? but you never know.
Final Word

As August 13th approaches, we greatly anticipate the release of Duke Nukem Advance with each passing day. Since we are so eager to get our hands on the game, we've provided a
Duke Nukem Advance preview
in addition to the interview. We'd like to thank Brian for his time to answer our questions as well as Kevin McIntosh for setting things up, all so we can prepare for return of king, baby!