Cyber Monday Walmart News: PS3 and Xbox 360 bundle Walmart Cyber Monday deals are joined by discounts on Borderlands 2, Gran Turismo 5 XL and Ratchet & Clank Collection.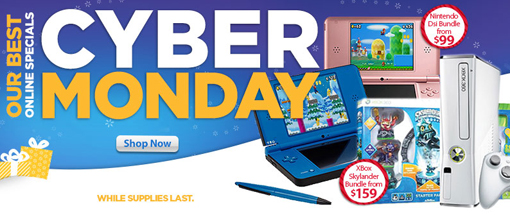 Cyber Monday deals at Walmart open the doors to exclusive 2012 Xbox 360 and PS3 bundle discounts as well as temporary price drops on games.

The Xbox 360 4GB console bundled with the Skylanders Starter Kit and a Walmart-exclusive Gill Grunt character is a family-friendly gift at a wallet-friendly price, $159.



Walmart Cyber Monday deals also feature a good PS3 discount, $219 for what the store calls the "PS3 Ultimate Bundle." This bundle consists of the a PS3 250GB system, Uncharted DUal Pack, the inFamous Collection, and your choice of one of 37 value games.

The best games in this PS3 bundle deal are LA Noire, Bulletstorm, Mass Effect 2 and Gran Turismo 5 XL.

Speaking of Sony's racing simulation, GT5 XL is on sale as part of the Walmart Cyber Monday deals for 2012. It costs just $10. LA Noire can be had for the same price.

At $15, one of two other PS3 games can be had, Ratchet & Clank Collection and last year's Uncharted 3: Drake's Deception. Double that price is this year's FPS favorite, Borderlands 2.

With Buy 2 Get 1 Free PS3 Value Game Bundle deals and free shipping on video game purchases, Walmart joins the

Amazon Cyber Monday

and

GameStop deals

that are worth checking out of the next 24 hours.