Dead Island News: Dead Island sales have been robust, and as a thank you, the creators are giving away tons of prizes. Enter daily to win Blu-Rays, HDTVs, or a vacation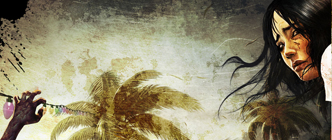 The zombies of Dead Island are feeling generous. As a thank you for all the gamer flesh and brains they've devoured, they're giving away a ton of prizes. Drawings are daily and the prizes get bigger every week. Visit the contest page daily for a chance to win every 24 hours.





Now, the zombies of Dead Island aren't just giving this stuff away, there's a little work to be done. You'll need to register (see the Login icon in the lower right), then you'll be taken to a screen where you need hunt and click Myst-style on special part of the picture. It changes everyday, but right now it's the potted plant in the lower right. Then you'll be taken to a trivia question. Today's question is easy, if you want to know the answer just go to IMDB and see who directed 1968's Night of the Living Dead. Perhaps the questions will get tougher in week four when they start giving away the tropical vacations?

Minimal leg work aside, there's no reason not to enter this contest. Who wouldn't want a pile of horror movie Blu-Rays, an HDTV, or a vacation? Talk about stocking stuffers. The contest goes until Christmas Day, when zombie Santa Clause slides down gamers' chimneys in search of love, good will toward men, and braaaaaaiiins.

Also, don't forget to enter Steam's Daily Wishlist Giveaway! And check out Dead Island's first DLC, Bloodbath Arena.