GoldenEye 007: Reloaded Preview: Who says remakes are no good?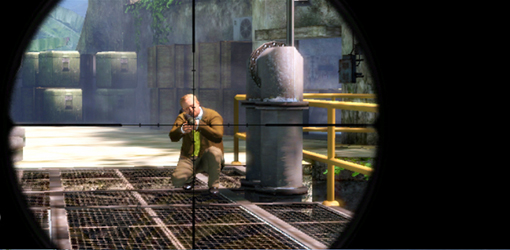 Revisit the stunning locales, kill the classic villains, and even play as Christopher Walken in the latest and greatest GoldenEye remake for Xbox 360 and PS3. With a release date of November 1, get ready for some hard and fast facts.
Watch the official GoldenEye trailer below.
Single Player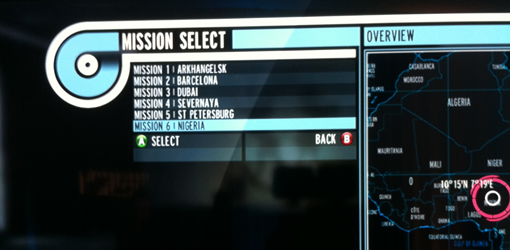 The campaign mode for GoldenEye: Reloaded is composed of six globe trotting missions, following a new take on 1995 movie plot, scripted by one of the original screenwriters, Bruce Feirstein.
MI6 Ops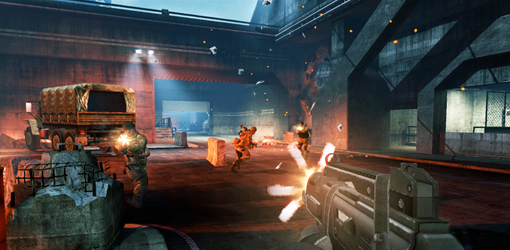 This highly replayable mode wasn't in the Wii version. There are four game types, each with their own maps and objectives. You can tweak things like enemy aggression, grenade use, radar and your own health and loadout. The game will assign you a challenge rating based on your choices and grade you afterwards (for example: turning off the radar makes for a much higher challenge rating). You can then post your scores to leaderboards, and friends can take up your challenge with the push of a button.
Watch the MI6 Ops trailer below.
Four modes and the following maps have been confirmed:
Elimination- Work through waves of enemy reinforcements as fast as you can.
Facility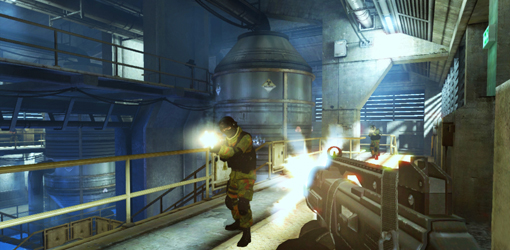 Nightclub

Jungle

Archives

Defense- Protect the consoles from enemy attack while they download precious intelligence.

Memorial

Docks

Outpost

Stealth- use silenced weapons and sneaky tactics to eliminate the opposition without being detected

Station

Airfield

Nightclub

Assault- fight your way through the enemy position as fast as possible

Solar

Multiplayer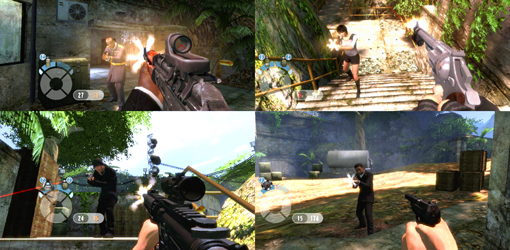 The multiplayer you know and love is back, online or in splitscreen! Now with new modes that allow customizable loadouts and special character perks. Scope some of them out here.

Watch the GoldenEye multiplayer trailer below.



Characters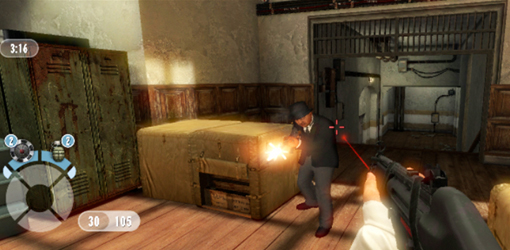 There are a whopping 58 character models, 14 of which are classic Bond babes, villains, and henchmen with their own custom load-outs and abilities. They include: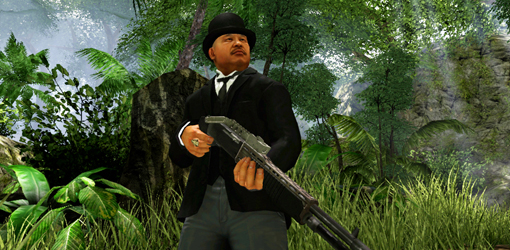 Oddjob- really, who throws a hat?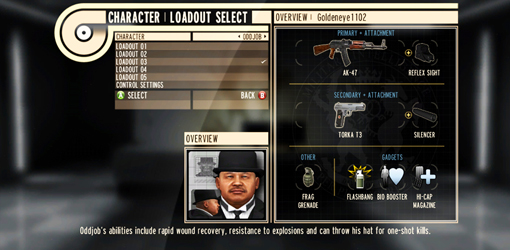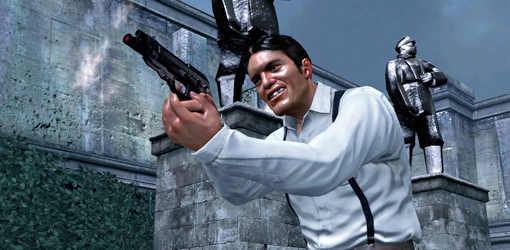 Jaws- the metal-mouthed mugger! His metal jaws deflect headshot damage.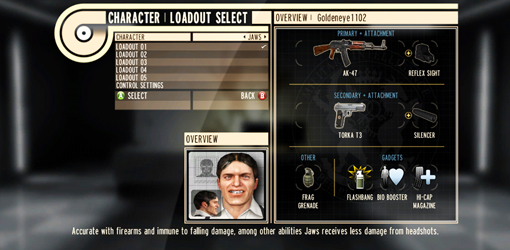 Scaramanga- The Man with the Golden Gun himself, Christopher Lee. You know, Saruman? Count Dooku?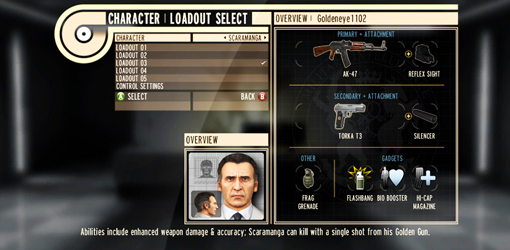 Baron Samedi- Who do voodoo? The Baron do, in Live and Let Die.

Rosa Klebb- From From Russia with Love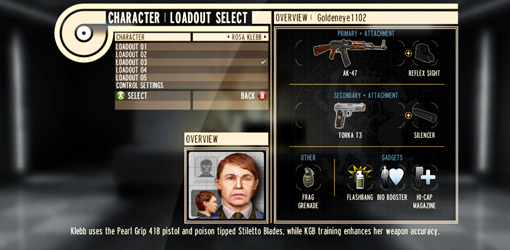 Dr. No Bond's first villain? More like Dr. Yes!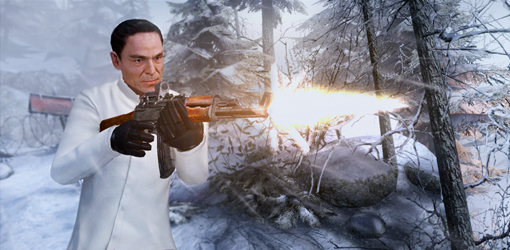 Red Grant- also from From Russia with Love

Blofeld- The original Dr. Evil, cat and all.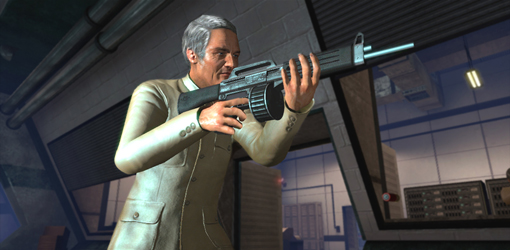 Tee Hee- of Live and Let Die.

Max Zorin Yes, Christopher Walken was a bond a villain. Man, how young are you?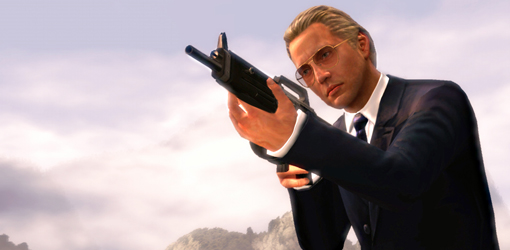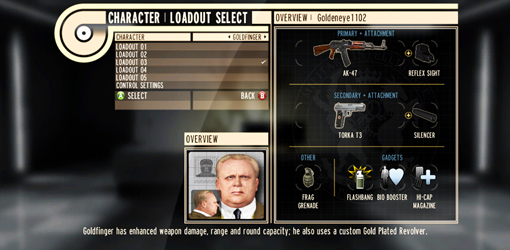 Auric Goldfinger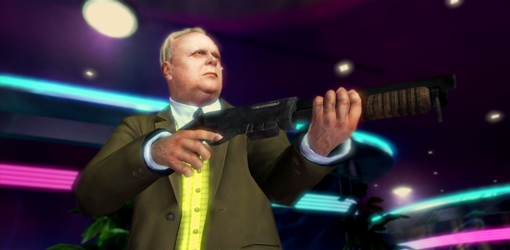 Dr. Kananga- head bad guy of Live and Let Die.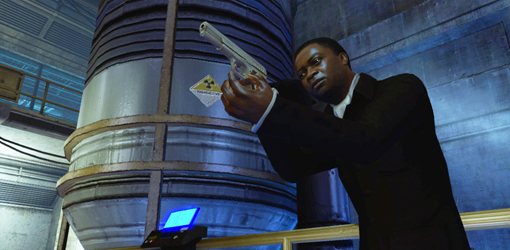 Hugo Drax exclusive to PS3, he packs the Moonraker laser.

Multiplayer modes

Conflict- aka deathmatch
Team Conflict- aka team deathmatch
Classic Conflict- Bond villains only!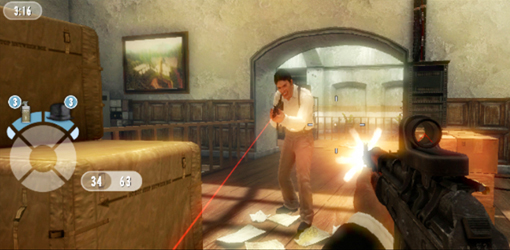 Golden Gun- The classic returns. Fight over the iconic one hit kill pistol.
You Only Live Live Twice- Like it says, two deaths and you're out. This mode is split-screen only.
License to Kill- Conflict, but with heavier weapons and no radar
Team License to Kill- Team Conflict, but with heavier weapons and no radar
Black Box- One team must download data from the titular Black Box, while the enemy attempts to destroy it.
Heroes- Team deathmatch where one player on each team has boosted health and heavier weapons
GoldenEye- fight for control of the GoldenEye satellite! The team who captures the most terminals can use the satellite to destroy the enemy.

New modes
Bomb defuse- Two teams fight over a bomb, which they must use to destroy their target. Defend the bomb and make sure it goes off!
Escalation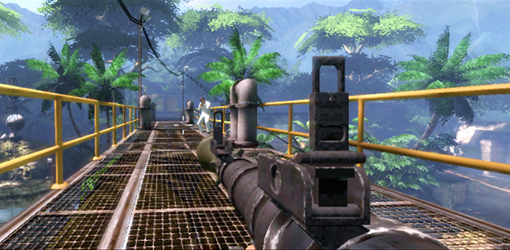 Race through a pre-set selection of weapons, ranging from the PP7, shotgun, rocket launcher, sniper rifle, and the Golden Gun. Each kill gets you a new gun, but the final kill must be made with melee.
Detonator Agent- Hot potato! A random player has a time bomb strapped to him. Look out, if he kills you, you're stuck with the bomb. Pass it off before it blows up!
Data Miner- Players take turns as the Data Miner, defending a computer while it downloads data. Whoever downloads the most, wins. To make things interesting, every kill the Miner gets increases the download speed. That's one way to get extra bandwidth!

Maps
GoldenEye 007: Reloaded includes every multiplayer map from last year's Wii version, and four new ones. They returning maps are:

Archives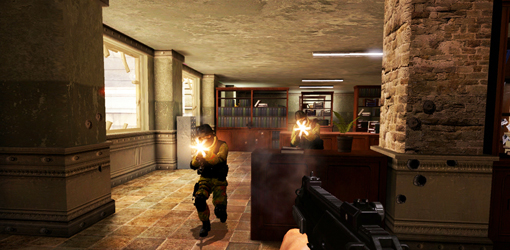 Outpost

Facility

Nightclub

Docks

Station

Memorial

Sewers

Jungle

Industrial

The new maps, exclusive to Xbox 360 and PS3:

Solar

Plant

Carrier

Peak