First Impressions: A Witcher 2 review may have to wait until the rumored Xbox 360 version, but at least Patrick has a strong enough PC to give us his first impressions.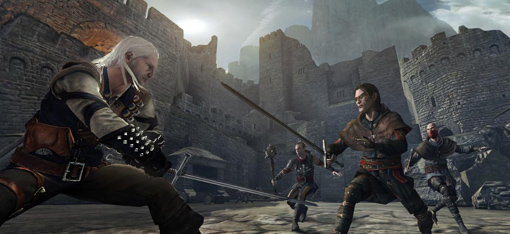 A first impression is my take on a video game after experiencing the finished product for the first few hours. Believe it or not, many of the "reviews" out there would be labeled as first impressions.
You know that excuse that you read Playboy for the articles? It doesn't really fly. Never did, never will. It's not that there isn't a market for mature topics, be they sexual or not, but when the topic is bookended by naked women that are naked for the purpose of being so, the argument falls like a baggy tube top. CD Projekt RED isn't catering to the man child (like Duke Nukem Forever is). The Witcher 2: Assassins of Kings is truly targeting a sector of gaming starved for mature themes outside of senseless gunplay or gratuitous sex.
That's not to say the fantasy RPG lacks material of this nature. It's just that it is a feature of the deep universe created by Polish writer Andrzej Sapkowski. Furthermore, CD Projekt RED isn't afraid to take us there and has, thus far, been doing it in a deeply engaging, tasteful fashion.
Pros:
Excellent dialog and choices - The Witcher 2 throws a ton of dialog at us, especially in the first few hours. We're being reintroduced to the world, characters, and, of course, the game's plot. These introductory moments express how well crafted the dialog is. In addition, I am thankful that the all-new story was written in Polish and English simultaneously. It's nice to see dialog choices mixed up, not in a pre-defined, easy-to-determine order like some other games.
High-quality cutscenes - It should come as no shock that The Witcher 2 is full of cutscenes - skippable ones, thank god - considering it is based on a series of short stories and novels. CD Projekt RED piles the digital treats on us, using the cast's excellent voice acting and its own technological abilities to introduce the world, drive character development and highlight important plot points. The frequency breaks up the pacing too often in some cases, but no one's life is a constant stream of flashing steel, naked women and dismemberments, right? That would make Geralt one dimensional.
Memorable soundtrack - Any game that has a soundtrack capable of standing on its own - I've been listening to it for two days now - has to be good. The Witcher 2's soundscape runs the gauntlet of slow melodies to hard rock songs.
REDEngine - CDProjekt RED constructed the REDEngine "from the ground up" to be optimized and fluid for numerous system types. Unlike many MMOGs, the game won't play on anything with a processor, but it will be playable in some fashion on any equipment falling between the Required and Recommended specifications. You'd be surprised how often that isn't the case. My worst personal hardware falls towards the lower end and I can get ~25 FPS out of it with some bells and whistles.
At these settings this is how my box plays the game. In stills. Upgrade time!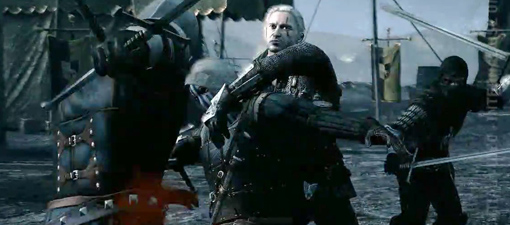 Cons:
New combat system - The new combat system offers more strategic avenues to dispatch our enemies. However, I've never fancied the '??pause the game to mess with strategy'?? in a real-time combat system. Design the system or the game so I don't have to pause the action to be an efficient killer. Tough to do and balance for multiple difficulty levels, I know, but it's a pet peeve of mine. Sword play remains fully real-time.
Rapid-fire tutorial - I'm an avid gamer, an avid PC gamer, one that completed The Witcher Enhanced Edition and the opening tutorial to Geralt's return boggled my mind. The tool tips covered a large portion of the screen with small text, detailing the basics to fighting, spell use, inventory, experience, all the staples. In the meantime, I was supposed to be dodging dragon fire and letting some blood run from the throats of traitorous guards. They say you learn best when actively putting the knowledge to use. This was just a tad too aggressive. Thankfully, not a major problem and not one that will persist throughout the adventure.
Typical early adopter PC issues - Between fighting with drivers, spending arduous amounts of time determining playable settings, frustration over poor initial driver support and DRM authentication issues, my playtime of The Witcher 2 is far lower than I would have liked. However, these issues are, as mentioned, (sadly) typical of PC games, and (again, sadly) an annoyance I'm willing to tolerate here and there for the graphical prowess, alternative input devices and niche titles the platform supplies.
At first glance, CD Projekt RED has improved over the White Wolf's original escapade in every respect. The developer continues to push PC gaming on a technical front, added additional activities to make the adventure feel less redundant, expanded upon the already-impressive universe and wrapped it in a mature tale topped off with superb direction and voice acting. Digging in for a dozen or so more hours in The Witcher 2 will be a pleasure.
NOTE to ATi users:
ATi users having trouble with CrossFire should rename Witcher2.exe to
CompatAFR-1x1.exe
until the appropriate profile is released. The trick should increase your FPS.
Patrick Mulhern is a Philadelphia-based freelance writer for hire. Follow him on Twitter.