Fable 3 Review: Heavy hangs the head that wears Albion's crown.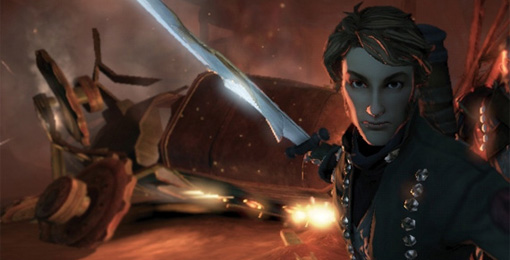 Once upon a time in a mystical era, Xbox RPGs were rare. Gamers lamented as if with one voice, and Microsoft cried out for a hero. Thus came the man Peter Molyneux. He stood upon the hilltop, and the people whispered of his works: Dungeon Keeper and Black & White, games singular in both ambition and originality. ?I shall make kings of you all,? spoke Molyneux, ?rulers of the land Albion, which you will form as does the potter form clay.? The people rejoiced, and long Molyneux toiled whilst the people's hopes grew. The blessed day came, and Fable was brought unto them. Thankful though they were for the swords and sorcery they desired, some saw Fable to be short of all that was heralded. Such thoughts were locked away, as beggars could not be choosers in such lean times. Still the people looked upon their hero Molyneux and pondered, ?Do I know thee??
Now Molyneux faces a more crowded battlefield. Xbox RPGs are plentiful; Mass Effect is a flagship series, while Dragon Age and Fallout 3 provide nearly endless exploration. Six months ago Fable III faced its stalwart competition and garnered a positive response. Now it comes to PC, a platform even more inundated with role-playing and fantasy titles. Can the charisma that made it a console hit be translated for Windows?
Whatever the platform, you can't separate the artist from the work. Molyneux is a big name, like Tim Schafer and Will Wright. Fable has taught us he's closer to the former: a weirdo auteur who brings sharp wit, a unique tone, and a liberal disposition to his work, rather than revolutionary gameplay. Fable III is no exception; it's strange, funny, and not afraid to go blue or get dark. You'll make life or death decisions one minute, and run around in a chicken costume the next. If you've been charmed by Fable in the past, expect to be won over once more.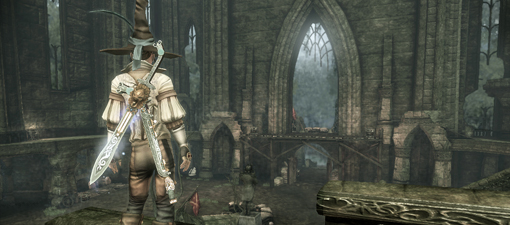 This time, Molyneux seems to be taking people's familiarity with the series for granted. Fable III is a direct sequel to Fable II; those who didn't play it might feel dropped into the middle of things. As prince of the newly industrialized Albion, you've seen pollution, child labor, and economic instability come to your land. The people suffer under the heel of your brother the king. Your ultimate goal will be to usurp his throne, and set about ruling the kingdom however you see fit. Will you usher in the age of the benevolent monarch, or become the next tyrant in line? This is Fable's morality system at its most engrossing, since every choice affects your entire digital citizenry.
Fable III is lucky to have these gripping decisions, because it's core mechanics are merely up to snuff. Combat is built around quick strikes, charged flourishes, and blocks. It's completely real-time, and strong animation gives it a nice physicality, but it's too simplistic. Though the mouse's scroll wheel makes it easy to switch between melee, magic, and guns, there are no branching combos that combine them. However you choose to attack, it'll be based on preference, not strategy. This isn't the kind of stat crunch game that will have you trying new builds or searching for the enemy's elemental weaknesses.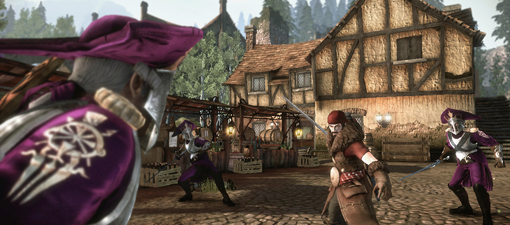 Fable III is also more ?on-rails? than most modern RPGs. A glowing breadcrumb trail leads you from quest to quest. Your dog (who's badly underused) will divert you to buried treasure, and you'll repel the occasional bandit attack, but Fable III still lacks spontaneity. There are no wide-open spaces to simply wander. A second play through with completely different morality choices just means choosing left instead of right at clearly marked forks in the road. Even if you revisit quests you previously skipped, you're still Dorothy following that yellow brick road. On the other hand, if you find open-world RPGs like the Elder Scrolls too languid, Fable's structured, old school approach might be your thing.
Sadly, Fable III is also old school where it hurts: in the graphics department. Despite some glorious pre-rendered cinematics, the game looks decidedly last gen. Character models are detailed but woefully under-animated, which is a shame because they're so well voiced. It really hamstrings the storytelling; it's as though John Cleese, Simon Pegg, Ben Kingsley, and Michael Fassbender have lent their voices to a low rent puppet show. Interacting with the common people of Albion is even worse. There's no incidental dialogue, just grating Sims-style babble.
Even more annoying are the game's technical issues. Every glitch that plagued Fable III's initial Xbox release is back full force on the PC. Wide exteriors make for sluggish frame rates, essential characters disappear, forcing you to load a save, and the aforementioned golden trail often takes you in circles. While you can be confident these issues will be patched like they were on the Xbox, early adopters should hold off. You waited six months for them to port the game, why not give them a week or two to bring it up to code?