PC, Xbox 360, PS3 Review: It's my Duty to Call this the most Modern Warfare.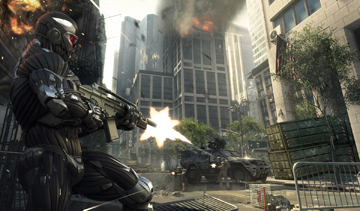 Calling an FPS a shooting gallery isn???t always nice, but when I say it about Crysis 2, I mean it in the best possible way. It???s a linear shooter, but it???s not exactly on rails. Developer Crytek has successfully jammed everything but the kitchen sink into this game, and it???s made for combat with a myriad of options. Will you throw on the active camouflage, sneak around, cut a few throats until you find a nice sniper position? Or harden up with heavy armor, kick a taxi into the enemy ranks, and come blasting through the front door? No matter what the game throws at you, you???ve always got a choice in how you deal with it.
Although it???s no open-world game, Crysis 2 is the best rendition of Manhattan since GTA IV. An alien invasion has turned the city into a war zone, toppling skyscrapers, rending pavement, and collapsing freeways. You join the battle as a super soldier wearing a semi-organic nanosuit. Exposed to alien biology, your suit is evolving, in the form of RPG-style perks for the player to choose from. They range from upgrades to existing abilities like armor, stealth, and mobility, as well as passive abilities, like automatic tracers on enemy fire and proximity alerts. The game???s guns site and fire in the Call of Duty fashion, but with your superhero-esque strength and armor, there???s a touch of Halo in the mix. Best of all, you can reset all your perks on the fly, so even the most fickle players will be satisfied.
With all the hero's capabilities, the most satisfying part of playing Crysis 2 is just being him. He runs and jumps like Terminator 2???s T-1000. With invisibility and ???nano vision,??? he stalks and strikes like the Predator. There???s an incredible physicality to everything you do in this game. Throw a punch and your fist rips through the air. Take a hard landing and the pavement cracks beneath your feet. You???ll never feel more badass than sprinting, skidding into a slide while firing a heavy machine gun, then turning invisible before the enemy knows what hit him. Your talents make the bombed out urban landscape into a playground. Leaping from skyscraper ledge to overturned taxi, you???ll feel like an ultra violent, post-apocalyptic Spider-Man.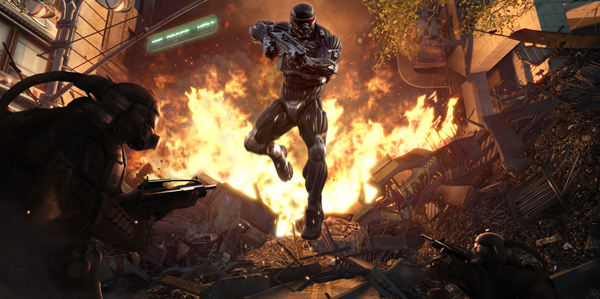 With all this power, you may find yourself wanting for greater opponents, mainly for lack of solid AI. Enemies in Crysis 2 are unpredictable. Sometimes they give you a run for your money, laying down covering fire while their buddies flank you. Other times they foolishly leave cover to charge, or just fail to detect you at all. At their worst, they???ll sometimes get stuck on corners or walk endlessly into walls. At least they deliver welcome comic relief when they try to use grenades and or get behind the wheel. As a main character who???s half Predator, half Terminator, you should be going up against Schwarzenegger-level bad asses, not the Keystone Cops. I recommend turning up the difficulty to offset the idiocy. Crysis 2 also has some amusing physics glitches, and some less amusing moments where the game will lock up entirely. Sadly, sometimes it???s the bugs that keep you from progressing, not the bad guys.
You can, of course, find more worthy opponents online, but the multiplayer feels like a sideshow. There???s a pretty strict adherence to the Call of Duty model, leveling up, unlocking gear, kill streaks, etc. While your varied sci-fi abilities make for tactics you???d never try in CoD, the multiplayer still feels like a mod for Modern Warfare. It???s especially disappointing the player-controlled vehicles are only in the single player, as that???s one place where Crysis 2 really could have felt different.
The multiplayer maybe a retread, but Crysis 2 is a cut above the competition in the visuals department. The game has phenomenal graphics, especially for a console game. The CryEngine 3 is highly versatile, handling interiors and exteriors without any kind mid-level loading. It boasts an incredible draw distance, perfect for the long alleys and towering skyscrapers of Manhattan. The game also does cut scenes from the first person perspective. They usually involve you tumbling out of a building or being manhandled by some alien beast, but through your character???s eyes, they feel like a theme park ride. It may disappoint some that, as a multiplatform release, Crysis 2 isn???t the technological leap forward that its PC-only predecessor was (in fact it, it actually doesn???t look as good as the 2007 original). PC purists may reject it for that, but those who haven???t recently dropped three grand on a gaming rig likely won???t mind.
Crysis 2 also has top-notch audio. The sound effects nicely blend the familiar crack of rifles with alien sounds of sci-fi technology, as well as the sheer force of a skyscraper crashing to the ground next to you. The real stand out, and sign of high-end production value, is the Hans Zimmer score. It runs the gamut of Zimmer???s famous films scores. It has the bombastic, adventurous quality of Pirates of the Caribbean, as well as the terse and unsettling strings and horns of Inception and The Dark Knight. While very high quality, the score doesn???t always pair up emotionally with what???s happening on screen. It may not blend well, but it???s enjoyable in its own right.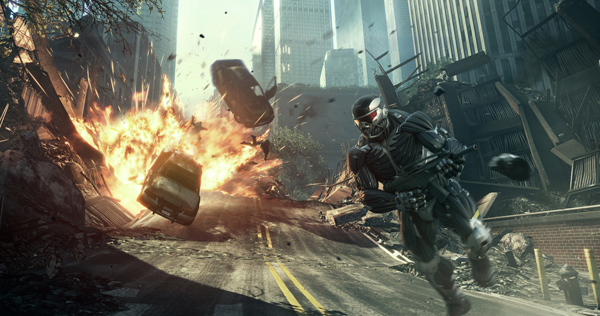 Not so for the game???s story, which is laughably convoluted. First off, your character???s name is Alcatraz, which never stopped sounding dumb, no matter which of my half dozen handlers said it. Yes, the video game clich??? of the voice in your head, commander you never meet is exercised en masse. Crysis 2 puts so many voices in your head you???ll feel schizophrenic. Best of all, each of them has a suicide mission for you. You???re sent in to rearm detonators in condemned buildings, and even trash a computer containing the address of your handler???s girlfriend (he???s going to hide out at her place, couldn???t he just go somewhere else and save everyone some grief?). You???ll accept these missions with a laugh, like the boneheaded AI, its unintentional comic relief.