Reviews: Too much shock, not enough awe.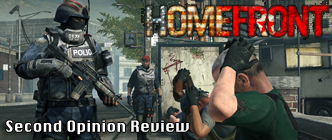 Are games getting more gritty and political, or are developers just running out of fictional conflicts to narrate? That's the question raised by Homefront, the new FPS by Kaos Studios. It depicts a near future America occupied by the Greater Korean Republic. As the opening cinematic explains, North Korea has successfully annexed the south, and after hitting the USA with an EMP, they pretty much have us under their boot heel. Now it's up to you and a group of typical rag-tag rebel types to stop the atrocities and restore ?Merica's freedom.
Yes, you're going to see some unsettling, war crime level stuff in Homefront's campaign. The opening rail sequence, where you're bused to a labor camp, feels more like a scene from Children of Men than Half-Life's opening tram ride. It's one hell of a tour; on your left you'll see mass graves, on the right, a firing squad murders parents in front of their screaming children. It's not just heavy, it's blatantly manipulative, engineered to make it all the more satisfying when you start mowing down the North Korean enemy. Instead of going the Tom Clancy route with a ?so-confusing-it-seems-realistic? geo-political thriller, it just stokes the bloodlust by making you alternately the helpless witness, then the typical FPS badass.
The game's shock tactics would be forgivable if there was rock solid gameplay to fall back on. Unfortunately, there isn't. Homefront plays like an under funded Call of Duty, the same two weapon load out, the same sight and fire shooting style, even the same lingo, with items like the Red Dot Sight. I realize that CoD is the FPS standard, but if you don't have hundreds of millions of dollars to pump into your title, it's risky to imitate the games that do. Plus, Homefront's campaign is only five hours long; I was through it in two sittings.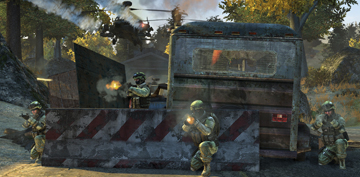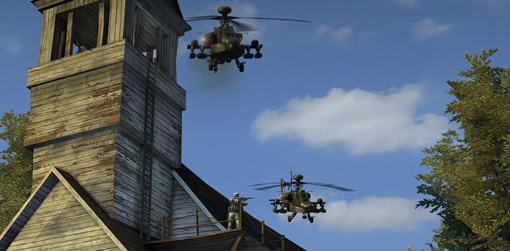 I'm thankful for Homefront's multiplayer. Not only is it a bigger departure from the Call of Duty model, but it allows me to say something nice about the game. With up to 32 players battling it out on foot or in vehicles, it's feels like Unreal Tournament 2004 crossed with Kaos's last game, Frontlines: Fuel of War. In combat, players earn experience that raises your overall rank, and Battle Points, which are used to buy weapons and vehicles on the fly. In between matches you can tweak your persistent rewards in the Armory. OK, so it's not that different from CoD, but it's Homefront's greatest strength.
Sadly, Homefront's best features are hamstrung by its glitches. The dated graphics helped keep my frame-rate butter smooth, but I had frequent lock-ups. Sometimes the game snapped out of it, often I had to reboot. I also had a lot of servers drop me, claiming my connection to Steam had been lost. It wasn't. However, developer Kaos has issued statements acknowledging these issues, and I am confident they will be addressed.