Review: There's nothing super about these Saiyans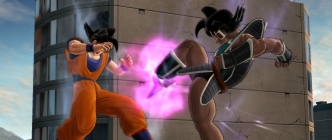 Dragon Ball. If you were a kid in the 90s, you've heard of it. Maybe you had a passionate opinion about it. Whether you loved it or hated it, you'd seen it. Personally, I had a passing interest. Sometimes it swept me up, other times I laughed at it. Mainly I complained about all the to-be-continued endings, and how long it took to get to the action.
You're going to need a child's enthusiasm for the show, or maybe a lingering desire to see these guys actually fight, to stomach Dragon Ball: Raging Blast 2. It'll also help if you didn't buy the first Raging Blast, which only came out last November. For a while now publisher Namco Bandai has been putting out a few DB games a year. To justify this early sequel, they've bloated the roster with over sixty characters. Don't expect any back story, however. Raging Blast 2 not only refuses to tell a story, it doesn't even give context to anything that happens.
The campaign modes are the most egregious example. You choose a warrior and fight a bunch of people he faced on the show. There is no billing of character names, just a hardly descriptive 1P vs CPU. Your only clue as to what's going will be whatever the opponents shout at each other before a fight.
A fighting game with an overlooked story mode is nothing new, but it's really too bad in Dragon Ball's case. As a series with more characters than the Simpsons, it really could have distinguished itself here. Instead, it follows the example of other fighting games, and concentrates on versus mode. This is where you can mash handfuls of characters together like a toddler with toys. There are 67 to choose from, plus 18 ?enhanced? versions. As you can guess, most of the characters are just re-skinned clones of each other. The roster is hugely redundant - but on the bright side, at least there's the five-on-five team mode to give them all some screen time.
The characterizations are further dulled by a lack of facial animation. Raging Blast 2 makes the Dragon Ball cast into action figures- well detailed, brightly colored, but ultimately lifeless dolls. Dragon Ball characters have dinner plate eyes and mouths like slices of watermelon. These guys were designed for huge expressions, and the game grants them none of it. Any fan of the series knows that wide-eyed look of terror when a character scans a foe's power level and cries out, ?It's over one thousand!? Bandai should look to the example set by Valve, and the great facial animation in titles like Team Fortress 2 and Left 4 Dead 2. Those guys know how to breathe life into a game.
While the facial animation is muted, the movement and attack animations are way over the top. Just like the cartoon, battles play out at a breakneck speed. A three-button exchange of punches and kicks looks like a wire-fu movie on fast forward. Flying fighters leave a glowing trail, scorching the sky like comets. Even the simplest combos and reversals can result in some pretty wild animations. You can send an enemy flying like a line drive, only to teleport behind him and kick him in another direction. While this is one of the few instances where Raging Blast 2 really captures the aesthetics of its source material, the result is disorienting. The camera cuts around too much, and gives the game an ?on-rails? feeling, something especially displeasing in a fighting game.
As with the fight animations, Raging Blast 2's soundtrack is lively to a fault. It's composed of music and sound effects from the show, plus one way over the top Japanese rock song. All the stuff from the show is exactly what it should be - high quality, familiar samples. If a Dragon Ball fan closed his eyes, he might mistake it for the cartoon, until that terrible rock song kicked in, and trust me, it will. The song plays over the console's home screen when you pop in the disc, during the game's opening cinematic, and over several of the menus. Oh, and also during fights, when you max out your power level (which is a pretty cool effect, but you just don't want to hear that song again). And did I mention it's terrible? At first I found it funny, but all the repetition had me hating it. Soon I was muting the game until a fight started. I was honestly embarrassed someone would catch me on the couch with this idiotic song playing.
Music aside, the game's biggest frustration is the controls. They are intricate, and don't borrow enough familiar elements from other fighting games. Raging Blast 2 is not a pick-up-and-play sort of game. Unless your buddies are long time fans of Dragon Ball games, they'll need to study the manual or run the tutorial before they can be anything more than a punching bag for a moderately experienced player.
Don't expect too much from that tutorial either. It puts the controls on the screen, but fails to bring across the timing of attacks. Since you need to finish one move before progressing to the next, you might throw the controller in frustration before you get to the essential stuff.