Review: Infinity Ward who?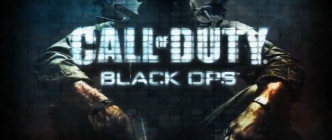 Despite its overwhelming success, the Call of Duty franchise has become somewhat of an evil villain in the eyes of many gamers. The releases are annual, the single player campaigns are short, and you can't go anywhere in November without its advertisements shoving it down your throat how popular the damn thing is. Infinity Ward further alienated gamers last year with their $15 map packs, lack of dedicated servers, and the overall creation of an unbalanced, elitist campfest where the best players amass ridiculously overpowered killstreaks. As of this writing, Call of Duty: Black Ops has already financially surpassed the launch of last year's Modern Warfare 2. Many had guessed that it would sell better. But the real question on gamers' minds is: is it any better than Modern Warfare 2?
Given that the gaming media has treated Treyarch as the less charismatic stepsibling of Infinity Ward, it's ironic that the answer is yes. Absolutely yes. Call of Duty: Black Ops presents itself as a sincere apologist on behalf of the series: it's got a lengthier and more memorable campaign, a re-imagined Zombies mode, and a finely tuned, incredibly fun multiplayer, which is by far the most robust offering of the franchise yet.
An Age of Uncertainty
Black Ops is the seventh main installment of the series and the first to venture into the highly intruging era of the Cold War. Infinity Ward has the exclusive rights to develop all Call of Duty games from the Gulf War on, so this was Treyarch's opportunity to stepping outside of World War II and offer all of the more modern weapons and equipment gamers have fallen in love with. Don't get me wrong - this is more than a cheap ploy to cash in; the development team took advantage of its source material with interesting locales and missions, making just enough tongue-in-cheek takes on real historical events to make this a legitimate creative endeavor.
The story centers on covert U.S. operative Alex Mason as he recounts his high-stakes exploits over the years just prior to the game. Black Ops utilizes its protagonist in a way that shatters many established CoD traditions. Mason has no inhibitions about speaking, and you see his face many times throughout the narrative, especially on the real-time feed of the monitors recording his reminiscences. He's also used as a storytelling vehicle, as his own personal motivations and particularly his struggle to remember what happened drives the story forward. Without ruining the plot for the few who haven't been spoiled, not everything is as it seems in Black Ops, as you might imagine in a game that delves into the deception of the golden age of espionage. The fact that we can even have a discussion about the story's elements and techniques is a major step forward for the series.
As far as gameplay goes, much of it is what gamers have come to expect. Whether in a squad or alone, you mow down enemies, call in airstrikes, and sometimes perform non-combat actions like rappelling down a rope. However, vehicles play a larger role this time, as you can expect to drive cars, steer boats, and man a mobile turret more than a few times. Additionally, there are sequences where you actually pilot a helicopter instead of just shoot out of it. The most innovative scene is one borrowing mechanics from Real Time Strategy games, where you give instructions to a unit from afar. There aren't really as many big Hollywood set pieces as you might expect from a Modern Warfare installment, but there's plenty of variety and just enough risks to make it far from a toned-down sequel. In fact, Treyarch also ditches the franchise's philosophy of always being in first person, all the time, by occasionally showing you what's happening outside of the character's perspective. Some may call this less immersive. Instead, it should be regarded as a young studio assertively stepping out of the shadow of the team who created the franchise, finally establishing their own name, and not following precedent just because it's been dictated. Indeed, in many ways, Black Ops could be considered somewhat iconoclastic.
The Online Fight
The studio's identity-defining efforts with the single player are reinforced by the return of one of the most popular features from their last Call of Duty, World at War, with Zombies mode. This could be a game all unto itself with players working co-operatively to hold off the infected, repair barricades, and make their way through the levels, completing objectives to ensure their survival. This mode goes beyond the resurgent trendiness that the horror sub-genre has enjoyed over the last few years by offering an honest challenge. Playing with a headset when online is an absolute necessity as players will have to coordinate their activities and contribute in different ways in order to succeed. With game rules and mechanics all unto itself, Zombies mode presents a rich, highly replayable experience for players when they're not already running through the campaign again on a harder difficulty, hunting after achievements and trophies.
Of course, the game wouldn't be complete without the one feature most players will probably spend the majority of their time with - online multiplayer. More often than not, this aspect will be the deal-breaker for any First Person Shooter, and it's this area that Black Ops may be its strongest.
The last Call of Duty game, Modern Warfare 2, was essentially an experiment in how much variety you can put into a game without its balancing utterly collapsing upon itself. Whether or not that experiment was successful is debatable, but no one can deny the sheer breadth of weapons, equipment, and abilities made available, creating one of the most customizable FPS games ever. Black Ops takes this even further, much further, in terms of the amount of weapons, attachments and challenges for you to complete. The real achievement, however, is that the game is not nearly as exploitable as its predecessor.
This is primarily accomplished by everything seeming relatively underpowered compared to the last game. There doesn't appear to be a gun like the UMP-45 or Scar-H that most players will gravitate towards; also absent from the game are commando-knifing, quick-scope sniping, noob-tubing players who ruined the community last time. In fact, there is no Commando perk to increase your knifing distance (Treyarch listened to fans and publicly distanced itself from this feature); there isn't even a Stopping Power perk available to increase your bullet damage. This absolutely levels the playing field, preventing players from building easily exploitable loadouts - you can really play things your way without worrying about falling behind because you're not following the over-powered trends. The Killstreak Rewards also seem toned down a bit. There's no easy death machine like the Chopper Gunner or AC-130 of Modern Warfare 2, and certainly no game-ending Nuke. Instead, the Huey Gunship is relatively tricky to pilot and the Chopper Gunner this time requires you to make legit kills, without relying on bullets homing in or penetrating buildings.
All of this discourages players from camping in one spot for cheap kills, but an even bigger deterrent to that practice is the Contracts. Contracts supplement the challenges in the game by giving you a limited amount of time to complete them. Like the perks, there are three categories - Mercenary (where you get x amount of kills with a specified weapon or attachment), Operations (completing certain feats in a particular game mode or just winning enough rounds), and Specialist (simply accomplishing difficult feats), and you can only have one in each category at a time. These are picked from a limited list that Treyarch updates nearly every day, and they differ from 40 minutes to an hour of play time alive to complete them. The Operations Contracts remedies the lone wolf mentality that has clouded the series for so long, giving players an additional reason to help their team; the Mercenary Contracts encourage players to get out there and fight. No one is going to be camping when they have roughly four games to get 75 kills with a weapon.
The new game currency, Call of Duty points, are probably the biggest change in direction for the multiplayer. You still unlock weapons at certain levels, but you have to pay to unlock them and their attachments. For the most part you earn about enough points to accrue weapons as you normally would every few levels. The customization is greatly broadened as now you get to choose what attachments to use as well as decide which perk you want to buy, with the exception of the default. Overall, it allows you to start going after a large variety of challenges early on, as you create vastly different loadouts.
On top of that, everything has been greatly expanded. There are more attachments than ever (up to ten to choose from for assault rifles) and the challenges to boost your experience points seem to have multiplied in number. For example, there are still challenges for completing a certain number of Team Deathmatch games, but there are also challenges for winning with a certain score, winning with a large enough lead, and being one of the top players. Equipment has returned to supplement your grenades and special grenades, and there are really imaginative options like a camera spike to watch an area or a decoy grenade that emits sounds of shooting to confuse your enemy's radar. As far as game modes are concerned, there seems to be a large inspiration from the mod community driving a lot of them. There's no new match archetypes, but the Barebones variety has increased its restrictions to allowing no perks, killstreaks, attachments, equipment or contracts. There's also a ?Classic? Barebones mode where the only Killstreak Rewards are for 3, 5, and 7 kills much like the first Modern Warfare and World at War allowed, mirroring the UAV/Airstrike/Helicopter list for Spy Plane/Napalm Strike/Cobra Helicopter. The maps also add to the Cold War twist, all of which are more interesting than usual, combining with the announcers to give a very unique tone that doesn't take itself too seriously. The graphics aren't as great as the last game, but the game is a great example of how art style can go a lot further than graphical fidelity. I could also go on for days about the new Wager Matches, where you gamble your CoD points, but for more you can read up on our own impressions from the event; all I'll say is that they will leave you either crying in frustration or screaming in celebration. The ability to make your own movies in theatre mode, or emblems for your guns and player card, gives a creative outlet for those feeling a little artistic. And the fact that it has split screen online so you and a friend can take on the best that cyberspace has to offer right from your couch is simply overkill at this point - this game is a steal at $60.