Review: It's on like? wait, are we going to get sued?
Mario vs. Donkey Kong: Mini-Land Mayhem! is one of the best DS games I've ever played. There, I said it. I put it all out on the table. It's got great puzzles, a fun soundtrack, and it's so cute it actually hurt me a little. The only thing that could be cuter would be if it came with a box of kittens. Adorable mewing aside, this is the game I wished Scribblenauts had been ? puzzles that are fun yet challenging, music that is nostalgic yet different enough to feel new, and with a main character I actually cared about ? despite the fact that he's a tiny, wind-up version of Mario.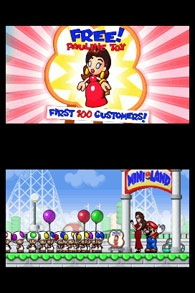 The storyline is a simple one ? Mario is opening an amusement park called ?Super Mini-Mario World,? and the first 100 customers get a free mini-Pauline doll. Donkey Kong comes running, tossing Toads out of the way, but arrives too late: all of the dolls have been given away. Furious, Donkey Kong grabs Pauline and takes off into the amusement park. Mario, probably tired of saving girls all the time, again sends in his trusty wind-up minis to save the day ? and the dame.
And that is where the fun begins. There are eight different attractions, and each one has eight levels, a Donkey Kong showdown, and an unlockable minigame. At the end, there's also a special boss battle against Donkey Kong. Each level has coins, a special Mario coin, and a card. Collecting all the cards spells out ?MINIMARIO? and unlocks the minigame. Beating the ?goal? points on each level also gives you a trophy. These are important because the Mario coins unlock ?Special Levels,? of which there are 20, and the trophies unlock ?Expert Levels,? of which there are 10. Beating the main game also unlocks ?Plus Mode,? which is all of the levels from the story mode...just more difficult. In case you were wondering and/or are bad at math, this is A LOT of content. I made it through the entire game and have unlocked maybe half of the special and expert levels, and I've barely had a chance to scratch the surface of Plus Mode...and I still can't put it down.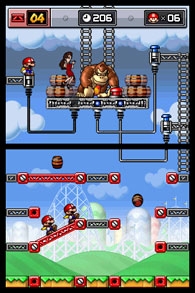 So what do these levels contain, exactly? The gameplay mechanics start out simple enough ? the goal is to get your minis into the door with the star on it. You have a set amount of build power, and at first, all you can do is build red girders between red screws. With a tap of the stylus, you can take them down, adding to your build power so you can build girders elsewhere. You can have anywhere from one to five wind-up mini Marios, so sometimes, it's hard to take something down to build something further down the line if your mini-Mario parade is spaced apart too far. You have to figure out which ones to activate and when, so that this doesn't cause a problem. You can activate them by tapping them separately with the stylus (sometimes necessary in later levels when they're spread all over) or just let them bump into one another to get them going. There's also a timer on the level and, to make things more interesting, once one mini goes through the door, you only have a few seconds to get the next one in before it closes forever and you have to start over again.
Each Attraction has one level that has different kinds of minis that must get to their special door ? Mario, Toad, Donkey Kong, the Princess, and Pauline all get the wind-up mini treatment here. There's also one level on each that has a locked door, and only the Mario with the key can unlock it ? which is tricky, because it means you have to maneuver him to the front of the line of your minis. Once they start walking, they keep going ? so you have to make sure they don't run into any hazards along the way, or that you cover up the hazards and make them a clear path from the start. You have some time to think about what you're doing, take a look at the level, and move buildable items around at first before you start them up on their tiny journey.
In addition to the red girders, later levels include multicolored springboards; purple conveyor belts (that run in whichever direction you draw them); movable warp pipes; magnetized walls; and possibly the cutest, coolest, most clever one of all: tiny, perforated blocks that can be filled in with enemies. So if you want a Shyguy to turn into a block you can walk on, all you do is build a way for him to get to the little perforated block, and he'll ? very sadly ? fall in and oblige you.
The Construction Zone, in which you can make your own levels, can only be accessed fully once you do the ?Level Creation 101? course, which teaches you everything about how to create or edit a level. It teaches you how to lay down ground tiles and figure out where to place red girders. These are the basic building blocks (no pun intended) needed to make levels. Once you're done with the four lessons, you can start building, saving, and sharing your levels online. It's easy, fun, and even in the build menu, it's still adorable. Beating Attractions unlocks more items for you to build with. The Construction Zone also has a Challenge Mode, in which you can create levels to be played and judged as well as play and judge levels made by other players.
But on top of all that, there's even more that's great about this game. I would argue that one of the best things ? maybe not as great as the cuteness, but almost as awesome as the puzzles ? is definitely the music. If you're into the old Mario games as much as I was when I was just a wee lass, then you will adore the music. The tunes borrow heavily from the old music, but each one has a personality of its own, simultaneously bringing something new while reminding you of those good old golden days of gaming.