Review: History class has never been so fun, or inaccurate!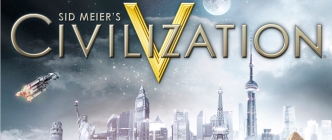 Maybe history was better off without the Aztecs - or at least, my Aztecs, anyway. As Montezuma I gave my people the strength to repel foreign devils, and the means to do some conquering of their own. Over liberty I gave them order, industriousness, autocracy. We assembled a war machine none could stand before; Hiawatha's Iroquois, Catherine the Great's Russia, and even Lord Washington's United States fell and became puppets of my empire.
Yes, the chance to let your inner totalitarian shine has always been an attraction of Sid Meier's long-running series. From humble beginnings in 1991, Civilization has become a gaming institution. It's a franchise that knows something about the succession of thrones, and Civ V is a totally worthy heir. This latest installment is fun, funny, and approachable, with as much strategic depth as ever. It's still a thinking man's game, with a turn-based structure that's more Risk than Halo, but don't let that scare you. If you've never played a Civilization game before, or haven't since the 90s, what are you waiting for? Civ V is the series' most streamlined and accessible incarnation to date.
As a series, Civilization has not overplayed its hand. It's been around twenty years, and this is the fifth incarnation. One game every four years (with a few expansions in between) isn't exactly the Madden model, and each Civ game is just different enough from the last to keep things interesting. Built from an entirely new engine, Civ V is no exception. All of its visuals have been utterly modernized, with sharply detailed in-game graphics and animation. Rolling hills, wind-swept plains, warriors and workers alike are all visible from an incredible draw distance.
The animated profiles of world leaders are the game's real visual triumph. Nebuchadnezzar stews in eerily lit Babylonian halls, a regal George Washington stands with immaculate posture, and Augustus Caesar lounges in his throne, too at ease to be trusted. These characterization add drama to the conflicts. History nerds may question Winston Churchill facing off with Alexander the Great, but it's part of the games charm. It's historical Celebrity Deathmatch, the social studies version of Super Smash Brothers (though I doubt the outcome of Ramesses II versus Napoleon is as hotly debated amongst gamers as Mario versus Sonic). Civ's anachronisms can be downright hilarious; seeing messages like ?Abraham Lincoln has completed the Great Wall? never failed to amuse.
Real historical figures have been around since Civ III, so what new things has Civ V brought to the table? V's biggest addition to the formula is the move to hexagonal game spaces from squares. It may not seem like much of a change to us, the normal players, but Civilization experts know this is a huge upheaval, adding new angles of approach to every situation. Also, players can no longer ?stack? multiple combat units on a tile, and cities can now bombard nearby enemies without the aid of a garrison. There are also independent city-states, single-city NPC nations whose borders do not expand. Players may befriend or conquer these locales, and reap the benefits of their resources. Maritime nations will provide seafood, and warlike populaces bolster your ranks with troops.
Civ V also presents changes to the game's cultural and social aspects. Do smart and arty things like researching acoustics to build an opera house, and you'll score major Culture points. This allows you to adopt Social Policies, perks that mold your nation. Liberty grows your populous, while Autocracy benefits your military; some Policies are mutually exclusive, such as Piety and Rationalism. This system has Civ V working with broader strokes than the previous title. IV allowed you to specifically choose aspects of your people's culture, such as their religion. Civ IV die-hards may see this as a step backward, or even a contrived way of making V different than IV.
The one place where Civ V really fails to expand on its predecessor is in multiplayer. As always there's stable Internet and LAN play, which once again eschews a matchmaking service. Instead, we're given the same archaic server browser (without even a basic filtering system) the Civ series has always had. This is a pretty bare bones approach for such a world-class series, especially for a strategy game, which get tremendous longevity from online play. Thankfully the game integrates well with Steam, so you can use your friends list to keep track of worthy opponents. Also, the game has some graphical issues on HDTVs, and must be run at 1024x768, an issue I assume will be patched eventually.
Ask me to choose between IV and V, and it'll be V every time, for the simple matter of production values. Not only does Civ V look great, it sounds great. The soundtrack is dramatic, understated, and varies depending on your nation. There's plenty of quality voice work as well, menus are read aloud, every foreign leader greats you in his native tongue (Latin geeks will enjoy hearing their dead language spoken). Leonard Nimoy voices the tribal leader in the game's opening cinematic, lending some gravity to its cheesy dialogue. He also narrates most of the game, reading famous quotes from varied sources, ranging from Thomas Jefferson to J. Paul Getty and even Aesop himself. Research horseback riding and you'll hear Nimoy bark the famous lament from Richard III, ?A horse, a horse! My kingdom for a horse!? Any game that has Spock himself reciting Shakespeare is doing something right.