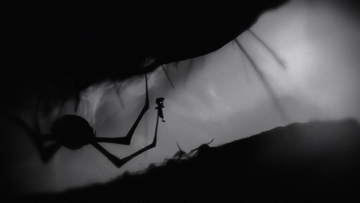 I own a brand new Xbox 360 Slim and an HDTV with a 1080p resolution, yet I'm captivated by a black-and-white 2D side-scroller that's less than four hours long. Limbo, by indie developer Playdead Studios, bests the multi-million-dollar graphics engines out there with the perfect combination of a surreal, yet simple presentation with puzzle-platforming gameplay that remains complex and thought-provoking. Sure, this XBLA exclusive doesn't last long, so casual gamers may be turned off by the simple look and length with a price point of $15. But they'll be the ones trying to convince you that this is 2010's most groundbreaking game 6 weeks from now.
Limbo is unique from the second you start a new game. Your silhouette boy wakes up in a creepy forest and you're immediately immersed in the game's jigsaw jungle. With grayscale graphics that mimic the extreme contrast of an old-fashioned film and a shadow character whose white eye is his only visible characteristic, Limbo is a puzzle-platform game that takes some cues from the horror genre. On top of that, there's not a second of story text, voice-over dialogue or the typical puzzle-solving elevator music that you'd expect to comfort you as he traverses from left to right.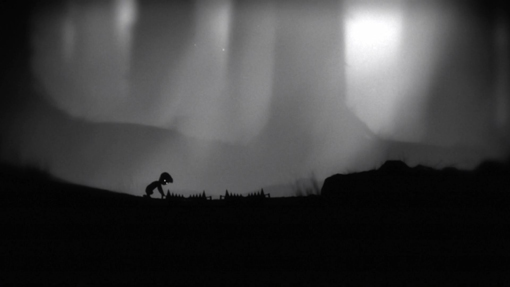 It's easy to take in the groundbreaking art style as you instinctively begin scrolling from left to right and top to bottom, but that distraction is often an obstacle within the gameplay. Carelessly traversing the 2D plane causes you to meet up with dozens of bottomless gaps, startling foothold traps, menacing spiders and enormous saws. The developer knew this, too. It often stuck peaceful strolls between obstacles, luring players to run instead of carefully proceeding to the next challenge. Low and behold, there's a foothold trap laying on the ground that slices them to pieces. Even in black and white, it's gory.
All of these threatening obstacles involve complicated puzzle solving to get past. The good thing about Limbo is that while it's easy to die when first attempting to tackle a puzzle, the game is littered with what seems like hundreds of checkpoints. Confronting a new puzzle means not having to worry about completing the previous one again if you make a fatal mistake. Of the puzzles, only a handful are extremely difficult to complete; the rest can be solved after taking a few moments to wrap your brain around them. The end result is always a mix of instantly feeling smarter followed by the wonder of ?Oh duh! Why didn't I think of that sooner??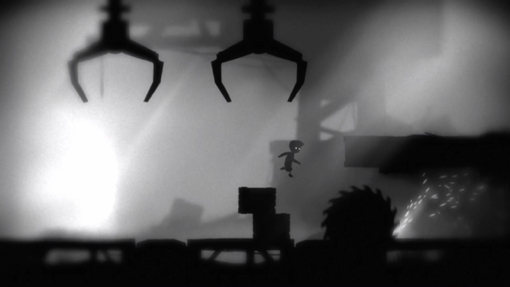 Limbo contains 24 chapters, but that doesn't mean it's limited to two dozen puzzles. Each chapter consists of two or three unique brain-twisters. Almost all contain the use of crates, water, ladders or something of the sort. There's even an elevator you must disassemble to use as a weight to proceed to the next challenge. This makes the entire four hours seem like a 2D version of Portal, and that's a welcome experience on XBLA.