News: The first one will arrive in March 2010.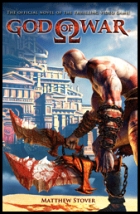 Del Rey is quickly establishing themselves as the go-to publisher for video game adaptations. After publishing novels based on major franchises such as Halo, Gears of War and Mass Effect, the Random House imprint will now turn their attention to God of War.

Del Rey will publish two novels based on the God of War series, with the first scheduled for release in March 2010. Titled God of War and based on the first game, the novel will be released alongside the third and final game in the series, God of War III for the PlayStation 3.


In the novel God of War, Kratos, the game's protagonist, is a great warrior who seeks revenge on the God of War Ares for the deaths of his wife and child. On his journey to Olympus, Kratos must battle great monsters of legend--and fight his own inner demons. Kratos' quest will take him through a world of Greek mythology transformed, in which the familiar legends take on a terrifying new life--from the Aegean, where Kratos will grapple with the Great Hydra, to the depths of Hades, where Kratos will face death itself, to the heights of Mount Olympus. With all the thrilling action that got fans hooked on the game, the novel God of War takes us deeper into this fascinating world.
The novel will be written by Matthew Stover, who is best known for his contributions to the Star Wars Expanded Universe:
Star Wars New Jedi Order: Traitor
,
Star Wars: Shatterpoint
, and
Star Wars: Revenge of the Sith
.
We'll have more soon.