Review: Believe it or not, UFC commentary is a classier job than Joe Rogan's last gig.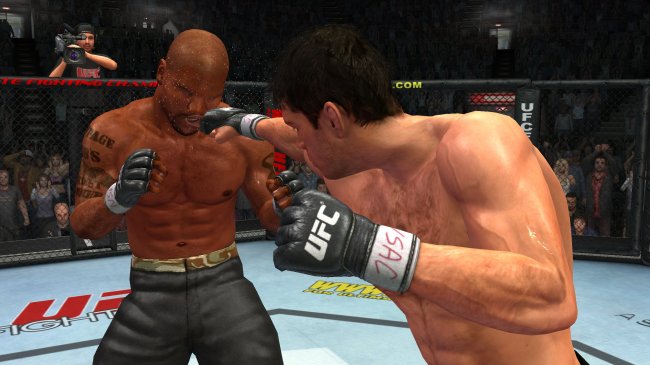 Ultimate Fighting makes for a great video game. Well, now it does. The past three UFC games on PS2 and the original Xbox were mediocre at best and, because they released over five years ago and sold little, you probably haven't played them. Even if you have, don't let them dissuade you from trying out
UFC 2009 Undisputed
for Xbox 360. The license to the world's largest MMA (Mixed Martial Arts) organization landed in the competent hands of publisher THQ and renowned wrestling game developer Yukes Osaka. You know them from their WWE Smackdown series, but they amp up the realism in this game for a fighter that's as authentic as it is complex.
It's tempting to skip the training mode in
UFC 2009
, but learning all the intricate moves in this half-hour session is the only way to enter the caged ring with a fighting chance. Plus, it earns players 25 gamerscore points upon completion. The controls begin simply with the four face buttons acting as weak left and right punching and kicking attacks. Four buttons for four appendages makes the control scheme a natural fit so far. Applying the left thumbstick to any of these face buttons increases the intensity for stronger, but slower versions of those moves.
These controls conveniently adjust based on your distance from the opponent. So, a kick attack at the further striking distance fully extends your fighter's leg, while the same move at close range ends up being a curt knee kick. Because distance proves different results, it adds variety to the moves that can be performed without piling on twice the amount of button combinations that need to be learned and pressed.
Right around the 20-minute mark of the training mode, counters and grapples cause the control scheme to seem like a real challenge and the lessons feel too short and without proper context. You begin to question what you just performed and how you'd use the move outside of this isolated tutorial. In addition to being easy to forget and harder to pull off, these moves can be avoided in the beginning in favor of straight punch and kick combinations. That's a shame because a stronger emphasis on grapples and counters would have made things more exciting. Instead, only gamers who invest serious time into learning the controls inside and out will be able to properly pull off all of the more advanced moves. This could easily turn off casual fighting fans and friends who want to pick and play you in a fair match.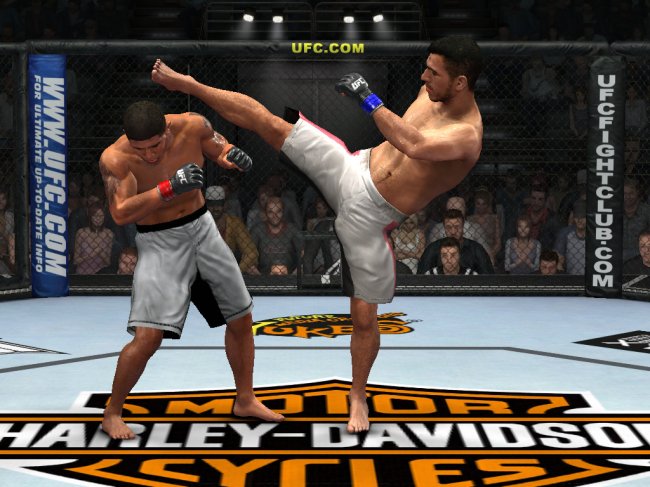 UFC 2009
boasts photo-realistic graphics that recreate a majority of the league's fighters down to the beads of sweat that make this seem like a Pay-Per-View event in high definition. However, the game's career mode puts you to the task of creating your own Ultimate Fighter to enter into tournaments and rise to the rank of champ. The customization process is detailed, right down to the color of your fighter's mouthpiece, but that's pretty standard when you consider that most sports games include such in-depth options nowadays. The one unique aspect here is that you can add sponsors to your fighter's shorts in order to gain extra credibility. Apparently, it's very effective to sell out with eight different logos on your shorts rather than just one. THQ takes the crown for overinflating its ego the most, as it's the career mode's only sponsor that earns players a lot of credibility points from the beginning, and it remains that way for a long time.
In addition to rising through the ranks by winning in the ring and earning credibility by what you're wearing on your shorts, you can "train" your fighter, spar with friendly opponents, and learn new moves from a hands-on checklist at camp invites. While the sparring and camp invites involve practice fighting, training your fighter isn't an actual mini-game like you'd expect. Instead, players spend the weeks in between fights on their tight schedules automatically increasing their strength, speed and cardio stats. The same applies for credibility-earning publicity events. They'll help, but they'll also cost an entire week and stamina, which requires a week of rest. Going into a fight week without rest is like the average gamer attempting to wing a fight with an MMA superstar like Georges St-Pierre.
The career mode becomes as much about budgeting time as it is fighting. However, it's not as boring as maintaining your iCal because the fights become more and more exciting with each win, and leveling up your created fighter, like this is a violent RPG, is addictive. Eventually, you'll get to a point where you can increase your fighter's strength stats by four, but it'll decrease his speed and cardio by three. At that point, it becomes a complex numbers game. If your bruised skull can't compute the numbers, you can skip the unnecessary math and try to win the championship without any more stat training. Becoming the champ as quickly as possible is the whole point of career mode, anyway.
Just as the fantastic controls have some learning-curve issues, the game's graphics have minor flaws that make certain things look awkward without marring the entire experience. There's the occasional clipping when fighters miraculously punch right through each other without any sort of Patrick Swayze Ghost phenomenon going on. There are also strangely in-sync idle animations that have the fighters bouncing from side to side in unison. It's almost as if they're both dancing to the appropriately hard rock background music. It's funny to watch these big, hulking fighters dance, but for everything this game gets right, you quickly realize it's less than impressive. Another awkward animation occurs when one fighter is in the mount position pummeling his opponent. Now, I don't have huge chest muscles, but if I did, I doubt they'd quickly dart around like shifting eyes in reaction to each hit.
Beyond these few visual gaffes,
UFC 2009
makes great use of the MMA license inside the ring with recognizable bruised bodies and outside of the ring with very rounded "round girls." There's also a lively audience, though not interactive as in WWE titles, and photographers who are always rising up and down looking for the perfect knockout picture. You'll want to shout, "Here it comes," as you prepare to deal a final blow to your gassed opponent, and yell "Geez, settle down, guys. I'm not going anywhere," when you're the one about to hit the mat. The great commentary of Joe Rogan and Mike Golberg complete the energetic tone surrounding the UFC octagon in what, believe it or not, is a classier job than Rogan's last gig.
After wading through the tutorial, battling UFC superstars to the brink of death in the standard exhibition mode and creating a muscular version of yourself and being inducted into the UFC Hall of Fame in career mode, most gamers will end up playing the offline classic fights or online matches. Classic fights allow you to determine the winner of notable matches from the past, while online mode includes ranked and unranked matches.