Hands-On Preview: If I had a hammer...
Red Faction: Guerrilla Week:
Monday: Video Blowout | Tuesday: Volition Video Interview | Wednesday: Single-Player Hands-on Preview | Thursday: Multiplayer Hands-On Preview | Friday: History of Red Faction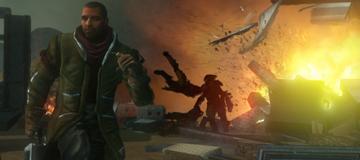 If you were to believe some politicians and pundits, communism is on the march again in 2009. But, whether you support left or right wing politics, it's easy to get behind the resurrection of Red Faction, THQ's destruction-filled shooting franchise. Little has been said about Mars' mining worker's rebellion since the release of Red Faction II in 2002. An unfortunate hush has fallen upon the movement for the better part of seven years. Thankfully, with next-generation technology at the disposal of developer Volition,
Red Faction: Guerrilla
brings back environments that can be blown apart using the Geography Modification 2.0 (GeoMod 2.0) engine, while it brings new elements to the series such as a third-person perspective.
The Story
Besides new technology benchmarks, the Red Faction story also advances by 50 years to the year 2125. This new century casts the original good guys of the first game, the Earth Defense Force, or EDF, as the corrupt corporate enemy and enslaving power that they once fought against. In other words, the EDF has become "the man."
As Alec Mason, you don't really care about the EDF or the rebellion group called Red Faction, of which your brother Daniel Mason is a member. No, you just want to begin a new job mining on Mars alongside your brother and maybe collect scrap metal along the way. Of course, while you go as far as to refer to Red Faction as a terrorist group, the moment the EDF kills your brother, you becomes the reluctant hero of the mining works and their ongoing rebellion. It's not like you have much of a choice, either, as the EDF also tries to execute you and upon picking up their Kindle-like device (e-ink is finally color in the year 2125), you see that you're "Wanted" as a Red Faction co-conspirator. It doesn't help that you have mining charges in your possession.
Gameplay
The hammer-swinging gameplay of Red Faction: Guerrilla is like controlling a human version of Ratchet from Ratchet & Clank. Less furry, more height. Other differences include the feel of gravity. The A button initiates a jump that ends with a floaty landing, which is a constant reminder that this is Mars and the gravity is lower than what you're used to when controlling an Earthly character in other games. Thankfully, the sledgehammer doesn't have any resistance to it, as you can freely swing the specially designed space axe and feel the vibration from the controller.
The Xbox 360's shoulder triggers provide two different swing styles: the R trigger is used for horizontal swings, while the L trigger performs vertical, downward cuts. These differences don't seem all that significant when you swat an enemy at close range the same way you'd swat a giant bug. They go flying either way you execute the move. But, the whole idea of GeoMod 2.0 allows for such intricate tearing down of buildings that you can actually shape their destruction with your hammer.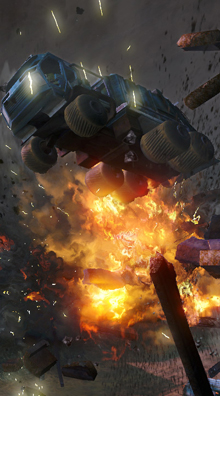 Graphics
Red Faction: Guerrilla gives detail a whole new meaning. As concrete walls chip away into thousands of tiny pieces, it makes recent releases like Wanted: Weapons of Fate, which is a solid game, seem like a generation apart. It's the difference between games in which not enough objects move - let alone break apart - and games where everything breaks apart into small fragments.
It's not that the just about everything in a level can be destroyed, but how it's accomplished. The game's introductory mission gives players a great opportunity to experience destruction right away by requiring a that lab and tower be taken down. You're given a sledgehammer and some charges to complete this full-on physics lesson. At first, the building tilts upon a hole being cut into one of its supporting sides. Pretty soon, it turns into the Leaning Tower of Pisa and, as the one remaining intact wall's beams take on all of the weight, you get to watch it almost take on life by reacting to every hit of the sledgehammer. GeoMod 2.0 makes physics fun in a way that Bill Nye never could.
Weapons
Although the hammer is essential, so much so that you can't unequip it, you can carry up to three additional weapons, two of which are really cool. The Arc Welder shoots bursts of energy at close or medium range targets and it can penetrate EDF vehicles, so there's nowhere to hide from what is essentially your death ray. The Grinder, the other weapons of interest, shoots razor discs (think large ninja stars) at an intense rate of speed and can cut enemies from a distance before they know it. While both are powerful, they're pretty well balanced with the other weapons: Arc Welders won't outsource the jobs of snipers any time soon, and Grinder guns take a few seconds to fire and don't have much impact on buildings.

The smart use of weapons in missions is on par with their power. For example, the proximity mine is the heart of a mission in which you must take out an armored EDF convoy. But, you only get one shot at it, so instead of taking out every single enemy vehicle with a rocket or remote charge, it's essential that you blow up the lead truck with a proximity mine and that you aren't there to stick around.
There's also a side mission that demonstrates this perfectly. You have three minutes to destroy a cylinder-shaped tower and you're only given some hydrogen tanks and a pistol. Obviously a pistol isn't going to break apart its walls and your trusty hammer is conveniently unavailable. The trick is to carry the tanks one by one to strategic support walls within the tower, run outside to a safe distance, and shoot them in order to see the tower crumble. Three minutes is a piece of cake once you figure out the strategy, but beating this side mission within the one-minute "pro" time is a real challenge. Those hydrogen tanks are heavy to carry and eat up a lot of time. Forcing yourself to hit retry, or using the more fun method of laying down a tank in front of your character and shooting, will happen multiple times.
Eventually, you can upgrade your weapons and increase the numbers of charges you can hold by turning in collected scrap metal to an NPC named Sam. She's a female friend of your brother who works as an engineer at the Red Faction base camp and she turns the game's necessary currency into useful tools. Sometimes turning collectables into newfangled weapons and gear is a boring task in games. It's usually filled with stats and combination options that are too tedious to really care about. Red Faction: Guerrilla cuts to the chase with straightforward options and a little creativity in the form of what looks like magazine ad inserts for every upgrade. ?Increased Count! Carry more charges!? proclaims the page that lists the increased remote charges upgrade. Most of the text is purposely small, as it's an ad the character would read, but it gives the game style when so many others rely on meaningless lists of statistics.