First Impressions: Yes, there will be blood.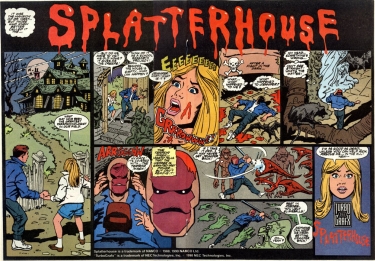 Click to enlarge
Is it possible to have a fond memory of a videogame that you've never actually played? I will argue yes. The original Splatterhouse graced arcades in 1988 and NEC's TurboGrafix-16 in 1990. What was I doing at that time that caused me to miss the game? I was playing games like Super Mario Bros. 3 and reading comic books. Between those and not knowing anyone with a TurboGrafix-16, Splatterhouse didn't stand much of a chance.
So, how do I even remember the game? It is from my addiction to the adventures of Batman, the X-Men, and Hawk & Dove. Ads for Splatterhouse, along with other TurboGrafix-16 titles, were all over the interior of my comic books and boy, was my interest seized. I really wanted to know what was going on with Rick, his girlfriend Jenny, and the bizarre mask that he found stuck to his face.
Alas, I was not to know the joys of mashing up monsters with a two-by-four. Every few years I would get those comic books back out, see the ads again, and wonder what I had missed. That is, until Splatterhouse graced the Wii's Virtual Console. Of course, that is all in the past and astute readers-yes, that means you- probably noticed that this is a preview. So what gives? Namco is bringing Rick, Jenny, and the Terror Mask to the PS3.
Splatterhouse is a story about a damsel in distress. Like the original game, this re-imagination revolves around college student Rick Taylor and his girlfriend Jenny. After Jenny's mysterious disappearance Rick discovers a mask that grants him the power to fight his way through all manner of paranormal creatures in his quest to find her. This time around, the story will be fleshed out by Killzone scriptwriter and comic book scribe Gordon Rennie.
As we are given the opportunity to take Rick through his quest to find Jenny we will be bathed in blood. Splatterhouse is a game that will be fueled by violence and gore, hence the reason that Namco Bandai originally turned to BottleRocket Entertainment to develop the title on their behalf. However, Splatterhouse joined the growing ranks of games that change developer midway through development with a well-reported move by Namco Bandai when they brought the development to their in-house studio Surge earlier this year. Why the move? It depends on who you ask. Namco indicated that it was a performance issue. BottleRocket insists that they met all of Namco's deadlines so it must be a management issue at Namco. Regardless of which side of the story is accurate, the tale has gotten ugly.
Fortunately, there is a lot of BottleRocket's ultra-violent pedigree showing through in the early screenshots, games details, and a bizarre damage and regeneration system. Let me fill you in on the last bit. According to reports, Splatterhouse is foregoing a health bar/hearts/hit points in favor of a character model that shows just how much damage Rick has taken. Enemies will rend Rick's limbs and flesh from his body, exposing his skeleton and organs. During the healing process, we will be, I guess
treated
is the right word, to watching Rick use the power of the Terror Mask to rebuild his body. Will it be graphic? Yes. Yes it will.