News: A piece of paper, an instruction booklet and a lot of confused consumers.





After announcing that Patapon 2 would be released on the PSP as a download-only title, Sony has revealed what will come in the game's box that will be found in stores on May 5.

According to a post on the PlayStation.Blog, the Patapon 2 box will contain the game's instruction manual and a card containing a download code to obtain the game online. While this is considered a "one-time only test" by Sony, they do plan to inform customers at the point of sale exactly what they'll be getting themselves into with Patapon 2. The game will contain a yellow banner along the top that contains the words "Downloadable Game Voucher: No Disc Included. Memory Stick and Access to PlayStation Network Required.":



The package as a whole will look something like this: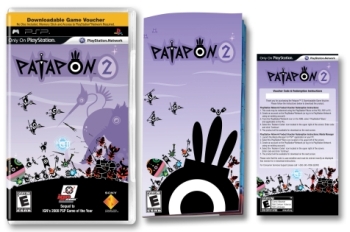 "Boxed" copies of Patapon 2 will be released in stores on May 5 while the game will be added to the PlayStation Store on May 7.