News: Metal Gear for Xbox 360 confirmed?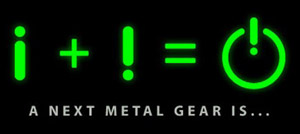 The Kojima Productions section of the official Konami website has posted a mysterious image teasing the next Metal Gear game.
An upside down exclamation point plus an exclamation point equals a circle with an exclamation point sticking out of it. In my mind there are three possible outcomes this formula could lead to...
The first involves a pure mathematical reading of the formula. An exclamation point and an upside down exclamation point are opposites. Adding together two opposites gives you zero (clearly represented by the circle). "Zero" could mean a Metal Gear prequel.
But since a Metal Gear prequel has already been done (
Metal Gear Solid 3
), a more obvious reading of the formula is by just focusing on the exclamation points. An exclamation point was used in the logo for the PSP card battler
Metal Gear Ac!d
series. It's possible this formula points to a third Metal Gear Acid game.
Finally, the formula could be the answer to the biggest game rumor of the day:
Metal Gear Solid 4
for the Xbox 360. The shade of green used in the formula is very similar to the color used in the Xbox 360 logo. The answer to the formula (the circle with an exclamation point) is very similar to the universal symbol for power (which is present on all three consoles), but it is also a circle. A circle is
360
degrees.
Hopefully, we'll have a more concrete answer soon.