Review: Electronic Arts' space-based survival horror game is "chilling" and "terrifying," according to Eric House. Read more in his full opinion of Dead Space below.
For a title that flew under the radar up until its release, Dead Space has quickly made a name for itself as one of the premier titles of 2008, as well as one of the best survivor horror titles of all time.
Dead Space is the story of Isaac Clarke, an engineer who has been sent with a small team to repair the communications system of the USG Ishimura, a gigantic mining ship in deep space that contact has been lost with. But after a rough landing that leaves the repair team stranded on the Ishimura, gamers quickly realize -- as if they didn't already -- that things on the Ishimura are not what they should be.
At its core, Dead Space is a futuristic survivor horror title heavily influenced by the movie Event Horizon and games such as BioShock, Doom 3 and Resident Evil 4. A blend of all these media has formed an excellent title that keeps gamers hooked to the ever-evolving story and equally scared and terrified throughout.
Things on the mining ship take a turn for the worst immediately after landing. In the third-person shooter style that borrows the camera from Resident Evil 4, the action promptly begins when Isaac is separated from his team and forced to repair the tram system, which is used to travel to different parts of the ship, as well as backtrack later in the game.
While exploring the Ishimura to repair the tram system in chapter one, gamers are eased into the controls of Dead Space and unique abilities that Isaac's suit offers, including stasis to slow down time and pick off enemies -- limb by limb -- and kinesis to use energy to pick up objects to toss around or complete a number of recurring puzzles throughout the game.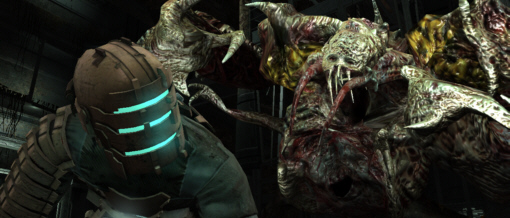 In Dead Space, the creatures you encounter are mostly mutated crew members, called Necromorphs, suffering from the effects of the alien marker that the USG Ishimura mined up during its operation. They are no longer human -- notably -- and have one desire: To kill you. And in typical survivor horror fashion, ammo isn't plentiful -- unless you play on easy -- so disposing of enemies takes time and precision. Initially, Isaac starts off with only the Plasma Cutter, a weak pistol of sorts that can be upgraded throughout the game, but throughout the game new weapons are plentiful and offer a unique way to kill enemies to keep the action refreshed.
Disposing of the Necromorphs is a task within itself, as they can only die once their head and limbs have been "removed." Fortunately, combat is fluid and mostly hiccup-free with the use of the over-the-shoulder camera. Once a Necromorph pops out of its one of hundreds of hiding spots on the Ishimura, gamers can put stasis on the enemy and kill it in a matter of seconds, then enjoy watching its dismembered body hit the floor in real time -- there is a sort of sadistic satisfaction to this.
But stasis is by no means necessary to kill enemies, as the stasis meter runs out after several uses and needs to be recharged. In real time, the Necromorphs -- aside from one reminiscent to the slow and fat exploding Flood creature from Halo -- are fast and killing them usually requires the gamer to shoot them to stun them initially, or even more brave, melee them. Either way, depending on the amount of ammo, health packs or statis packs available, gamers can go guns-blazing into a room and blast everything or take their time, systematically picking off each Necromorph. But in most situations, the sheer terrorizing ambiance of the dark Ishimura will cause gamers to choose the latter.
At about 15 hours to complete, Dead Space doesn't feel too short or too long, though at times the missions feel repetitive and drag on. The majority of the missions revolve around Isaac going to different parts of the ship repairing parts, grabbing keys or opening doors, etc. to progress the story. The lack of variation in the chapters does cause some frustration, but it certainly doesn't take away from the action or terrifying nature of the game.
And regardless of the size of the Ishimura, gamers will find themselves backtracking to familiar parts of the ship to complete new tasks, however, these familiar parts are almost always changed, including having little to no lighting, new enemies and other plot twists. So even though Dead Space does employ the oh-so-hated backtracking, it is used fluidly and doesn't detract from the story. To put it simply, it wouldn't make sense to be on a repair mission on a ship of this scale and not have to backtrack at some points.
In similar fashion to BioShock, Isaac is able to upgrade his weapons and suit throughout the game by collecting power nodes. This gives players the option to take upgraded armor and health over heavy-hitting firepower, or vice versa. Both seem viable, however, a mix of both certainly doesn't hurt, as there are not enough nodes on the ship to fully upgrade the suit and several weapons. At the in-game store, players can also buy ammo, health packs, weapons and level-up Isaac's suit -- all of which become imperative later in the game.
Instead of simply borrowing from other great titles, Dead Space improves on what it takes from. In most survival horror titles, pressing select will take you to a pause screen where players can explore their inventory, but Dead Space does not include a standard heads-up display. When accessing the inventory, it appears in front of Isaac via a holographic projection screen. The health meter and stasis meter also appear on the back of Isaac's suit, while the ammo is displayed directly behind the weapon. The lack of a heads-up display lets players focus on the creepy environment and immerses them into the story, as if players are in the game, rather than just playing it.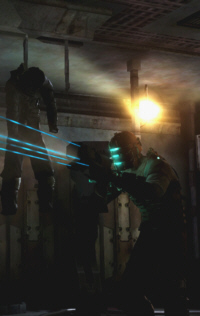 Visually, Dead Space is easily one of the most impressive on the Xbox 360, or any system for that matter. Players will find themselves consistently admiring the game's visuals and the level of detail put into the creation of the dark and dreary Ishimura and the Necromorphs themselves. In reviews like this, it's tough to reveal parts of the game without spoiling the story, but there is a scene when Isaac first reaches the Ishimura's bridge and there are asteroids flying outside the ship with light from another planet beaming onto the bridge. Scenes like this help re-enforce that Dead Space's graphics are some of this generation's best.
And complete with a soundtrack that certainly adds to the horror of the game, Dead Space succeeds on all levels of being a grade-A survivor horror title. Players will find themselves entering rooms holding down the L trigger to aim while exploring each crevice in anticipation of what might be there. And throughout the game, new enemies and upgraded Necromorphs continue to appear, which adds to the excitement of simply not knowing what's behind the next door. Dead Space succeeds in a way that not many games that take place in space do. While playing Dead Space, you truly feel like you are in deep space and that you are alone, along with a couple hundred Necromorphs waiting to chomp on you...
While Dead Space is an excellent title, it doesn't come without its flaws. As already mentioned, the redundant missions get old fast and more variation would have helped create a more engrossing story. And recurring throughout the game, players are forced into zero-G segments where Isaac has to leap through parts of the room to activate a switch or something of that nature because there is no gravity. The zero-G parts seem quirky and more of an annoyance than anything, as they occur so frequently to only slow down the sometimes fast-paced parts of the game.
The lack of replayability is also expected in a survivor horror title, but players are able to go back and try their luck on impossible mode, if they're brave enough. The achievements do, however, add reason to replay Dead Space and earn all 1000 points, while fully upgrading the suit and all the weapons to make Isaac an absolute power house.
Aside from a few minor quirks, Dead Space is easily one of the best games of 2008, thus far. With outstanding visuals, a gripping storyline and fluid combat, fans of survivor horror are certain to rank Dead Space among their favorites. And with Resident Evil 5 still out in the distant future, Dead Space offers itself as the first grade-A survivor horror title of this console generation, setting the bar high for those to come.