Reviews: It's my party and I'll cry if I want too.
The original Viva Pi?ata was an insanely addictive game that was clearly aimed at children but featured strategy elements geared more towards adults. Anyone who played it loved it, but the wee ones may have found it a bit too intimidating.
The same can't be said for Viva Pi?ata: Party Animals, either in terms of focus or gameplay. Unlike the original, this is truly a kids' game that is accessible for the entire family but on the downside, the totally different gameplay loses all of the charm and addictiveness of the original.
As the title suggests, Party Animals is a party game starring four of the most popular characters from the Viva Pi?ata cartoon series (actually eight if you count each character's female counterpart). There is no gardening or strategy involved here; instead, you compete in a series of brief mini-games and races to earn candy; the person with the most at the end wins.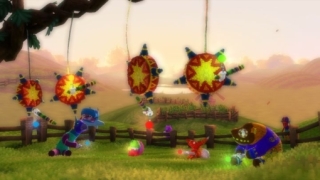 The game combines familiar elements from Mario Kart and Fuzion Frenzy. There are a total of seven race tracks filled with various powerups that can boost your speed, slow down opponents or even stun them with a few missiles. Races are run on foot rather than in a kart but are still pretty crazy and fun ? at least, for a little while. The small number of tracks means races quickly become repetitive. As well, steering is quite twitchy, something that could easily frustrate younger gamers.
Based on your race placement, you earn bonus multipliers that are used when you compete in the mini-games that occur between races. There are 50+ mini-games that are mostly button-mashing affairs: eat apples the fastest, collect candy on a spinning wheel, propel a toy sailboat across the finish line by belching at it, pin the tail on the Zumbug, and so on. If you've played party games like Fuzion Frenzy, you've pretty much seen everything here. You earn candy based on your placement with bonus candy added using your race multiplier.
A big problem with the mini-games is that you can't choose which ones to play; instead, the computer selects them at random so if you have a favorite, you have no choice but to hope it comes up in the rotation. As well, many of the mini-games are just slight variations of each other so even though there are over 50, it actually feels like half that. As a result, things get repetitive very quickly.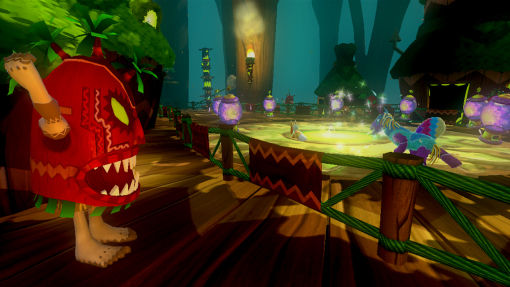 The sloppy controls don't help either. Some mini-games require you to move an agonizingly sluggish aiming cursor which is difficult to fine tune once you reach your target; and since you often need to be precisely on target, this can get a little frustrating. As well, the screen can get so busy that you can easily lose track of your tiny and dully lit cursor. And when you eventually do reach your target, you often don't know if your button presses are actually doing anything.
In other mini-games every character is in an arena and must collect candy in a variety of ways. The problem is that the computer-controlled characters seem to move a lot faster than yours, which needless to say is a bit irritating. The hit detection is very generous as well, meaning you can be bumped or blocked by the AI from distances that are clearly out of reach.
The brief instructions before each mini-game are occasionally unclear, which adds further frustration because you don't know what the heck you're supposed to be doing.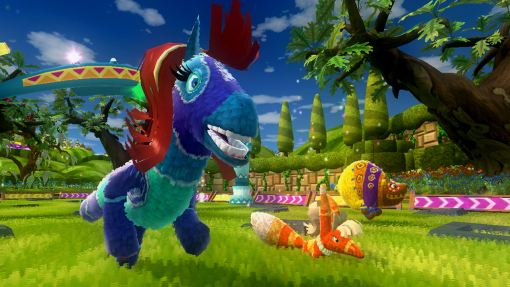 The announcers are also very annoying and love repeating the same phrases ad nauseam. Kids might find them amusing but adults will want to dive for the mute button. The music is a bit too bright and childish, but this is understandable considering the target audience.
The only real highlight of the game is the outstanding graphics. Each pi?ata looks stunning and moves with comically pleasing animation. The racetracks are also very well designed with beautiful artwork that you unfortunately have no time to appreciate as you race towards the finish. This shouldn't be surprising as Rare gave developer Krome Studios all of the graphical assets from the original.
The game also supports four-person multiplayer locally and over Xbox Live. As with any party game, you have the most fun playing with your buddies but the repetitive nature of Party Animals, along with some sloppy controls, means this is not something you'll be playing for long.