Previews: You're In the Movies, You're In the Movies, We've got a lot of what it takes to play along.
You're in the Movies has a lot in common with the movies out there right now: It's not very original, yet it's still worth checking out. At Microsoft's E3 Press Conference, it came off as a blatant EyeToy Play knock-off with a hint of The Movies thrown in at the end. Up to four people compete in several mini-games using the Xbox Live Vision camera and their crazy movements are spliced together to form a laughable B-movie. But, just because we've experienced this gameplay on PS2 using the EyeToy and these movie making results using The Movies' Sims-like engine separately doesn't mean it isn't a thrilling new combination on Xbox 360.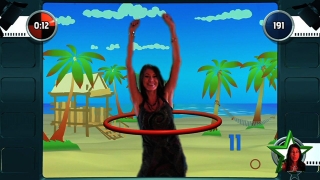 In fact, You're in the Movies is the family-friendly winner that Microsoft wants to promote now that it's trying to broaden the Xbox 360's audience. Whether or not the game sells better on this system as opposed to another, more appropriate console (read: Wii) is anyone's guess. But, from Microsoft's E3 demo room, it was a casual gaming favorite to play and watch people play.
The competition between freelance game journalist Tim Stevens and I had us taking turns for the first few mini-games and sharing our camera time for other rounds. I danced frantically, pointed and screamed on cue, karate chopped objects and sped past Tim in a final race, all while hoping no one in the room had a video camera and a YouTube account. The various mini-games were short, some lasting a mere five seconds. And although there's a scoring method, its accuracy seems as ridiculous as many of the challenges. For example, I trailed Tim during the first six mini-games, but the seventh led me to a surprising victory. Not that I'm complaining.