Reviews: I hope their spoken word was better than this dialog.
I never played Diablo, or Dungeon Siege for that matter, so when tasked with reviewing Too Human, I wasn't sure what to expect. I heard promises of "loot" and something regarding "skill trees", but little prepared me for what was to become the next 15 hours of my life, spent hacking and shooting my way through level after level in search of... what? Better equipment? The requisite experience to level up? Well, a combination of those things actually; you see, Too Human is the type of game that preys on gamers' addiction to leveling up and collecting items -- a perfect match for my compulsive collecting habits.
Right from the title screen, Too Human tells it's entire story through cutscenes, start to finish. Portraying the world of the future has never been so bleak as you're shown into a dingy strip club on the ground floor of humanity. Line after line of dialog is delivered with such overwrought ridiculousness that taking any of the "could have been very interesting" Norse mythology woven throughout the characters' words seriously becomes difficult early on.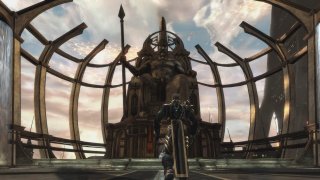 The gorgeous landscapes of Aesir.
Back in the club though, humans are complaining about "the Aesir", their "more than human" protectors that, of recent, have come to be viewed as dictators rather than guardians. Conversation is quickly interrupted though as a massive mechanical beast crashes through the building, unsurprisingly right after Baldur, the main character, enters stage right. A scripted battle ensues and the giant robot begins eating the scrambling human beings (robots eat humans, is that something new for you?), eventually resulting in our hero karate-flipping himself over said beast and lopping it's arm off.
While I was certainly excited for the game after witnessing such an event, I was hurriedly ushered to class selection. Of the five classes available, I unknowingly selected the bio-engineer. Unfortunately, not having any idea the difference between classes other than the bit of statistics provided to me without any form of reference or context, I plodded ahead without any real information regarding what I had chosen and how it might affect the rest of the game. How is it that a selection as crucial as class is not one where you have time to test drive each and then take your pick?
Class selection complete, I finally headed towards the actual game (though a bit more cutscene divided the two) and found myself landing on a distant planet harboring the evil machine that lost it's arm in the opening. Taking cues left and right from Halo 2 (not Halo 3, mind you), the graphics are often uninspired and full of shine in all the wrong places immediately. Heading into the first of four levels making up Too Human's campaign, you feel as though 343 Guilty Spark might pop up at every next corner, as the world resembles Halo's "Library" level more often than variance is offered.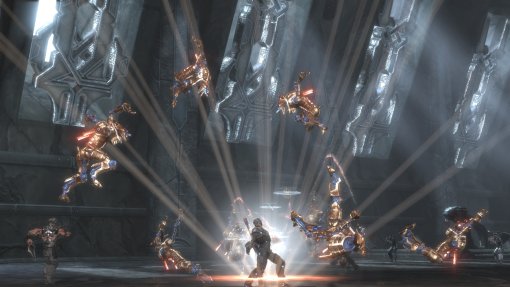 You will become VERY adept at clearing these trash mobs.
Assisting my claim is the way in which gameplay is delivered. Much like "the Flood" from the Halo series, wave after wave of mechanical baddie descends into combat and falls just as easily, only instead of employing bullets and strategy, you're using only the right analog stick. All combat actions are controlled by means of directing your right analog stick in the direction of what you're attacking -- which isn't to say it's shallow. In addition to your regular melee attack (the "bread and butter", if you will), your projectile weapon is fired using the right trigger (with an alternate fire on the left), in addition to more powerful moves that must be earned in battle that can be assigned to your X and Y buttons.
In fact, these extra abilities develop as you earn "skill points" in the game and select a line on the "skill tree" to develop. Acting as buffs (a la classic Western-RPGs) within battle, only when enemies really pile up do you find yourself in any desperate need to use them. And other than having to redo a section, what's my inspiration to worry about dying anyway?
Oh, right, the 30+ second cutscene wherein a "Valkyrie" picks up my body and ascends to "Valhalla" (for definitions of these words, read up on your Norse mythology). If I have one overarching complaint for Too Human's developer, Silicon Knights, it's about the lengthy and unskippable cutscene you must endure, unchanging, throughout the entire game each time you die. "Punishment" in a game for dying should not require a full on waste of 30+ seconds of your real life. Period.
The game was scored well throughout, if not forgettable, while the sound cues from NPCs was damn close to abysmal. My human squad mates were shouting indiscriminate battlecrys while they fired at nothing or, more often than not, got in the way altogether. Boss fights ranked even worse, with their strength being little more than the ability to take a whole lot more hits while their dialog repeated endlessly (looping, literally, three to four phrases at the absolute maximum).
Unnervingly though, I found myself drawn back time and time again to Too Human's leveling up and loot finding aspects; more excited to scour the deep and interesting menu of weapons, equipment, runes, charms and blueprints than reach the end of the level. Never mind finding out what happens next in the story. And this is Too Human's biggest problem: it's a really interesting RPG with terrible storytelling and an interface that tricks people (myself included) into thinking it's an action game.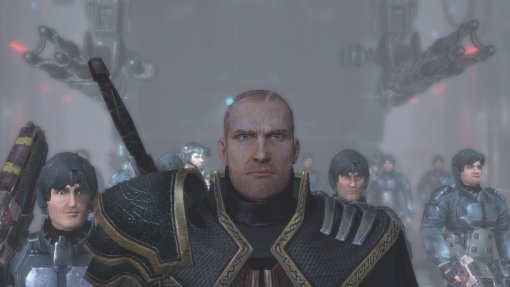 See those chumps behind me? They are utterly worthless and a waste of polygons.
Although Co-op is only achieved through online play, it is a worthy addition to a title of this nature. Too Human is a game designed around loot and experience grinding and with all the benefits of Xbox Live, the title's life should be extended. The loot system created by Silicon Knights allows for numerous variations of gear, making co-op a well needed feature to keep players enthralled after the story is complete. But is it worth your time?
Co-op is a worthy experience if you are really in need of some new gear. The addition of a buddy to the battle can cause for some truly awesome battles to ensue, but like the rest of the title, it is not without faults. Should your partner be too low or too high a level, they (or you) will essentially be as useful as your none-Aesir squad members. The cavalcade of ground-pounding and grenade launching enemies populated for multiple heroes can also dispel any notion of fun. The co-op feature does add some legs to the game, but fails to save it from mediocrity.