Reviews: They should call it Tenchu Zzzzz...
While creeping around in Tenchu Z, you'll notice that enemies tend to stretch and yawn a lot. It's not a good sign when even the computer AI is having trouble staying awake.
Tenchu Z is the latest in the popular stealth ninja series but is really a standalone title that has nothing to do story-wise with the other games. It also seems as if the sneaky ninja master himself, Rikimaru, wanted nothing to do with this latest outing as he only appears as a silent mentor to your character, a young new ninja in training. And I don't blame him because Tenchu Z is boring.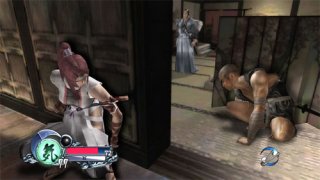 You should know that I love stealth games; in fact, the Thief and Splinter Cell series are among the best games I've ever played and so it was with great anticipation that I loaded up Tenchu Z on my Xbox 360. What could be more fun than sneaking around as a real ninja?
Apparently, lots of things ? like, oh, watching your wireless controller recharge. The biggest problem with Tenchu Z is that all 50 levels are exactly the same ? and I mean exactly. Your objectives are to either kill a corrupt official or retrieve a package in one of the same dozen or so maps. The small number of maps means you play each one at least three times, sometimes twice in a row, and your objective is usually in the exact same building, with enemies in the exact same spots walking the exact same patrol patterns. It's repetitive and gets boring quickly.
It's also not that challenging when you figure out that you can simply run to the objective, kill the official or grab the package, and end the level ? all within a minute or two. You can do this because enemies are pretty blind and stupid so you really don't have to worry as you run past them. Apparently, guards in ancient Japan suffered debilitating nearsightedness because they won't see you even if you are clearly out in the open a mere 30 feet away. They'll never see you standing on a roof and will only spot you sitting on a fence if they get really close ? and even then, they will often walk right below you completely oblivious.
If you are spotted, the easiest thing to do is run. Enemies will search for you but only for a few seconds, and only the guard who saw you will be alerted; a buddy standing right beside him but looking the other way will continue to blissfully walk his preprogrammed patrol pattern. The same thing happens if someone stumbles across a dead body you dumped somewhere; they'll get all excited, run around like an idiot for a while and then give up if they can't find you. They will then complete ignore their colleague rotting on the ground.
You can fight enemies but the awkward combat system makes it more trouble than it's worth. You can supposedly lock onto your opponent by holding the right trigger, but if he moves out of the way or your combo attack propels you past him, you will not automatically turn around to face him again. This leaves you open to attacks until you can re-orient yourself ? very annoying.
If you play the game as it was intended ? i.e. sneaking around like a good stealthy ninja ? then you'll enjoy a much greater challenge. You can perform several cool stealth kills like slamming enemies against the ground and snapping their necks, and stabbing them through paper doors. But since there is little variety to the missions and maps, you can only do the same thing so many times before it gets tedious.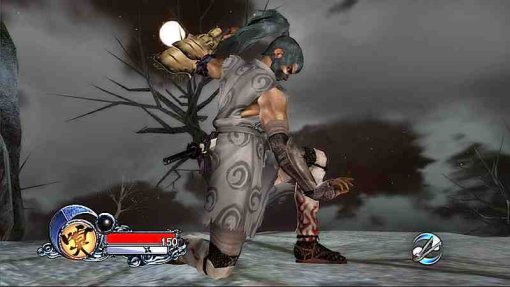 There are also little things that get on your nerves. For example, like all stealth games you'll spend most of your time crouching to reduce your visibility so it's reasonable to expect a simple crouch toggle ? hit a button and stay crouched until you hit it again. But nope ? instead, you have to hold the right bumper for as long as you want to stay crouched. Not only is this tiring, but if your finger slips you'll stand up and can be spotted. Grr.
Also annoying are the traps that litter some maps. These traps are bottomless pits that open up underneath you and kill you. The problem is that the traps are placed in the most bizarre, seemingly random areas with nothing to indicate that they are there. I suppose that's the definition of a trap but usually in games there is some subtle hint pointing out a trap, but not here. This is extremely frustrating as you often walk back the same way you came only to discover the hard way that a trap quietly opened up behind you and ends the mission. Double grr.
Visually, the game is pretty darn ugly with PS2 quality graphics. The low resolution characters have ugly grey skintones, blank mannequin-like faces and jerky cartoonish animation. The ?blood? that sprays out of your victims is a simple flat 2-D sprite that literally looks like someone cut out a jagged piece of cardboard, painted it red and stuck it onto the NPC. And ventriloquism was apparently quite popular in ancient Japan since no one's mouth moves when they talk.
So is there anything good about this game? Well, you can create your own ninja from a wide variety of character models (either male or female) and can customize him or her with various clothes and accessories (most of which is unlocked as you progress through the game). However, these are aesthetic only and do nothing to enhance your stealth abilities or add damage protection, so there's really no point other than creating a spiffy look.
You can also buy or unlock various items like shurikens, explosives, poisonous cakes and potions, and new abilities like attack combos, reducing your visibility, and even disappearing in a puff of smoke. However, every item with the exception of the one hit-one kill blowgun is useless; shurikens only annoy enemies, explosives don't do much damage (they just end up alerting enemies) and poisonous cakes are anything but.
You can play co-operatively with up to four players over Xbox Live but why? Splinter Cell multiplayer is a lot more fun and challenging.