Review: To be or not to be art? That is the question.
It's difficult to approach reviewing Braid without mentioning the "controversy" surrounding its price point (1200 MS Points/$15), the game's outspoken (indie) developer Jonathan Blow, or even its status as an "art game" -- but I'm going to try my best. Braid is the tale of Tim, a boy obsessed with a princess who always seems to be "in another castle." Tim's an eccentric and gifted individual who doesn't feel he fits in with the reality surrounding him, who feels isolated from society and wants nothing more than his impossibly perfect mental image of a princess who will "save him" from the doldrums of existence. So, alright, the game's a bit arty, but in a Holden Caulfield kind of way.
The story is told entirely through (optional) texts presented in the level selection for each world, which turns out to be the story's biggest flaw. Like Lost Odyssey last year, Braid presents a well-written and interesting story in the form of on-screen text -- a glaring flaw as far as using the videogame medium goes. This one element stands in such glaring contrast to the rest of the game, thusly highlighting the problem. Luckily, Braid has tons of other great stuff to make up for it.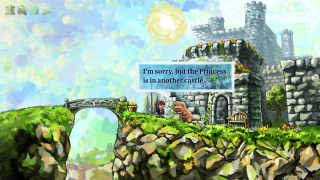 Visually speaking, Braid's gorgeous. Between the multilayered backgrounds (partially watercolor, partially rippling), the action-specific animations on every single character and the ornately detailed reliefs drawn into platforming sections, Braid delivers in spades on the graphics front. My biggest gripe is that at the end of each level, a dinosaur strongly resembling Barney lets Tim know where the ever-mysterious princess is ("another castle", remember?). Also, while I can appreciate the reasoning behind this (I'll get to that next), the "piranha plants" are just a bit over the "homage" line into "copyright infringement" territory.
So how does the game actually play? Confusingly at first, though after you realize it's not a platformer -- elegantly. Blow's mission to create a deep puzzle game in the confines of familiarity (Super Mario-esque platforming levels) was clearly accomplished. Of the five main levels, each comes with its own spin on the unusual time-changing mechanics employed throughout the entire game -- the first level teaching you the basic mechanics of reversing time and how it'll work in the rest of the game, the second adding a new spin to those mechanics and so on and so forth.
The most important element of these mechanics is that they are specific to each level, rather than compounding as the levels move on. While a few basic rules reoccur throughout the course of Braid (items unaffected by time glow green in each level, for instance), the specific time mechanic for that world will apply to each puzzle within said world. This helped to keep each boggle fairly fresh; while they remained simple enough to solve, nearly all puzzles were complex enough to want to master. Platforming elements are kept to a minimum, with a focus on puzzle solving -- something Blow had promised from the very onset of Braid's creation.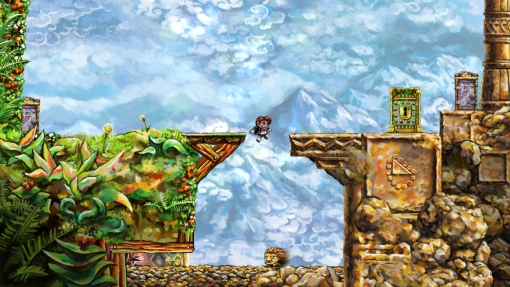 Perhaps most appealing about Braid though is its score. While the music is certainly different than your average videogame, with styles ranging from baroque to whiskey-jig band, it's how the music's used within the time-warping world in which it exists that makes it so impressive. Like Rez before it, Braid manages to not just pair the music with the game but intertwine them in such a way as to make them interdependent. Songs sound just as good (if not more so) backwards and slowed than forwards in real-time, a detail that could have been easily swept to the side during development. The music is both memorable and deliberate, instantly recognizable and unique; Blow and company clearly understood the importance of the marriage between sound and gameplay.
Unfortunately, hardcore puzzle-gamers will likely find themselves running through this game and asking for more. Though a "Speed Run" option is added after completing the initial game, little more can be found in the features department -- a caveat that Blow touts when he says Braid contains "no filler." For our sakes, we'd have preferred a little filler (and thus, more Braid to play), though he's recently hinted at extra content on the upcoming PC release.