E3 08 Hands-On Preview: Falling for Fallout 3.
I fell in love with Fallout 3 at last year's E3, watching Executive Producer Todd Howard play through the beginning of the much anticipated game in an hour-long press demo. After a year of anxiously waiting for my own hands-on turn at E3 2008, I'm walking away with a Fallout-themed kaleidoscope, with a bottle of Nuka Cola and, most importantly, with my high expectations met.
I was limited to a half-hour with Fallout 3, such a short amount of time for what's bound to be a lengthy adventure, and my VATS skills weren't as honed as Howard's, so I didn't get nearly as far as he did or play as slickly. However, even in finding my way, I could tell that this is both the post-apocalyptic version of The Elder Scrolls that people have been waiting for and a true Fallout sequel diehard fans have been demanding.
Coming out of Vault 101, my character's eyes struggled to adapt to the sun and the disaster zone that is now Washington D.C. As the blurring effect subsided and his eyes began to adjust to the toxic outside world, I could see the partially destroyed U.S. Capitol Building in the far distance--so far that I didn't make it to exploring the Statue of Freedom up close within the half-hour allotment. That's how great the draw distance is.
In between opening the vault door and ending my quest for D.C.'s famous dome, I ran into a half dozen mutant creatures and one crazed human survivor. Since he was the very first person who approached me, I shot at him out of fear and, instead of eagerly wanting to start a conversation with me, he wanted to kill me and began firing back. Apparently my warning shot meant war and is one of countless choices players can make that determine the nearly 10,000 versions of the game's final outcome.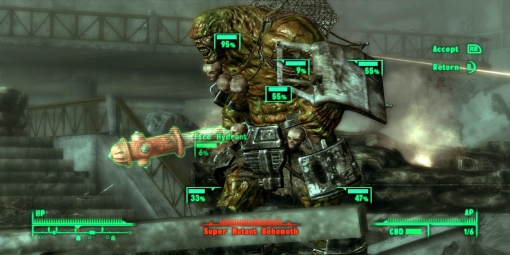 Remembering Todd Howard's well-played demo last year, I imitated his first move: run to the blue mailbox, open the drop slot and pick up stim packs (health) and frag grenades. Instead of having to shoot the attacking man in real time (you can if you want), the game uses VATS (Vault-Tec Assisted Targeting System), which pauses the action and allowed me to cue up shots on his different body parts. There are percentages that indicate the condition of an enemy's legs, arms, torso, head and weapons when VATS mode is turned on with the Right Bumper button. After selecting his arms and head with the Right Trigger button, I executed the "playlist" of gun shots with the A button and knocked the gun out of his hand.
I switched to the baseball bat in my inventory menu and began beating him up in real-time mode and then trying VATS using melee attacks. With melee, the targeting covers an enemy's entire body, so there's no limb selection. You still have to be worried about using up Action Points (AP), which limit the number of attacks you can perform using VATS. AP auto-restores as you move in real-time, so when I killed the man and was startled by an aggressive cow, I had to do a lot of running backwards. That way, I could keep moving so the cow wouldn't trample me to death and keep increasing my AP to target her through VATS until she tipped over for the final time.
Continuing through the level, I came across giant bugs which were easy to slow down by opening VATS and targeting their many long legs. The smaller bugs, it turns out, were the ones that scored a couple of hits on me. They came out of nowhere and had me running in circles looking for the source of my character's pain. Once I caught up to the tiny creepy crawlers, they were easy to kill (even they could be killed via VATS), but they were sneaky. I crossed a bridge full of mines, finding out that it was spiked with explosives only after detonating them, and survived. But it wasn't too long after that point that my health reduced due to stepping in toxic water and being ambushed by a gang of "human-like" characters.