Reviews: They made this one buggy on purpose.
Insecticide's world is ruled by giant insects?humans find themselves at the bottom of the social scale. They're present, though, and somehow wrapped up in the mystery investigated by Roachy Carruthers and Chrys Liszt. They're called to the scene of a murder?a man is killed during the filming of a press release for a new flavor of Nectarola soda. Someone did the man in using props from the stage itself. But to make things more complicated, the murderer may have been after Ms Quinbee, the head of the Nectarola company. It's a plot worthy of its noir inspiration, and Insecticide's satire and sense of humor adds a bit of fun. If you don't like puns, though, this may not be the game for you, since a huge part of the jokes take familiar items and twist them just a touch into insect-themed humor. Keep your eyes out for the insect dessert delicacy, ?Death by Maggot.?
The game presents the mystery plot in a series of adventure game segments in which the player, acting as Chrys, has to find clues, interrogate suspects, and eventually put the pieces together. In general, you'll hunt areas for objects that will help you solve the puzzles that stand between Chrys and the evidence she needs to solve the murder. A couple of them are pretty tough, requiring a lot of back and forth, searching, and even some pixel hunting before the pieces fall together. Be forewarned that a few of the puzzles may have you throwing your hands up in frustration before that ?ah-ha? moment finally arrives. That's fine?a mystery adventure game should have you scratching your head, playing with clues, and examining crime scenes. The problem with Insecticide is that its checkpoint save system is only good for your current game session?if you want to walk away and come back later, you'll have to start a given level over from the beginning rather than from your last checkpoint.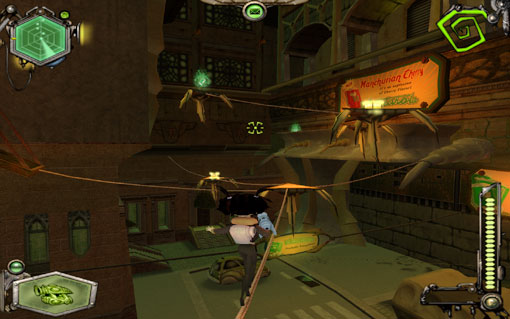 The dialog is functional and fun, with the rare laugh-out-loud moment here and there. The game often gives the player the choice of three or four different questions for a subject, but the dialog trees aren't exactly inspired, though, and most interrogations end up being a simple exercise in running through all the possible choices. Unfortunately, this means that there's no need to replay the game to get different results from conversations. In fact, the adventure segments have a really low replay appeal, since the clues that took forty-five minutes to hunt down the first time will only take about five minutes the second time through.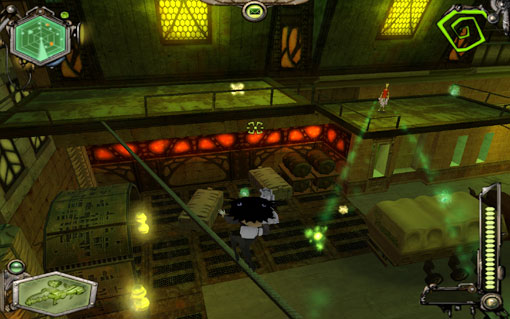 The platform sections do try for some replay value, though, by adding a few collectible side items, but there's no incentive to play again to collect them all?the game doesn't even include a statistics screen that lists your performance from level to level. For the most part, the platforming sections of the game aren't terribly challenging. You jump from ledge to ledge, and along the way, you blast insect-themed bad guys with a series of increasingly powerful weapons. The bad guys go down pretty easily and in most situations it's not tough to stay out of their line of fire. The nice thing about all those ledges and rooftops is that they make sense to the story?they're part of the detective noir Troi cityscape that the game lives in, unlike some platformers that throw in mysterious floating rocks and moving platforms with no attempt at an internal logic.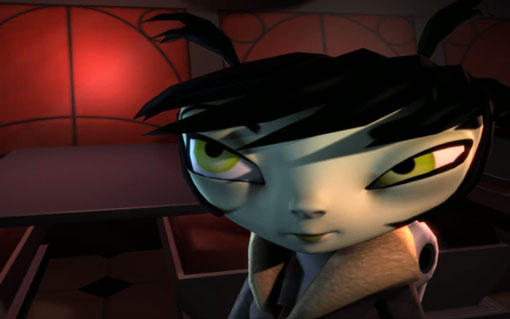 The game does have a couple of great jumping puzzles, the kind that show you where you need to go, but leave it up to you to find the way from point A to point B. It's great platforming because it gives the feeling of exploration and breaking new ground?while you work your way through these short segments, you may not even be sure you're going the right way. When you finally reach your goal after multiple tries, the sense of accomplishment is worth all that uncertainty. If Insecticide Part One gave us more of these moments, it would be a must-play.