Reviews: Two toughest kids on the block, I guess. Sooner or later, they're gonna fight.
The Marvel comic fans out there will be familiar with the long-running ?What if?? series. It asked questions like ?What if Spiderman had joined the Fantastic Four?? and ?What if Conan the Barbarian walked the Earth today?? and then let these stories play out in alternate universes. With World in Conflict, Swedish game company Massive Entertainment asks the ?What if?? that fueled Cold War hysteria for nearly half a century: ?What if World War III broke out between US/NATO forces and the Soviet Union?? Massive answers the question with an RTS that mixes small-unit tactics, large-scale battles, and the near-obligatory nuclear strike in a package that might just be the Battlefield of strategy games.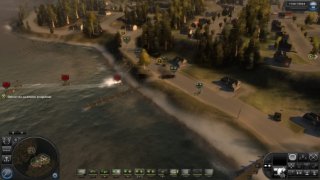 World in Conflict is set in an alternate-history 1989, in which the Cold War didn't end with free elections in Poland, Russian glasnost, or the fall of the Berlin Wall. Instead, facing internal strife and imminent economic collapse, the Soviet Union begins pushing against its NATO neighbors in search of respite in the form of cash and resources. NATO pushes back, however, and soon there's open war in Europe and in the U.S. Pacific Northwest, where the game's action begins. Playing as a Lieutenant Parker, the player fights alongside the barely-competent Captain Bannon as waves of Soviets roll ashore in Seattle. World in Conflict's single-player campaign is somewhat more developed than many RTS games: it's centered primarily on Bannon's failures and subsequent attempts to redeem himself to his family and his commanding officer. It's not Oscar material, but a few of Bannon's phone calls home help build his character into a believable human being with human needs, desires, and flaws.
And unlike many RTSs out there, the story feeds into the action, since every battle has the player fighting alongside Bannon or another officer, Major Webb. It makes for some more interesting mission possibilities, since each fight involves a collection of smaller forces, each with its own objectives?and problems. Sometimes, the mission requires Parker to rush to support Bannon against a superior Soviet force. Or Bannon might arrive just in time to stop a group of tanks' rolling up Parker's flank. In general, World in Conflict's mission objectives are more varied than those of many other strategy games, and they tend to fit well into the story so that they feel motivated by realistic military strategy. Unfortunately, these objectives aren't terribly challenging, at least on ?normal? difficulty. The mission goals are always marked on the map as control points that can be captured and fortified, so there's little guessing as to what's required. The enemy A.I.'s primary tactic is to just throw wave after wave of tanks at the player until one side or the other breaks. To make that even words, the enemy occasionally has what seem like spawn points where more and more units periodically appear into the fight.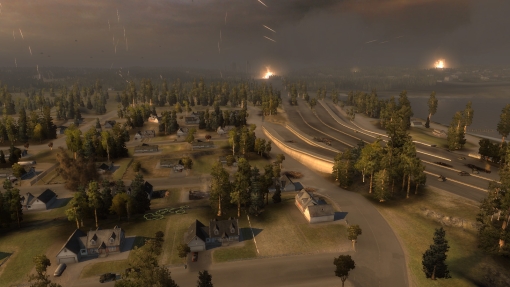 Fortunately, each battle includes one or more secondary objectives that ramp up the challenge a bit, since they often need to be carried out at the same time as the primary task. While Parker is busy holding off an attack at a bridge and highway overpass, Colonel Sawyer might call with news of an abandoned battery of anti-aircraft artillery. If Parker can capture and repair the artillery pieces, then the friendly forces will be able to turn them against incoming Soviet attack helicopters. The primary replay value of World in Conflict is also in these side missions. The game tracks the player's success and failure with them, handing out medals and promotions for each battle. In order to have a ?perfect? game and win all the medals, the player can go for a second play-through with a focus on the side missions.
While it may not be terribly challenging, World in Conflict's central game mechanic seems designed to supply the player with never-ending action and excitement. For one thing, control point fortification happens automatically as long as a player occupies the area and holds off the enemy advance. That advance is generally constant and quick, since the respawning enemy force means that a wave of new tanks is always just over the horizon, ready to push the attack. The player is often outnumbered, so there's the excitement that comes from beating a superior force. And the tactical support system is a blast?so to speak?that throws in the fun of blowing stuff up in spectacular ways. The tactical aid system is based on spending points, so a small artillery barrage might cost 10 tac aid points while a large one would cost twenty. Players earn the points by capturing and fortifying control points and destroying enemy units, so success tends to breed success. The great graphics of World in Conflict make calling tactical support particularly satisfying?you can practically see the chunks of armor fly after an A-10 swoops in low to chew up a tank column with its Gatling gun. And the explosion of a 17,000-pound Daisy Cutter bomb is devastating as it levels buildings and destroys units in an area that covers many city blocks. The destructible terrain adds to the effect. Bombed out buildings that can no longer provide cover to infantry collapse into piles of brick with not much more than a few bits of framework left standing. Terrain quickly becomes pockmarked with shell holes and wooded areas can be leveled by continued shelling.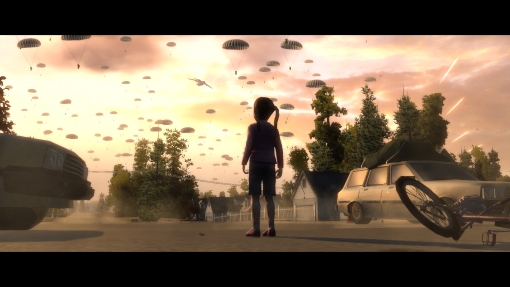 On the other hand, multiplayer is really where it's at with World in Conflict. All of the single-player elements are present, and they all seem to work better in multiplayer. If the detail hounds won't be satisfied by the game's cookiecutter approach to units in single player where things like tanks all fall into ?light,? ?medium,? and ?heavy? categories, that kind of abstraction fits perfectly into the multiplayer's fast-paced action. The game supports battles with up to eight players on a side and gives everyone the chance to choose from four roles: air, infantry, support, and armor. Like the single-player campaign, multiplayer gives the player a budget of reinforcement points to spend on units. Unlike in single player, however, the multiplayer roles help define what units players can buy. The cheapest units for a player who chooses the Air role are the various helicopters. He can still purchase other types of units, but at a higher cost. Having these roles encourages team play on-line. Armor is great against troops in the open, but can't defend itself well against attack helicopters, so in order to win a battle, players have to get organized. It's a pretty blatant rock, paper, scissors approach, but it's done well, especially since it's based on real military organizations.
The tactical aid system is present in multiplayer, and it's danger close to being an unbalancing factor. It uses the same point system as before, where success on the battlefield earns a player tactical aid points that individuals can spend on the various types of aid. Successful (or thrifty) players can build up significant numbers of aid points and then call in devastating support like a carpet bombing run or heavy air support capable of targeting a large number of enemy tanks over a wide area. And for players who really save up their points, there's the chance to call in a tactical nuclear strike. The nuke is truly a deus ex machina that can change the tide of a battle: there's no defense against it and slow-moving ground units have little chance of getting out of the blast zone. Still, it's an amazing thing to watch the first dozen or two times.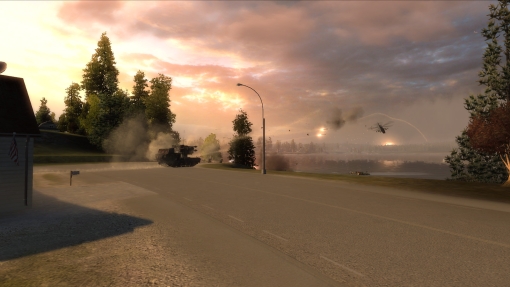 Multiplayer in World in Conflict feels a whole lot like good FPS multiplayer. You can jump in and out of games as you please, swapping sides and changing roles as you go. There's no need to stick with a drawn-out battle until the bitter end simply because you've committed to a game. The matches tend to be short?less than twenty minutes?so there's plenty of action and variety. The servers rotate through a variety of maps, each with a different sort of terrain. There are rural areas complete with farms and silos. There's an urban Seattle area including the Space Needle. And there are some small-town areas with things like rivers and bridges and seashores that keep the action interesting. The game also features a built-in leaderboard with automatic stat tracking for ranked matches. Players earn medals and badges based on what roles they choose and how successful they are with them.