GDC 08 Preview: Who would of thought?
Back in 1949 a curious little toy was introduced to the world by a Denmark company called Lego Group. The toy was dubbed "Automatic Binding Bricks" and consisted of a solid rectangular block with studs on top and holes on the bottom to allow them to interlock. It is very doubtful that anyone reading this has not played with this incredibly recognizable toy and many of you probably still have or even purchase playsets. The toy is so ubiquitous with childhood that countless adults still tinker with the sets, sets they have had since they were a kid. I myself still pick up Bionicle canisters or, naturally, the Star Wars sets. These two examples show just how savvy and diverse the Lego Group has made their flagship product.
The company has also ventured outside their known market many times. The four Legoland amusements parks are a prime example, one that even enjoyed a parody via The Simpsons. The company has embraced the quick-growing video game industry for quite some time but in recent years their cross-branded titles from Traveller's Tales have become best-sellers. The titles range from franchises such as Lego Star Wars to the upcoming Lego Indiana Jones: The Original Adventures and Lego Batman. Despite this almost no one in the video game industry expected the Lego Group to announce an MMOG based on the interlocking blocks, but that is exactly what they did in late 2006. Lucky for us Mark Hansen's presentation, Bringing the Brick Online: Inside Lego Universe, at last weeks Game Developer's Conference gave us the skinny on exactly how obvious this decision was for the company, and just how dedicated they are to continuing to allow children to "play well."
Road to the MMOG
Hansen began his presentation with a lead in on technologies that brought about the upcoming title's production. The path began way back in 1996 when a little thing called the Internet was fully launched and with it came Lego.com. As with many young sites from the infantile Internet days, it was not much more than a portal for information and product/press announcements from the company but that quickly changed. The Lego Group embraced numerous Internet ideas early and now the website has a bustling community, numerous games and various other tools aimed largely towards children.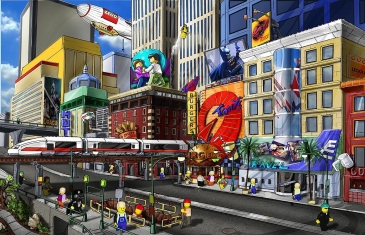 But there is one tool from recent years that is not very child-friendly, the
Lego Digital Designer
. The LDD, as it is known, is a free software application that works much like the
Lego Factory
, allowing users to design their own Lego creations. The incredibly robust tool features over 700 blocks and a very easy to use interface. Both the Lego Factory and LDD are not something a five year-old could handle but I see no reason why an eight year-old couldn't spend hours building and rebuilding things, even if they aren't the most glamorous constructions. Both tools go the extra mile by allowing one to save and share their creations digitally. The Lego Factory even takes things one step further, enabling users to take their creations or even other community members creations and purchase them for a truly unique playset. These two tools, and the general Lego fanbase, something that spans web communities, print communities and numerous conventions, are the pre-cursor to the creation of Lego Universe, a project announced by Lego Group and NetDevil back in late 2006.
Lego Universe Philosophy
Currently few people know the exact start date of Lego Universe, but it has obviously been in the works for some time. Hansen's presentation noted that NetDevil and Lego Group brought community members onto the project as early as September 2006, which one may assume to be at an early alpha stage. The reason behind the community's direct input is to help NetDevil understand exactly why Legos attract the attention of people from 0-99 (yes, eating Legos is considered attention). In May 2007 the team added another few dozen members to the input team, bringing the total to around fifty, all of whom have had their input applied to the title. The latest round of community invites came just a few months ago in December, when the total was brought to eighty-three members to create a solid testbed. NetDevil and Lego Group have once again embraced a new idea and have already begun fostering a new community around this risky venture, but what of the game itself?
The company's main goal with Lego Universe is a lofty one, to create "the ultimate play experience." The company philosophy for the title rests on three simple ideas, building, socializing, and play. The first two should be fairly obvious to anyone familiar with Legos or MMOGs. Building and creating is the staple of the Lego activity while every MMO has ultimately incorporated socializing as a major game mechanic, one which often keeps players coming back for months after they "finish the game." The last pillar, play, is an ideal that the Lego universe, as a whole, has always tried to incorporate, be it physical, online, digitally or in video games.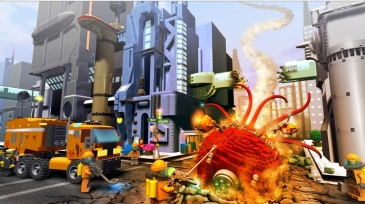 Gameplay & Features
First and foremost the title is to feature a large range of pre-built Lego landscapes, ranging from the Bionicle universe to the Aquaraiders underwater adventures. Seeing Aquaraiders one instant and then Mars Mission characters the next may be a bit disorienting, a topic which was not fully addressed. Hansen did confirm that the title will have a story which can be driven forward by quests, missions and of course, general exploring. Lego Universe as a whole will expand through content patches instead of expansion packs, with the patches being launched in coordination with new physical playsets, a novel co-branding approach. Unfortunately, as it stands now, we will not be seeing any external IPs entering into Lego Universe. So no, Lord Vader will not be designable nor playable. At least not yet. Last but not least is NetDevil and Lego Group's endgame goal for the MMOG. The ambitious idea is to allow users to create their own territories and possibly even planets at some point in the game, but this is currently just a goal and by no means a 'coming-soon' feature.
The title will touch on a few key MMORPG staples such as a rendered 3D world, role-playing, character customization and character advancement and the monthly subscription charge. And to continue with their support of the community Lego Universe will also feature Teams and Guilds. Last but not least are some non-staple, yet common features of MMOGs, custom pets and player created content in the forms of Lego building.