Review: The mime in this game breaks character by talking, but since he has a snarky French accent, it's okay.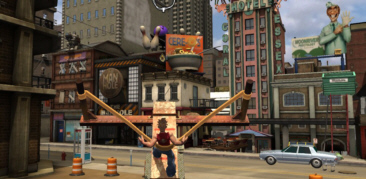 Pain. It's a lot like Burnout's crash mode, only instead of crashing cars, you're crashing people. That's right, people. Instead of creating as much damage as possible in an environment by plowing it with vehicles, you fling a ragdoll character using a human-sized slingshot to break stuff. This Teen-rated PlayStation Network download is mom's worst nightmare and definitely not Jack Thompson-approved. With Jackass-inspired gameplay and a twisted sense of humor, it's a fun departure from developer Idol Minds' previous generation kiddy games, My Street and NeoPets. The most significant difference between this PS3 download and those two unplayable PS2 games, however, is that Pain's $10 price tag is worth paying.
The pain begins in Crash Course, the game's cleverly named training mode, as both the single-player and multiplayer modes are immediately locked. Here, you'll find that launching a person from a massive slingshot is entertaining chiefly because of the elaborate downtown level design and your character's ridiculous ragdoll physics. You'll see everything from a giant spinning donut to an enormous cereal bowl complete with a huge silver spoon to land onto. And, almost all of it causes a chain reaction if hit just right. Turn the slingshot to the right side of the level and you can hit cylinder pipes off a factory roof; the pipes roll into a water tower atop an adjacent rooftop, knocking out its legs; the legs of the tower land onto a fuel tank below and the exploding tank blows you into the air; after a bit of hang time, your body lands face first onto the street below, where taxis and police cars run you over without hesitation. Reset the slingshot with the R2 button after all that chaos, turn it to the left this time and pull back on the rubber band with the right analog stick for more force. You can launch yourself smack-dab onto an oversized purple bowling ball on the roof of the distant bowling alley. The ball rolls (with you still pressed up against it) down into traffic and create all sorts of wonderful havoc.
Pain's tutorial is a lot of fun and filled with good lessons of all the bad things your parents told you not to do. Once Crash Course is complete and you learn that the formula for the most productive pain is hitting objects + hurting yourself + creating combos = a destructively high score, you can move on to single and multiplayer.
Single-player mode is broken up into three game types. PAINdemonium is the basic sandbox game type with no rules and no time limits. The one and only goal is to score as many points as possible in a single launch to land yourself onto the online leaderboard. Mime Toss, the second game type, is where things get a little more interesting. It adds a floating mime to the center of the downtown level and panes of glass behind him. You slingshot toward the midair mime, grab him with one of the face buttons and toss him into the glass. Don't feel too badly for him, though. He's a stereotypical mime with a French accent, white makeup, red suspenders, flood pants, a stripped shirt and white gloves, and he'll either mock you by calling you an ?Idiot? with his accent or say ?Sacrebleu!? and ?I surrender! I surrender!?
Spank the Monkey, the third and final single-player game type, gives you a series of monkey targets around the downtown level. At first, you have to hit them one at a time, but they'll eventually appear two at a time, requiring advanced techniques like the Oouch meter. Akin to Burnout's aftertouch, O-o-u-c-h appears in the lower left corner of the screen and allows you to squirm on the ground five times, one for each letter of the word. You'll move only a couple of feet, but fidgeting in the right direction allows you to spank several monkeys in one slingshot launch. For monkeys that are really spread apart, you can shake the SixAxis to attain Super Oouch for more powerful squirming.
Oouch and Super Oouch aren't only good for fidgeting in Spank the Monkey; they'll also allow you to explore the nooks and crannies of the downtown environment, and that's where Pain's real value comes into play. Stumbling across tucked-away parts of the intricate level and creating new chain reactions is more fun than any of the semi-addictive structured single-player game types. For example, just past the grandmother with the walker and the big old people sunglasses that you'll probably bowl over, there's a tiny entrance leading underground. This caveat leads to a large subway station where you'll discover explosives, a long, winding tunnel and a lonely person on the PA. At first, the person says, ?Attention please: The train is arriving,? but will make you do a double take after beginning the same way, but ending differently with, ?Attention Please: I'm so lonely? and ?I have no friends.?
By exploring the highest point of downtown, the city's hotel roof, you'll find a hot bikini sunbather who's the exact opposite of the person using the PA system. Not only is she way above ground, she's definitely not making a plea for friends. Of course, it's still possible to give her company by slingshotting yourself sky high. Just don't miss the hotel rooftop. Hitting the front of the building causes you to fall through the lobby's glass ceiling, along with some of the H-O-T-E-L letters. There are so many jam-packed elements in the downtown level like this that it'll take you hours to explore every billboard and building within. This helps extend the game's replay value even more than the creative, but lacking multiplayer mode.
Like the single-player portion of Pain, the multiplayer mode is broken down into three game types. Horse is like PAINdemonium, but up to four people can participate and, in addition to getting a high score, a specific object needs to be hit. Otherwise, if the first person hits the construction worker on the top of the scaffolding and you miss him, you'll get stuck with an H and be one step closer to getting an O-R-S-E. The next game type, Fun with Explosives, is also a round-based game for up to four. Downtown is littered with explosive crates and you have to slingshot into as many of them as possible, riding one explosive crate to the next to the next. The best part about Horse and Fun with Explosives is that because they're broken up into rounds, you can involve all four people with just one controller. This is convenient if you're like me and only own two SixAxis' because you're waiting until the DualShock 3 releases to pick up another pair.
Pain Bowling is the last multiplayer mode to mention, and one that requires more than one controller to participate. The slingshot is set up in front of an oversized bowling pin, and there's no bowling ball in sight. That's because you're a human bowling ball. As if that didn't sound painful enough, players who aren't bowling the turn can detonate objects that'll get in your way if timed well enough. Everything from exploding crates to exploding grannies can fly in your face and knock your human bowling ball character off course. There's nothing like an exploding phone booth to the face when you're trying to pick up the spare.
Pain's slingshot gameplay backfires when you realize that there's no online multiplayer and that modes like Bowling and Fun with Explosives could've been converted into fun single-player challenges, but weren't. I was also miffed to see only one downtown level to explore with just two character types available, the ?dude? character Jarvis and the unlockable guy in a cow suit. There are two more holiday-themed characters, a Santa and a sexy Santa helper; however, they cost $.99 each. With future downloadable content, hopefully we'll see more levels and maybe some additional modes that should've been here in the first place.