Movie Review: DOA ? Dead On Arrival.
DOA: Dead or Alive is the film adaptation of the popular video game fighting series of the same name. The movie outwardly succeeds in capturing the style of the games with their gratuitous female T&A and frantic action. Ultimately, however, DOA falls short even with these elements in creating an entertaining film. What then remains is a shoddy storyline and lackluster special effects that still serve to make the end result entertaining, but only in the most laughable sort of way.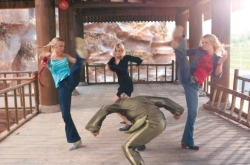 While DOA features many of the games' characters, only about half factor significantly into the plot. The film opens with three prominent female fighters, Princess Kasumi (Devon Aoki), Tina Armstrong (My Name is Earl's Jaime Pressly) and Holly Valance (Christie Allen), receiving invitations to compete in the famous Dead or Alive fighting tournament. The three travel with a slew of other competitors to an island owned by Donovan (Eric Roberts sporting a James Brown-esque hairdo). There Donovan announces that the fights will occur randomly between competitors. In order to advance, each fighter must try to knock out his or her opponent. The winner left standing at the tournament's end will be awarded $10 million. Through the course of competition the fighters gradually discover that Donovan is not who he seems and has much more sinister intentions.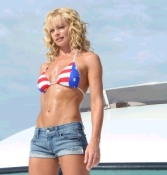 The movie is rife with subplots. Each character participates in the tournament for different yet often interrelated reasons. Armstrong competes to prove she isn't a fake, while Christie Allen plans to loot the island's riches with her partner Max (Matthew Marsden). Princess Kasumi rejects her royal heritage to participate in the competition and discover the truth behind her brother Hayate's death at the previous DOA tournament. Another competitor Ryu Hayabusa (Kane Kasugi), Hayate's best friend, follows Kasumi to the tournament to protect her. Meanwhile an assassin named Ayane (Natassia Malthe), is out to kill Kasumi for betraying her oath to the royal family. Follow all that? Often times it seems DOA is the perverse offspring of a day time soap opera like The Bold and the Beautiful and any given Jet Li movie. I half expected to see Hayabusa and Kasumi on the cover of Soap Opera Digest last time I was in the checkout line of the grocery store.
Needless to say, all these subplots are irrelevant since they just serve as excuses for director Corey Yuen to frame as many cleavage and underpants shots as possible. To accomplish this goal the screenwriters created some of the most elaborate and ridiculous scenarios. For example, before the tournament begins, Donovan insists each fighter be physically examined. This examination involves each contestant stripping down to his or her undergarments and standing under a scanner. Additionally the film features a bikini laden volleyball scene in the spirit of the series' spin-off Dead or Alive Xtreme Beach Volleyball.
This all exists to lure the film's target audience of young teenage males into the theaters. To the outside observer (i.e. uninformed filmmaker), this would seem to be a good marketing decision. After all the most immediately attention-grabbing aspect of the Dead or Alive video games are their buxom, scantily clad fighters. In practice however this is not true. Gamers play Dead or Alive for its gameplay. Everything else is just icing on the cake.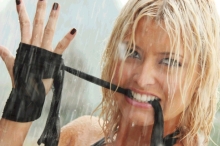 Granted while the girls in the DOA film are extremely attractive (Sarah Carter as Helena is especially stunning), it is hard to imagine that this would be a selling point for even a young teen audience. For one thing the film is PG-13, so the best (or worst depending upon your view) you'll see is bikinis and underwear. Why would a thirteen-year-old guy want to sit through this for so little pay off? It's the film equivalent of your parent handing you a cookie jar and then smacking your hand every time you reach inside to retrieve one. There is nothing in DOA that the target audience couldn't see cheaper and in greater detail online, in an issue of Maxim, or in their dad's "collection."
DOA's action fairs somewhat better. The film is heavily edited to hide the fact that most of the actors are not professional martial artists. This is forgivable since the action is well choreographed and easy to follow. One issue however is that none of the fights possess any sort of suspense. The winner is obvious before the battle begins. Furthermore with the exception of the water raft fight between Tina Armstrong and her father, none of the fight scenes jump out as particularly innovative. Most of the fights take place in large courtyards or indoors. Even the final battle feels derivative of other kung fu movies.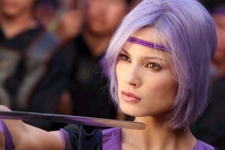 These fight scenes are also too numerous. The filmmakers clearly did not take into account the law of diminishing returns. In application this states that the more fights you have, the less of an impact each successive one will make on the audience. Look at the first Highlander film. It opens up with a big sword fight and closes with a climatic rooftop battle. There are only a few action sequences interspersed in the middle. This keeps the audience hooked and anxious for the big pay off. The Matrix movies are another example. The first Matrix film saves most of its action until the end whereas the later ones have it thrown in throughout the movies. This is a contributing factor as to why the last two films seemed so boring. DOA unfortunately falls into this same trap.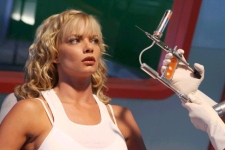 The performances range from poor to totally phoned-in. Devon Aoki reads her lines incredibly stiff and lifeless. She was much more effective in her silent yet menacing role in Sin City. Meanwhile Jaime Pressly replicates the same sassy Southern chick she plays in My Name is Earl. Other characters are just gross stereotypes such as Zack (Brian J. White) who is offensively portrayed as a horny, obnoxious black man. Some fans may also be upset by Ryu Hayabusa's weak personae. He deals his fair share of damage, but is sort of a wet noodle compared to the expert assassin found in the Ninja Gaiden games.
DOA's most embarrassing performance award goes to Eric Roberts. Remember when he was more famous than his sister Julia? Anyone? Well he was at one point, and delivered great performances in movies like The Pope of Greenwich Village. Here he just snickers, scowls, and collects his paycheck. Let's hope he gets the role he deserves in the next Batman film.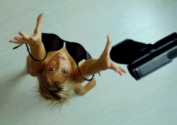 The film is photographed beautifully and the sets are generally impressive (although as previously stated not innovative in any way). However the CGI is barely passable and the blue screen effects are downright horrendous. Additionally the costumes, particularly Ayani's and Kasumi's, are cartoonish and fail to feel organic even in this movie.
It's not hard to see why the filmmakers made these errors. After all Paul W.S. Anderson's company Impact Pictures produced the film. Anderson was the mind behind game-to-film adaptations such as the Mortal Kombat and Resident Evil film series. Both are seen as less than spectacular by many of their respective fans. It's curious as to why Impact keeps churning out these video game adaptations. After all Anderson's best work so far has been original films like Event Horizon.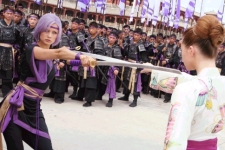 Ironically, DOA seems like a revised draft of the first Mortal Kombat film with a few more subplots thrown into the mix. Mortal Kombat however worked slightly better because of the time it was released. That game, for better or worse, had a tremendous amount of mainstream familiarity thanks to its violent content. It was also released during the infancy of CGI and the video game adaptation phenomenon. Mortal Kombat also possessed a supernatural storyline that was fairly interesting even if you weren't a fan of the games.
DOA has none of this going for it. While it is a popular video game series, it still lacks Mortal Kombat's familiarity among the populace to make it a theatrical hit. The fact that it is currently #18 at the box office in limited release further proves this.
Bottom Line
There is nothing to see in DOA that hasn't been done better in other films. Looking for T&A? Go watch late night Cinemax. Looking for action? Go watch a Shane Black movie. Are you a fan of the DOA series? Then stick to your Xbox 360. DOA: Dead or Alive is a Netflix rental at best. The best thing to possibly come out of this movie will be a Rifftrax by Mike Nelson and friends.