Interview:
More from CGS 2007: The Draft | Adanade 'sWooZie' Thorne Interview | Kat Hunter Interview | Jason Lake Interview | Johnathan 'Fatal1ty' Wendel Interview
Johnathan Wendel needs no introduction among the hardcore gaming crowd. He is a twelve-time world champion of five different games and has traveled to every continent to play competitively and won thousands doing so. No doubt he is the inspiration for a lot f competitive gamers out there.
Currently he is waiting for the next big game and is not playing anything at the moment. Instead he has devoted himself to being the global spokesperson for the Championship Gaming League. Additionally he acts as commentator for the league. He performed this duty at the CGS Draft at the Playboy Mansion. There he tried to predict each general manager's pick and gave the viewing audience some information about each player. He even put out his top picks the previous day.
Gaming Target caught up to him on the last day of the CGS Combine on June 11th.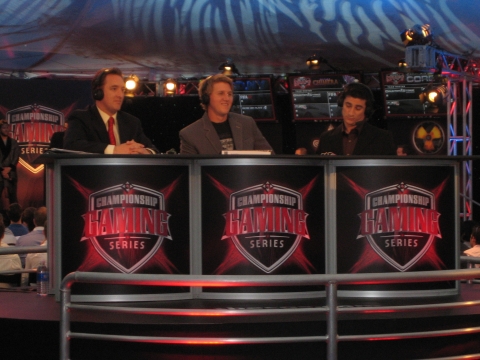 Gaming Target: What sorts of duties are you performing for the series today?
Fatal1ty: I'm just studying all the players. We have a draft day tomorrow at the Playboy mansion where I'll be talking about all the gamers. When they get drafted I'll be talking about their history, what they are good at, their strengths, their weaknesses, what they are going to do for their team and basically try to evaluate which team has the best possible chance to go all the way to the world finals and win it all.
GT: Do any of the players jump out at you today?
Fatal1ty: You know every day at the combine you're seeing more players play against each other and you see how good and talented there are. I would say every game has its number one guy. My top ten picks right now would be Complexity for Counter-Strike, ?Wizakor? for FIFA, ?Master? for DOA 4 male, ?Vanessa? for DOA 4 female and for PGR 3 I'm picking ?Ch0mpr? as number one and ?Jason X? as number two.
That's my pick if I was a manager, but that is kind of a dream team. You aren't going to get that because those are the top players and they are going to get drafted pretty fast.
GT: Do you see yourself as a general manager of your own team at any point in the future?
Fatal1ty: No, I don't think so. I don't see any point in doing that really. Being the global spokesperson is a great job and probably a better job. I get to speak my own opinion and be myself. I am able to criticize everyone but also praise them at the same time. I think being a spokesperson and being a commentator can be a lot more fun than stressing about whether your team is winning or losing. The only thing I have to stress about is being me.
GT: But you will definitely still be competing in the future?
Fatal1ty: Yeah I'm definitely not hanging up yet. I'm hanging up temporarily to do this and this is a great time for me to really show how much I care for gaming? I think I can do a lot more for gaming right now than if I was playing. It's a great opportunity for me and I really appreciate the opportunity that DirectTV has given me to do this. It brings a lot of credibility to the game as well as to the league. Of course it is the number one league out there so it wasn't really a hard choice at all. I am very happy to be considered and to work together as a partnership
GT: Can you see yourself ever retiring for any reason?
Fatal1ty: That's going to be a long time away. I play all the time right now. I probably play 8 hours a day. Lately I have been studying all the gamers and so forth and learning the new games but other than that I just love games too much to give it up and the thing is I am too competitive I don't know if I'll ever --- I might be the oldest professional gamer ever potentially.
But right now I just want to focus on my speaking skills and commentating on TV and trying to get people excited to watch it. After that? when do I pick the next big game I want to play? Never know, you just never know.
GT: What sort of advice would you have for someone who wanted to become a pro gamer?
Fatal1ty: For a guy who is trying to get up into these pro-tournaments, you've got to go to the tournaments in your area first and see how you compete against the best players in your region and play online tournaments as much as you can. Eventually go to a big tournament in your country and try to become the best at it. The next step after that is to try to join CGS. If you join CGS you are part of an elite group of gamers in the world that are making a salary actually playing games. It is pretty killer to make $30,000 a year base salary just by being signed and play. It's pretty exciting.
GT: Getting paid to do what you love?
Fatal1ty: Yeah you get paid to do what you love. My first year as a pro gamer in 2000 I got paid $30,000 from my sponsorship and made about $110,000 my first year as a pro gamer. I was number one in the world. Now today you have 60 guys all making the same amount of money I was, base salary, so you can see how from seven years money for players has increased by ten times fold.
GT: You're pretty much a celebrity in the video gaming community. How does it feel to have that sort of status?
Fatal1ty: I've always worked really hard at what I do and I love winning. I never really thought about it that much when I was doing it, I just thought about winning all the time. Eventually though I started realizing what I was doing, I started my own company Fatal1ty brand and everything and we sell products in 120 countries now. I am really pushing Fatal1ty brand as the lifestyle brand for gamers and that has been really successful so far. Just being a celebrity in the scene just kind of happened and it wasn't really planned out that way exactly. I always wanted to try to be famous in some way. Everyone wants to be noticed for what they do so. For me its killer to be known across the globe in all these different countries. When I got to Taiwan or Japan or Sweden or Germany, Italy, France, Brazil, all of the USA and in every stat? to be recognized across the globe is pretty nuts, especially for playing video games.
I'm living a dream big time. I made a lot of goals in my lifetime. My first goals I made was that I wanted to travel overseas to play video games, I thought that would be pretty cool. That someone would pay me to travel overseas and play a game, I thought that was pretty crazy, and this is back in 1999 and within 6 months my dream came true. My second goal was that I wanted to become a world champion. I really wanted to achieve that and then I got that within about 6 month. I made all these goals at the same time and they all kind of happened at once. But my ongoing life goal is that by becoming world champion I didn't want to become a jerk or an asshole like people think. Most people think that if you are number one you are an arrogant prick and I wanted to try and kill that attitude. Whenver people see me, I am a pretty friendly guy and I am more than happy to talk to and help you out and get you gaming. I have already sponsored about 15-20 gamers through my Fatal1ty brand. When we sell products through Fatal1ity brand a portion of that sale goes to a fund where we sponsor other gamers and keep trying to build the sport for all of us. I built my brand to give back to gaming. That is the kind of person I am. I'm always trying to build the sport and also give back at the same time. I have fun doing it. It's a journey and I'm going to keep doing it.
More from CGS 2007: The Draft | Adanade 'sWooZie' Thorne Interview | Kat Hunter Interview | Jason Lake Interview | Johnathan 'Fatal1ty' Wendel Interview