Interview:
More from CGS 2007: The Draft | Adanade 'sWooZie' Thorne Interview | Kat Hunter Interview | Jason Lake Interview | Johnathan 'Fatal1ty' Wendel Interview
To say Jason Lake, general manager of the Los Angeles franchise Complexity, loves his job would be a gross understatement. Lake recognized the potential in online gaming early on and in response built the champion Counter-Strike team Complexity from the ground up in 2003. By doing so he became one of the first managers in the country to offer his players salaried contracts. In a sense, it took awhile for video game competitions to catch up to him.
In his trademark red tie and white dress shirt, Lake somewhat sticks out in the crowd of pro-gamers. However one would be mistaken to assume he isn't on the pulse of the video game industry. Outspoken and passionate, his personality and love for what he does is infectious. One has to be envious of his energy. After all running both his own law firm in Atlanta and managing Complexity is enough for three people. He is definitely one of hardest working men in the video game business.
Gaming Target met Jason Lake in a small interview box off the main floor of the CGS Combine on June 11th.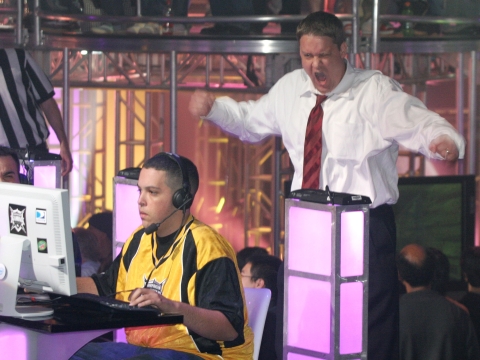 Gaming Target:
What is your background and how did you get involved in the video game industry?
Jason Lake: I grew up an avid video gamer back in the Atari days. I remember the day Pac-Man came out on Atari was one of the greatest days in my entire life. I went through college at Iowa State and got a degree in finance and I was fortunate enough to graduate first in my class. I then went down to Emory University in Atlanta and got a law degree. After that I took some time off. I just wanted a break. I did a lot of traveling and scuba diving and skydiving. I was living in Atlanta and a guy in my building invited me over to show me this new video game. What he was playing was Counter-Strike. First of all I was like wait a minute video games have come this far that you are actually playing people online? These are actually people in here? This was awesome. So I started playing Counter-Strike a lot just in my free time.
Then I went on for about a year and a half to two years and then one day I had another one of those revealing moments. I stumbled upon a website talking about the leagues and I was like wait a minute, people have organized teams? They have organized teams and actually play in ladders and brackets and for money? You have to be kidding me! See I was just playing in public servers. So I spent a lot of time researching it and I really could not shake this feeling that this is the next thing.
Everybody asked, why did you get into this? By the time I got into this I had my own law firm, I was married and I was trying to have children. I just said it is a new digital era and it is only logical that we are going to have a new digital sport. For the first time in my life I really feel that I am on the ground floor of something big so if I can invest my own money, create a team and an organization that really has some brand equity and a huge fan base, when the real league comes along I might have something.
So I started Complexity, Complexity Gaming LLC., in the fall of 2003 and spent the last 4 years or so building it up and we have had world championships and traveled around the globe multiple times and once the Championship Gaming Series came along I knew it was it. They contacted me through my Counter-Strike team to play in their first event last July, which we won. I spoke with them there and I looked at their business model and their philosophy on professional gaming and I said this is it. So we began discussions immediately to move my brand exclusively over to CGS and here I sit today.
GT:
How do you manage your time right now?
JL: I don't sleep (laughs). I've got two businesses on opposite sides of the country, a three-year-old and a one-year-old. It's exhausting but when you are really doing what you love to do I discover you find energy you never knew you had.
If you go to your job and it's just a job, then your energy isn't there. But if you go and you're working on something that you really, really love then energy just comes out of the woodwork.
GT:
You still find time to play video games at all?
JL: You know that is the only sad thing about this job (laughs). You know it's not even the job really it's more the kids because I work so much that when I'm home I spend all my time with my kids. I have a wireless laptop downstairs so I am constantly connected with what is going on with my gaming company and my franchise, but when I have any free time I don't really turn on games. I had to sacrifice my love of playing games to develop the Complexity brand and be a father. It kind of stinks but I have so much fun being a coach and a manager it makes up for it.
GT:
What sort of criteria do you judge your player selections by?
JL: The only obvious one is raw skill and I've got about a dozen more. I really look at a lot of things that I don't go into in detail because I feel I've got some key attributes that I wouldn't want to share with my competition. I feel God blessed me to really find that in enough players so that we have been phenomenally successful and have brought home championship after championship.
Sometimes I put together teams and people say I didn't make a good choice. My comment is always, give me 9 months and see me at the world finals and then we'll see if I made a good choice. Obviously you have to have raw skill or close to that raw skill, but there's a lot of people out there and some of the most hyped players don't have the attributes I look for. So it's a very interesting combination.
GT:
I'm sure in an event such as this you are looking at the player's charisma as well?
JL: Well yeah that definitely goes into it? charisma, marketability, the ability to speak clearly and professionally to the media, to be on camera? There is a lot more than being able to sit in your living room and win online leagues. When you show up at a LAN, it's loud, the lights are in your face, the media, the cameras, it's a whole different ballgame. You need to be able to perform in this atmosphere to be a world champion, not in your living room.
GT:
Because of the pressure of the crowd?
JL: I've seen number one players that have never really attended LANs just crack. I saw it as recently as December when one of the world's most talented DOA 4 players showed up at CGI out here in L.A. Totally cracked, first round, nearly unbeatable before that.
GT:
When you call a challenge between two players, what sort of criteria are you looking for in that match?
JL: You are really looking at one of the players but you don't want your competition to know exactly who. You want to choose two players who are close in skill.
I sometimes step away to watch a monitor. I want to see how they look on camera while they're winning. Also very important is how did they lose. If they can lose close and look good and are professional about it, I like that. If you have players throwing temper tantrums, if you have players who are sore losers ? look, everybody's going to lose -- you need to lose with dignity. Win with humility, lose with dignity, and if you can't lose with dignity, you aren't going to be on my team.
GT:
What strategies have you used in the past and plan to use to make your team the best?
JL: I'm very hands-on, not only with each squad, but with each person. I'm the one who has selected them and I selected them for certain qualities. It is my job to bring those qualities out in them. If I discover I can't do that within 6-9 months then I let them go. But I've been fortunate enough almost without exception to be able to draw those qualities out of the people I've brought on board over the years.
It's very complicated in an event like this because every move you do, the other GMs are watching you. Especially in my position of coming over with my franchise and having been blessed with quite a bit of success over the years. It's like a giant chess game with multiple levels where everything I do, who I talk to, when I talk to them, any challenges I do are all analyzed by the other GMs to try to figure out my drafting strategy. Yesterday I didn't do any one on ones. I wasn't ready to tip any of my cards. Today I am going to do a few. Yesterday I did two interviews; today I'll probably do ten or twelve. Every single move is strategy and it is immensely fun for someone like me. Who you talk to, when you talk to them? since we've been in here I have seen four of the other five GMs come to see who I am talking to?. It's a giant poker game, a giant chess match and that's why it's so brilliant. There has never been a draft of this caliber or anything like this before and this is going to take pro-gaming to the next level.
GT:
Without getting into specifics, do you already have a good idea who your selections might be?
JL: Oh yeah. I have associates and trusted advisors with me at the hotel and we do daily rundowns to figure out what our strategy will be. You won't see them around me really because they are all around this place, getting information for me. If I need to know scores I am very interested in, it's not always best for me to be there watching. I have a big spotlight over my head and the other teams are watching where I go so I've got other people here helping me gather information. We meet every night and swap notes.
You know the draft is a unique animal because a lot of it comes out in the lottery and a lot of it is how well the other teams draft. I might come out of the draft and be like, you know what, I fell flat on my face and we'll just have to do the best with what we got. But all you can do is prepare the absolute best you can, say your prayers and hope it's going to work out. If I come out of a bad draft, it won't be because of a lack of preparation.
GT:
Where do you see this competition going in 10 years?
JL: I think this is going to be the next big thing all around the world. I have honestly believed that for a long time. It will never compete directly with the NFL or pro-soccer. It's not really built that way. This is a new era, it's time for a new sport. Something different in sports entertainment and I really think when these generations get older they are going to have their kids playing video games. It will be a father-son thing. They will watch a Complexity match just like you would watch an NFL game.
I really think as this gaming generation grows older and goes forward this is going to be the next big thing. It's going to blow poker out of the water. It's going to blow the X-Games out of the water. Mountain Dew is here. Mountain Dew is the backbone of the X-Games. They know what works and they know this is going to work. It's really exciting.
GT:
Do you hope a competition like this will somewhat alleviate the stigma that video games have with some segments of the populace?
JL: Absolutely. There are so many pundits out there spouting nonsense and hate and tying things together. Gamers are good people. Gamers are the guys and girls next door. They're average Americans. In the 50s it was rock n' roll, before that it was radio. There's always something they want to blame for what's going on in society. Now video games are the new hot thing. Gamers are good people and it's about time to get them on TV more and show the world that.
GT:
You hear a lot of people talk about professional sports, like baseball, nostalgically. They think that the sport isn't about the game anymore and is more about the money and decadence. Do you have any fear at all that professional gaming might go down the same road?
JL: I think any time you get a lot of money involved people are going to say that, but gamers are truly passionate. It takes a heck of a lot of work to get to this level and stay at this level. You have to really love what you are doing. Everybody likes money. Everybody wants a job and a career but you really have to love gaming to be so involved in pro-gaming.
In the first year or two you aren't going to be a millionaire. You might be making less than in your other job, but the people involved in it are so passionate about it that I really think that is going to come across on camera and I really think that is going to come across to mainstream America. Are baseball players and people like that in it for the money? Of course they are. But I've got news for you, most of the top guys really love the game of baseball and that's why they're the best.
More from CGS 2007: The Draft | Adanade 'sWooZie' Thorne Interview | Kat Hunter Interview | Jason Lake Interview | Johnathan 'Fatal1ty' Wendel Interview