News: Jack Thompson has issued a cease and desist letter to Midway.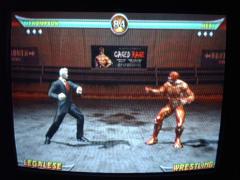 Jack Thompson, noted anti-video game attorney, has issued a cease and desist letter to Midway Games Inc. because he believes that he is a secret character in the company's recent release "Mortal Kombat: Armageddon."

"It has today come to my attention that the newly recently Mortal Kombat: Armageddon contains an unauthorized commercial exploitation of my name, photograph, image, and likeness within the game. You are commanded to cease and desist immediately from the distribution of this game because of this unauthorized, illegal content," Thompson wrote in an email to Midway CEO David Zucker.

In actuality, Thompson appears in the game only through the game's "Kreate A Fighter" mode that allows players to mix and match bits of clothing, hairstyles and facial expressions to create original characters. Instructions on how to create a character that bears a slight resemblance to Thompson, along with pictures, were posted on Gaming Target on Wednesday. The feature also demonstrates how other famous people can be created including Hulk Hogan, Jason from the Friday the 13th films, director Kevin Smith as Silent Bob and Ash from the Evil Dead films.

Thompson has yet to file any formal suit against Midway and has only tried to probe Gaming Target with an empty e-mail message containing his contact information and the subject line: "You've got to be kidding me, right?"

As it turns out, he doesn't have an open and shut case, according to Clay Calvert, Co-Director of the Pennsylvania Center for the First Amendment. "Well, this is amazing and sadly not surprising coming from Jack Thompson. Perhaps he's still ticked about the Florida judge turning down his efforts for a restraining order against 'Bully,'" he said. "Typically satire is protected (see Hustler v. Falwell) and a misappropriation cause of action for use of his name and likeness would very probably fail as well."

Any potential suit from Thompson is further complicated by a lack of options in MKA's Kreate A Fighter mode. The formula used to create "Jack Thompson" in the game is little more than an older white man in a suit. Without changing any of the Kreate A Fighter attributes, the character could have just as easily been named "Bill Clinton," as it bears the same resemblance to the former President. Coincidentally, Midway included Bill Clinton as a secret character in its arcade classic NBA Jam. Since Bill is a public figure (just like Jack Thompson), the company had every right to do so.

This is not Thompson's first legal matter concerning video games. He has attempted to bring lawsuits against Rockstar Games for the violent and sexually explicit content in the "Grand Theft Auto" series of games and most recently attempted to block the sale of the PlayStation 2 game "Bully."