Interview:
As we reported to you earlier in the month,
Talos Interactive introduced its DeltaAdvance Engine
, which supports full 3D First-Person Shooter games for Game Boy Advance. Now, we talk with Max Meltzer and Dr. Robert Templeman to gain a better perspective on this new technology and the next steps for the company's fututre.
Gaming Target (GT): Thanks for taking a few minutes to answer some questions about your new DeltaAdvance Engine. We know you must be hard at work and appreciate your time.
Max: Meltzer (MM): No Problem at all.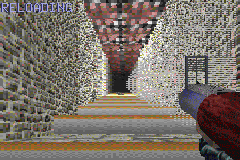 GT: We know that Talos Interactive is a relatively young company that is composed of industry veterans. What type of experience does the Talos team bring to the table?
MM: The Talos team as you say is comprised of battle-hardend developers as well as full-time gamers. We have a fantastic group of people that know how to breach the limits of technology and extend the dimensions of familiar gameplay. Our team have worked on an array of titles ranging from and including Unreal 2, Far Cry, Stuntman, Rocky, Batman, Vultures, Freestyle Metal X and more.
GT: What prompted the move to found Talos and begin work on a new GBA engine?
MM: Founding Talos felt natural to what we were doing as friends. We spent a lot of time, in London as we were, meeting up for a pizza and chatting about our ideas on games and the industry. It started to progress from Rob's [Templeman] original technology on the Acorn and the vision in taking the technology to newer and more profitable platforms. Then it sparked, a couple very good friends got involved, our ambitions evolved and it was logical to found the company.
Working on a GBA engine in particular was simply because the platform suited our original technology most and the GBA was the only handheld platform considerable at time of development. However, we've developed a love for the little handheld.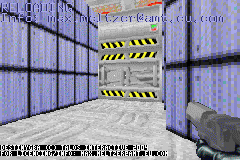 GT: What has been the biggest challenge in developing the DeltaAdvance Engine for the GBA? Is the hardware difficult to program for?
Dr. Robert Templeman (RT): The biggest challenge was efficiently utilizing the relatively small amount of RAM the GBA has, the RAM is enough to manipulate just the dynamic data structures required for a really good shooter but no more. The most time consuming part of developing DeltaAdvance was developing the various memory caching routines that enable all the engine code to execute optimally and allow all the intensively accessed memory to be pre-cached before the CPU accesses it. This allows the GBA CPU to run full speed, allowing the GBA to show its true potential. This really was like squeezing blood out of a stone, but it was well worth the effort!
GT: Let's talk nuts and bolts. What exactly will the DeltaAdvance Engine allow developers to do on the GBA?
RT: Well primarily DeltaAdvance is our own in-house engine for Talos to develop original or licenced titles. As mentioned above DeltaAdvance is primarily aimed at first person shooters, but is easily utilsed to create any game that requires real-time 3D graphics.
GT: What type of gameplay features will the DeltaAdvance engine support?
RT: Basically anything you like! If the actual scenario can be coded in C or C++ then it can be implemented with DeltaAdvance! (as long as it doesn't need more memory than the GBA has!)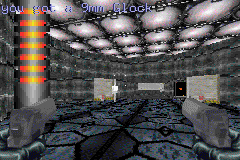 GT: With the DeltaAdvance Engine, will we still be limited to pistols, shotguns and rocket launchers?
RT: Absolutely not, in fact the engine has efficient implementations of all the techniques required to produce guided weapons such as fast line of sight determination, fast path finding and simple collision avoidance, so that guided wespons don't simply smash into walls a lot whilst tracking targets.
DeltaAdvance also features a very efficient core dynamics engine which allows for physical simulation of any game object, this allows, for example, bouncing bombs to be thrown at opponents, these bounce correctly against all the 3D scenery until they hit something interesting!
The Destiny game ported to GBA uses a lot of this functionality to very good effect, one thing that we're proud of at Talos is the shear number of objects we can simulate at once, the destiny game ported to GBA can dynamically simulate around 250 of its 1000+ dynamic objects simultaneously without dropping frame rate too much, for a GBA this is some achievement.
GT: How easy is it going to be to create games using the DeltaAdvance Engine?
RT: Very straightforward really, every basic aspect of a game is catered for in DeltaAdvance, however, the engine at the moment is best suited to first person shooters, as this was the primary drive. The engine itself is capable of handing any 3D scenery layout, so any type of game that requires a 3D world can be created with DeltaAdvance.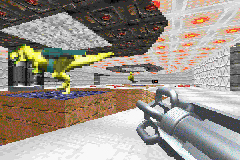 GT: Since they are competing technologies, it is inevitable that similarities will be drawn between the DeltaAdvance and Yeti3d engines. What is it that sets the DeltaAdvance Engine above Yeti3d?
Yeah that's true, However, DeltaAdvance features much more mature technology for the GBA. The GBA version of Yeti3d is seriously cool, but seems more of a labour of love for the sake of having a GBA version of Yeti. DeltaAdvance is specifically tailored to produce commercial titles.
GT: Are you hoping to license your DeltaAdvance Engine to other developers?
MM: Rather than hoping, we're willing to consider it. We initially want to create our own game(s) on the engine before licensing it out to other developers. We understand the potential of our technology and we feel we're in the best position to show the gaming audience what it's capable of. However, if developers are interested in inquiring, we'd definitely consider the possibility and to do so you must e-mail me at max.meltzer@amt.eu.com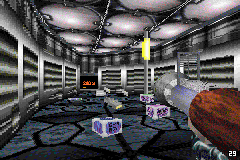 GT:
What games are currently in development using the DeltaAdvance Engine?
MM: We're gradually getting closer to sorting out some sort of a deal with a publisher which is good news. We can't really talk about what projects we have in the pipeline, however the theme isn't likely to move too far away from what the screenshots reveal. It's likely we'll work on an FPS whether it's original or licensed based, but neither have we ruled out the possibility of developing another game in the Racer genre, our engine has that flexibility. We're continuing to update and improve the technology and are keeping our options on games open for the future.
We do have a full FPS game for the GBA completely done. Though we were looking to build on that with a publisher's influence, we'll keep you posted!