News: Nintendo is on a roll with their popular platform as the Switch continues to impress with sales figures and games available.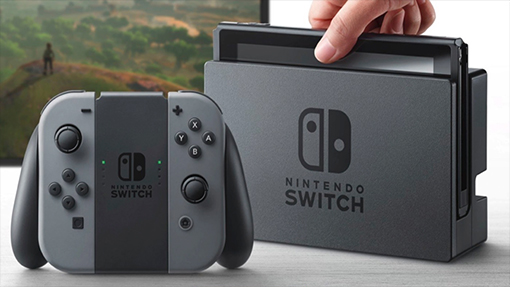 The Nintendo Switch has had an amazing first year on the market and still has two months to go until it's first anniversary. With that said the Nintendo Switch has already become the fastest selling home video game system in U.S. history. This statistic comes from a press release from Nintendo that revealed the Switch has sold more than 4.8 million units in the United States in 10 months. This record even surpasses the Wii's sales figures which saw approximately 4 million units sold during the same timeframe. When you look at worldwide numbers the Switch has sold well over 10 million units in its first ten months which is an astonishing number. It would appear that Nintendo has struck gold once again by thinking outside of the box.

"Fans across the country have experienced the joy of playing their favorite games at home or on the go," said Reggie Fils-Aime, Nintendo of America's President and COO. "Now that many more people have received Nintendo Switch systems for the holidays, we look forward to bringing them fun new surprises in 2018 and beyond."

A strong library of games continues to fuel momentum for Nintendo Switch. In the U.S., more than 60 percent of Nintendo Switch owners have Super Mario Odyssey, and over 55 percent own The Legend of Zelda: Breath of the Wild. Not only are these games system-sellers, but they're also two of the highest-rated games in history. Nintendo Switch owners also possess Mario Kart 8 Deluxe and Splatoon 2 at rates of more than 50 percent and 20 percent, respectively.

More than 300 games created by third-party developers have already launched for Nintendo Switch. These include big-name brands like:


FIFA 18 from Electronic Arts;


Mario + Rabbids Kingdom Battle from Ubisoft;


Just Dance 2018 from Ubisoft;


Minecraft: Nintendo Switch Edition from Mojang;


L.A. Noire from Rockstar Games;


NBA 2K18 from 2K Games;


Sonic Mania from SEGA


Ultra Street Fighter II: The Final Challengers from Capcom;


Rocket League from Psyonix;


The Elder Scrolls V: Skyrim from Bethesda;


DOOM from Bethesda.


Nintendo Switch has also received strong support from indie developers, with a steady stream of favorites like SteamWorld Dig 2 from Image & Form, Golf Story from Sidebar Games, Overcooked Special Edition from Team17 Digital Ltd and Stardew Valley from Chucklefish LTD.

This year, Nintendo Switch owners can look forward to Nintendo-published games like Kirby Star Allies, Bayonetta, Bayonetta 2 and a new game starring Yoshi. Fans can also expect continued support from major publishers such as EA, Activision, Ubisoft, Capcom, SEGA, Take 2 and Bethesda, plus a growing catalog of quality content from indie developers.

There is also a big rumor floating around that Rockstar is considering putting GTA V on the Switch. Once again, that is strictly a rumor right now but it would make sense that Rockstar would want people to buy GTA V again so that they can play it wherever and whenever they want.

Do you have a Nintendo Switch? If not, do you plan on picking one up? Tell us what you think below.