News: The second DLC expansion for Breath of the Wild is now available to download on the Nintendo eShop.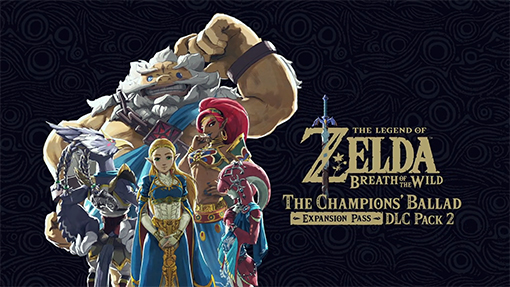 Nintendo had a pretty big night at the 2017 Game Awards last night. In addition to The Legend of Zelda: Breath of the Wild winning Game of the Year it was also revealed that the second DLC pack, The Champions' Ballad, is now available to download. If you have purchased the expansion pass then the download should be available for you now. If you haven't then you can still purchase it and you will get access to both of the downloadable packs that are currently available.

In The Champion's Ballad players are granted access to a large new adventure featuring a never-before-seen dungeon, new insights into the background of the game's four Champions, as well as a new high-mobility means of transportation. Once players complete the adventure, they will have the opportunity to traverse the enormous world of Hyrule on top of a motorcycle called Master Cycle Zero. The DLC will also grant access to nine new armor items for players to find, as well as the Ancient Saddle and Bridle items. Players who purchase the Expansion Pass for $19.99 receive The Champions' Ballad DLC Pack 2, as well as The Trial of the Sword DLC Pack 1, which launched earlier this year.

Players who have yet to experience the game can purchase The Legend of Zelda: Breath of the Wild – Explorer's Edition, a limited bundle that includes the critically acclaimed Nintendo Switch game, a 100-page explorer's guide and a two-sided map at a suggested retail price of $59.99.

Take a look at the trailer below and tell us what you think. Will you be playing this second expansion pack for The Legend of Zelda: Breath of the Wild?