News: Bethesda's open world masterpiece can now be played anywhere you go or as a fully immersive experience.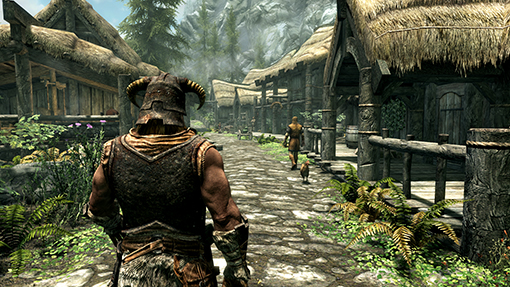 The Elder Scrolls V: Skyrim is now available for both the Nintendo Switch and the PlayStation VR. Developed by the award-winning team at Bethesda Game Studios, the legendary open-world adventure where players can be anyone and do anything is now available to play anywhere – at home in VR or on the go with Nintendo Switch. Both Skyrim VR and Skyrim on Nintendo Switch include all official add-ons – Dawnguard, Hearthfire, and Dragonborn.

Skyrim on Nintendo Switch includes the complete award winning game and all-new gameplay features, including motion controls for combat and lockpicking, and outfits and gear from The Legend of Zelda, including additional loot unlocked from compatible The Legend of Zelda amiibo. Players can take down enemies with the Master Sword, protect themselves with the Hylian Shield or look heroic in the Champion's Tunic.

For players that want to take the Skyrim experience to the ultimate level of immersion, Skyrim VR, the first full length open-world fantasy game to launch for VR, reimagines the complete epic fantasy masterpiece with an unparalleled sense of scale, depth, and immersion for PlayStation VR. From battling ancient dragons to exploring rugged mountains, Skyrim VR brings to life a complete open world for players to experience anyway they choose. For players interested in purchasing a VR system, PlayStation VR The Elder Scrolls V: Skyrim VR Bundle is available now for $449.99 USD, which includes the PS VR system, PlayStation Camera, two PlayStation Move controllers, and Skyrim VR.

Check out a trailer for each version below and tell us what you think. Will you be picking up Skyrim on the Nintendo Switch so you can play it anywhere? Or will you be picking it up for the PlayStation VR to experience full immersion?