Reviews: Talion's second adventure in Mordor is just as fun as the first, but fails to add much new to the series to really make it worth it.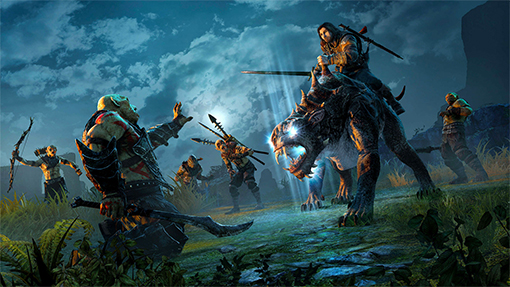 Monolith Studios surprised everyone in 2014 with the success of their new IP based in the Tolkien universe with Shadow of Mordor. Now, three years later, players take on the role of Talion once more to finally put an end to Sauron and his grip over Mordor and Middle Earth. Shadow of War is a great reminder of what made its predecessor great; the combat of the Batman Arkham games, the stealth of the Assassin's Creed franchise, set in one of the most recognizable universes in the entire fantasy genre. While it is a blast to set foot in this universe again, Shadow of War fails to make any major leaps that make their sequel feel unique.
The star of Shadow of War is once again the nemesis system. First introduced in the 2014 game, the nemesis system introduces a unique system where enemy orcs remember past encounters. They have unique names, and they remember if you killed them, ran away from them, or whatever other outcome may have happened. As orcs kill you, they move up the ranks from grunt to warchief as they look to defend their fortress from your inevitable siege (something we will talk about later in this review). The variety of orcs in this game is fantastic, with each orc feeling genuinely different from others. What made it's predecessor shine is just as good in the sequel, as battling and creating rivalries with orcs throughout Mordor is one of the very best aspects of this game, and the one that I dumped the most hours into during my playtime.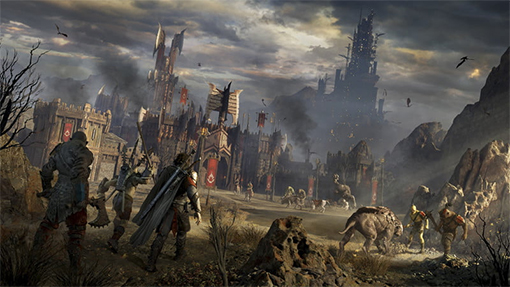 While on the topic of the nemesis system, this seems like a good time to talk about the loot box/microtransaction controversy. While it is odd and somewhat disconcerting to see loot boxes in a primarily single player game, the loot boxes are, thankfully, entirely skippable. While early previews of the game prior to release suggested otherwise, some reviewers even saying that the end game is locked behind a paywall, there is no instance where using the loot boxes is required. In fact, while I did not make any micro transaction purchases from the marketplace, I did notice from what was available that doing so actually takes away from the best part of the game: the nemesis system. When you can buy orcs that are scaled to your in game level, you lose the rivalry and sometimes multiple encounters that comes from recruiting orcs on your own.
One area where I felt Shadow of War really dropped the ball was with the story. Even now, having spent about 25 hours on the 18 hour story and the end game content, I don't think I could really give you an accurate summary of the story. The basic Lord of the Rings lore is there. Shelob, who has the form of a woman rather than a spider in this game, tasks you with delivering to her the ring of power, with your handy elf gold Celebrimor being held hostage. She reveals to you that you must defeat Sauron. I won't go into too many spoilery details, but until you get towards the end of the game, the story is virtually incomprehensible. I finished Shadow of Mordor as well, so I can only imagine how confusing it would be to a newcomer to the series. It doesn't help that the game is riddled with terrible dialogue, even worse than the first game. It seems like Monolith knew that the weakness in their game was the story, though, and they did a good job of providing enough extra side content in the game that I spent many hours battling orcs and taking over fortresses rather than marathon through the story.
Another area I was surprised to see Shadow of War struggle in was with its graphics. I played the game on a PS4 Pro with the "favor frame rate" setting over the "favor resolution" setting. The framerate was good except for a few instances where I noticed a few hiccups, but I was shocked at how low-res some of the orcs looked. I think I may have expected too much, however, because Shadow of Mordor received one of the best PS4 pro patches when the pro first released, and still is one of the best looking games to receive one that released before the PS4 pro existed.
What felt like the biggest update from the previous installment, apart from some smaller updates to the nemesis system, was the inventory. In a way that felt very similar to Destiny, players can equip different pieces of armor, swords, and rings to increase stats from the amount of damage you deal, all the way to how stealthy you are. It wasn't clear to me how much your stealth stat affected your performance in game, since I noticed from the very beginning that you are given a large window from when you are first noticed to when the orcs will actually engage you. It made things too easy, sometimes, but I thought it did a good job (either intentionally or not) of reflecting how orcs tend to not be the smartest creature in the room. In addition to the base stats of each item, they also offered mini challenges such as "kill x orcs with this sword" to increase the stats of those items, usually in special situations like when your health was low. The expanded inventory system of Shadow of War was certainly a welcome one, increasing the depth of the game as they leaned more heavily into classic RPG elements this time around rather than an action/adventure game.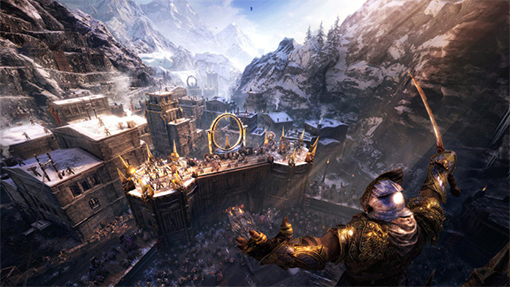 My biggest issue that I had with the game actually became more problematic as my inventory items became stronger and of higher levels. The game just felt too easy. I was playing on the highest difficulty (nemesis difficulty), and there were only a few battles that gave me any sort of challenge. Any game that comes across as too easy is never a good thing, you want some sort of push back, but this created a unique problem for Shadow of War. When orc captains and warchiefs were too easy to defeat, you don't create the rivalries of having lost to them multiple times and hearing them ridicule you. You also don't get to see new orc grunts who kill you suddenly get promoted for their troubles. It was ironic that playing on nemesis difficulty still didn't get me the full experience of their unique nemesis system.
The lack of difficulty in this game extended beyond just the combat. With the use of your elven abilities, you can sprint past enemy camps with little more than an orc grunting, "what was that?" It also allows you to scale buildings and towers with ease before anyone even notices you and tries to stop your progress, like in Assassin's Creed, when guards and soldiers will throw rocks at you to knock you down. To further the comparison, when it is time to descend a building you can jump down blindly, rather than into a haystack, because there is no fall damage regardless of the height. It degrades the image of this game as a stealth game when you can run through an outpost like a roadrunner and face little consequence.
The last upgrade to the series that should be touched on is the limited online experience. Basically, Shadow of War gives players two ways to interact with other players. The first are random online vendettas. Just as when playing offline, if an enemy orc kills you, it creates a vendetta mission where you attempt to get revenge of the murdering orc. In addition to the mission structure, the orcs, as part of the nemesis system, remember you and when you encounter them they usually will mock you for your failures the first time around. In Shadow of War, players can enter other player's worlds and exact revenge on orcs who have murdered other players. As far as I can tell, these online vendettas are random and there is no way to intentionally get revenge for someone on your friend's list, but that would be an awesome update to the game in the future.
The second online functionality is similar, but more expansive. Conquests in the game occur when the player begins the conquest missions to capture an orc held fortress and topple the overlord of the fort. Once you gain control of one of the forts, online conquests become available when you can lay siege to another player's fort and topple their puppet overlord they placed in charge. These conquests are much more comprehensive than the online vendettas and can actually negatively affect the progress of other players, which is always a lot of fun!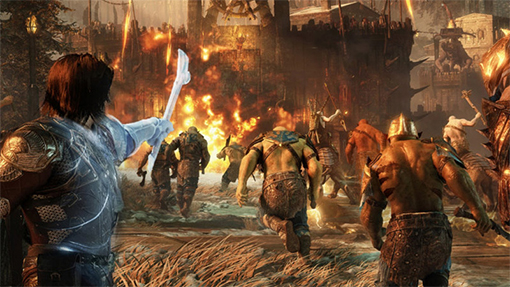 Overall, I was pleasantly surprised with my second adventure to Mordor. I expected there to be a lot of issues with loot boxes and micro transactions, but it turned out to be an overhyped issue. The combat felt fluid and just as good as the Arkham games that inspired it. Of course, Shadow of War was not without its issues from its graphical downgrade to its relative ease to complete. As a big Tolkien fan, however, I look forward to the planned expansions for this game and further exploring the rest of Middle Earth.